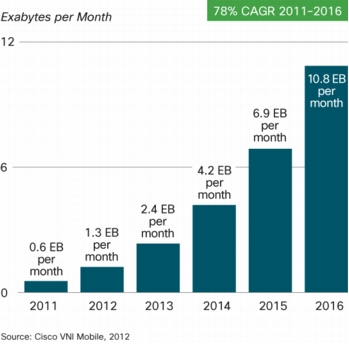 Over the next five years, the worldwide mobile data traffic will increase 18-fold, reaching 10.8 exabytes per month by 2016, according to the Cisco Visual Networking Index (VNI) Global Mobile Data Traffic Forecast for 2011 to 2016.
This means that the amount of data sent to or from mobile gadgets around the world annually will rocket to hit the equivalent of 33 billion full-length DVD films by the year 2016.
The surge in wireless data traffic will be due, in part, to an explosion in the number of "connected devices," according to Cisco. The California-based firm also predicts that the number of gadgets linked wirelessly to the Internet would exceed the number of people on Earth in the year 2016.
Another factor will be the popularity of streaming music and videos to increasingly sophisticated mobile devices.
According to the forecast by Cisco, the following regions are experiencing the greatest growth.
Middle East and Africa will have the highest regional mobile data traffic growth rate with a CAGR of 104 percent, or 36-fold growth.
Asia-Pacific will have an 84 percent CAGR, or 21-fold growth.
Central and Eastern Europe will have an 83 percent CAGR, or 21-fold growth.
Latin America will have a 79 percent CAGR, or 18-fold growth.
North America will have a 75 percent CAGR, or 17-fold growth.
Western Europe will have a 68 percent CAGR, or 14-fold growth.
Mobile connection speed is one of the key contributing factors to the growth of mobile data traffic. The Cisco's report projected the average mobile network connection speed in Asia to reach 2,608 Kbps by 2016, from 219 Kbps in 2011.