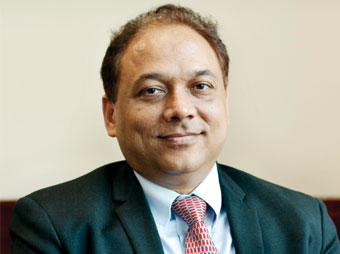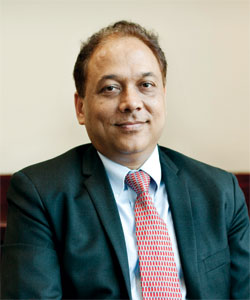 Dr Avinash Vashistha, Chairman & MD, Accenture India
The talent available in India is exceptional and according to me this is one of the key reasons that  has propelled India to become a leading IT destination. Accenture has been successful in India largely because of the unparallel talent it offers. The company started Indian operations in 1987, and set-up its first delivery center for technology in Mumbai in 2001. Today, it has 25 centers across 7-cities.
In conversation with Rachita Jha, Accenture India Chairman & Managing Director Avinash Vashistha lays out the growth landscape and future vision for technology and its new avatars of application in India.
The slowdown in the US and UK markets has given local players an opportunity to    explore the Indian market potential. How is India leading as an IT destination and what are the key reasons for its success?
The English speaking/writing ability of Indian engineers may have been a subtle but crucial  element that turned the tide in India's favour. Accenture too is in India because of the  unparalleled talent it offers and has over 70,000 people across its businesses in India which  serves both global and domestic clients. India is experiencing strong growth across most  industry sectors, and businesses here are becoming more sophisticated in buying the kinds of services and are also more amenable to investing in technology. When you combine these  factors, there are many opportunities in India.

Tell us more on how ICTs can help in strengthening the overall economy and growth in India
Technology is catalyzing a massive social and economic transformation in India. It is  connecting people and communities, enabling innovation and productivity increases, and  improving standards of living and opportunities across the country. New connection points  arise daily as government funding and low-cost innovations – such as a US$35 touch-screen  tablet developed in India – make purchasing computing hardware more feasible. Technology  also offers opportunities for transforming public-service delivery. Our analysis illustrates  that, by investing in skills and widespread technology adoption to harness the technology trend, India can boost its GDP by `4 trillion (US$90 billion) by 2020, 2.8 percent above the  current trajectory. This can help create 10.8 million new jobs by 2020. Organizations need to  seriously think about how they can harness the power of technology to become more  efficient and grow at the same time.
Tell us the more about current technology trends
The key technology recommendations can be broadly along five strategic actions:
Embrace the cloud: Purchasing IT solutions as a service enables companies to enter new   markets rapidly, minimize sunk costs and benefit from cutting-edge software. Offering all these advantages, cloud computing will help Indian entrepreneurs and SMEs compete with larger organisations.
Use technology to pursue polycentric innovation: Multinational companies are    pursuing "polycentric innovation"—choosing locations for innovation based on the markets served; for example, a different innovation hub for a different type of innovation for a different type of market.
They are increasingly shifting idea incubation to locations like India to create relevant products for their emerging-market consumers. "Reverse innovation" is also on the rise, whereby ideas originate in emerging markets before being sold into the developed world.
Harness technology to serve customers' needs: Indian companies recognize the  importance of putting the customer at the centre of their technology agendas.
They are analyzing customer needs before deciding what technology to deploy, which helps them justify technology investments to the shareholders.
Share digital literacy: Widespread digital literacy is critical for amplifying technology's impact on productivity and innovation across the wider economy. Full integration of newtechnology requires a variety of skills in the workforce at a range of levels, from basic digital literacy to more advanced technical skills. Knowledge-sharing schemes such as mentoring, social networks and enterprise wikis can spread the necessary expertise cheaply and effectively as well as bridge generational gaps in working practices.
Create open innovation networks: Open innovation—whereby companies involve     stakeholders such as suppliers, vendors and customers in their innovation process—are attracting significant interest in India. Automobile companies in India provide exceptional  examples. They have nurtured capabilities in local auto-parts companies and OEMs and, in return, have benefited from these stakeholders' ideas—strengthening technological capabilities across the industry's value chain.
How can Indian education and healthcare sectors benefit from technology applications?
Although India has a strong IT talent pool, a wide gap exists in terms of other technical skills.  The government and corporate sector are trying to bridge that gap through skills- development programmes. Similarly in healthcare, Information technology (IT) has the  potential to improve the quality, safety, and efficiency of health care. Diffusion of IT in health  care is generally low (varying, however, with the application and setting) but surveys  indicate that providers plan to increase their investments. Drivers of investment in IT include  the promise of quality and efficiency gains. Barriers include the cost and complexity  of IT implementation, which often necessitates significant work process and cultural changes.  Certain characteristics of the health care market—including payment policies that reward volume rather than quality, and a fragmented delivery system—can also pose barriers to IT adoption.
Given IT's potential, both the private and public sectors have engaged in numerous efforts to promote its use within and across health care settings. Additional steps could include financial incentives (e.g., payment policy or loans) and expanded efforts to standardize records formats,  nomenclature, and communication protocols to enhance interoperability.

"ALTHOUGH INDIA HAS A STRONG IT TALENT POOL, A WIDE GAP EXISTS IN TERMS OF OTHER TECHNICAL SKILLS"

As we approach the new financial year, what are your predictions on the IT spend and the key sectors to look out for?
Every year we come out with Accenture technology vision on technologies that will be adopted by companies in the years to come. I am outlining a set of technologies that will turn out to be a key enabler for organisations. These are…
Analytics: Indian enterprises are fast becoming aware that business intelligence helps  enterprises to increase revenue, reduce costs and enhance service efficiency. As per  Accenture's third global IT performance research study, an India-specific survey shows that   High Performers, not surprisingly, are more evolved in their information management practices than other organisations.
Data security: WikiLeaks most recently demonstrated the damage that can be caused when   information assets are not properly protected. In addition, sophisticated and targeted attacks on government systems have added significant security concerns. In 2011, governments and large enterprises will invest far more in technologies, services and business processes to protect sensitive information assets.
Virtualization technologies: India lags way behind in the adoption of virtualization as compared to US and UK where adoption of virtualization technologies has almost reached 100%. Indian companies use mostly thin clients with seamless multi-media access to   enterprise content. There is a lot of interest in piloting these solutions, but few are committing to it. However, with suppliers' spreading awareness about the benefit of virtualization, 2011 should see an uptake in adoption of these services.
Cloud Computing: Cloud computing – including Software as a Service (SaaS), Infrastructure as a Service (IaaS), and Platform as a Service (PaaS) – is emerging slowly, and India as compared to US and UK, is surprisingly lagging in SaaS adoption. However, the goodnews is that Indian organizations are currently far more receptive to cloud-related marketing messages than other organizations in APEJ region, with only 19 percent viewing the cloud as "over-hyped." The majority of organizations are still reading and monitoring cloud trends and would take more informed and definitive actions in the coming year.
Open Source: Open source technologies have started gaining acceptance and momentum with a host of technologies associated with FOSS. A perceived lower cost of ownership has been pushing enterprises and SMBs to switch to open source-based solutions.