With a strong policy framework, Gujarat is continuously moving up the value chain in terms of use of ICT in governance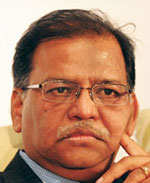 By Ravi Saxena,
Additional Chief Secretary, Department of Science & Technology, Government of Gujarat
Increasing access to technology is one thing, but the objective is to reach the last person in the queue, and to deliver the benefits that he or she is entitled to. This is the pillar of the policy that we implemented in Gujarat.
In order to set up the ecosystem of egovernance, a strong policy is the essential first step. The four pillars of policy for creating this ecosystem are illustrated in the accompanying figure.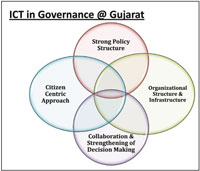 Collaboration and strengthening of decision making is very important as most govts often find different departments pulling in different directions. A consolidated unique platform on which all policy actions emerge is therefore essential. Towards this, we have created IT Committees in each department for single window techno-commercial approvals of ICT-led initiatives in governance. Representation of the S&T Department and Gujarat Informatics Ltd on these committees ensure that the application development takes place in a common direction and is based on a common infrastructure.
The Gujarat State Wide Area Network (GSWAN) connects 26 districts, 2226 taluka headquarters and approximately 14000 villages. GSWAN is perhaps one of the largest intranets in the world. We can have video conferences and direct grievance redressal conferences of the CM with local functionaries.
Evolution of ICT in Governance
We began with the Informative phase in 2002-03 and created simple websites aimed at information dissemination. The strategy moved to the Interactive phase and applications based on two-way database queries were implemented. One example is information on examination results based on roll no and DOB etc.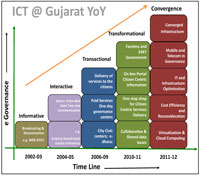 In 2006 we moved into the Transactional phase with paid services and one-day governance being delivered online. People could go to civic centres and make payments of dues, get subsidies and get land records certified, for example. Presently, we are in the Transformational phase which aims at providing 24X7 faceless government. In this phase, online portals with 130-140 services would be made available to the citizens. Every Gujarat village has internet connectivity and is also connected by the GSWAN, and power is available 24X7 across Gujarat. This is essential for success of egovernance initiatives as without reliable connectivity and power supply, it is very difficult to provide ICT-based services.
Convergence is the next objective for the state. In this phase, we aim to implement modern technologies such as virtualisation and cloud computing. We also wish to optimise the existing IT infrastructure and make increasing use of the mobile and telecom network in governance. Digitisation of information, and merging existing datatbases into a single, shareable database is one of the major challenges we wish to take up in the next phase.
Business Process Reengineering
Technology is not a challenge for delivery of services to the people. Technology or egovernance is just a vehicle, somebody has to be ready to ride on it, and reach the destination which is clean, transparent, effective, efficient govt where the citizen doesn't have too many interfaces to reach the central governance area. That calls for a lot of engineering of the business process, which were established as far back as the 19th century by the British and in many areas, the same is still going on. These are neither amenable to technology and neither desirable for carrying out the delivery that is intended.
Reengineering these process and making them amenable to modern day governance and technologies is a major challenge for the goverments in India and in the state of Gujarat.
Follow and connect with us on Facebook, Twitter, LinkedIn, Elets video