Gujarat has been India's maritime crown jewel. Strategically located with India's longest coastline of 1,600 km, the state is the nearest maritime outlet to Middle East, Africa and Europe for India. Dotted with 49 ports which includes one major port and 48 non-major ports, Gujarat has the highest number of operational ports and commercial cargo ports. Gujarat is also the first state in India to invite private sector participation in the port sector.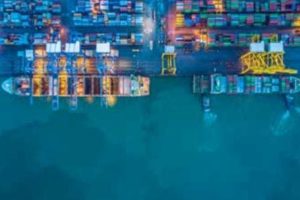 Gujarat Maritime Board was the first Maritime Board in India, which was established in 1982 to enable holistic development of maritime sector in Gujarat. Known for implementing a policy driven and innovative approach to maritime sector development, the Board operates, regulates and facilitates business at 48 non-major ports of Gujarat. The vision of the Board is to capture the strategic advantage of India's longest coastline Gujarat is endowed with; develop maritime infrastructure, facilities & services comparable with global standards and to place Gujarat prominently on the international shipping map.
Policy initiatives of Gujarat for the port sector include provision for private companies to develop port/maritime structure on reclaimed land.
Gujarat's share in national maritime trade
31% of total national cargo is handled only by Non – Major Ports in Gujarat (2016-17), up from a meagre 3% share in 1982
71% of total Indian non-major port traffic handled by Non-Major Ports in Gujarat (2016-17)
Kandla Port also accounts for a notable share of 16.3% of total cargo handled at all major ports in India in 2016-17; and a 9% share of total cargo handled by all ports across India
Ports in Gujarat thus collectively handle around 40% of total Indian maritime cargo
346 MMT of cargo handled by Non – Major Ports in Gujarat in 2016 – 2017 v/s a total available cargo handling capacity of ~466 MMTPA
Pharmaceuticals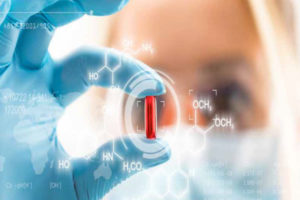 Gujarat exported pharmaceutical goods worth $5.2 Bn during 2016-2017 with USA being the major destination. The state has 559 WHO compliant manufacturing units out of the 1200 units across the country which is the highest amongst all states.
The state manufactured the world's first biosimilar 'Adalimumab' and continues to be the largest producer of contraceptive pills in the world. Gujarat produces 80 percent of the world's Isoniazid (used for treatment of tuberculosis) and 40 percent of India's machinery for pharma sector is manufactured in the state.
Growth Drivers for Pharma in Gujarat:
The growth of Gujarat's pharmaceuticals industry has been cluster-driven with 4 major clusters .
There are 5 Special Economic Zones dedicated for Pharmaceutical exports from the state.
Three new Industrial parks are under development.
Vast Talent Pool: A skilled workforce with high managerial and technical competence is readily available in Gujarat with over 4,500 B Pharma & 10,000 MBA seats in Gujarat.
Generics Drugs Market: Wide spread awareness of generics among people and government increasing access to quality products through Jan Aushidhi stores which promotes generics to cater to masses. Approximately 500 such stores are operational in the state.
Government Policy: Several disease eradication programmes and a universal healthcare programme have fueled the demand for drugs. Penetration of pharmacies in rural areas has opened up a new market.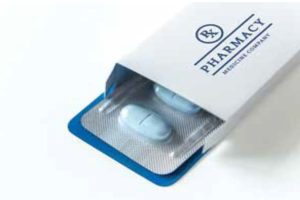 Availability of R&D Facilities: With the increasing investments in Research and Development (R&D) sector, introduction of new products and medicines development, has boosted research-based growth.
Gujarat as the state has the largest number of 146 licensed medical device companies as against 284 in the entire country. NIPER Ahmedabad is being developed as a National Centre of Excellence for medical devices.The value of medical and scientific instruments exported from Gujarat crossed US$ 100 million in 2017.
Renewable Energy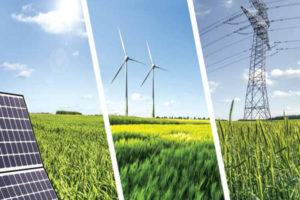 Gujarat contributes approximately 12% to India's Renewable energy basket. The State has a total potential of 85 GW in wind energy and 85 GW in solar energy. Gujarat is the 2nd largest producer of wind power in India. The state has a strong base of wind turbine & equipment manufacturers. The Centre for wind energy technology, an autonomous R&D institution under MNRE, has identified and approved total 82 Wind Monitoring Stations for wind energy deployment in the state.
Gujarat accounts for ~8 % of India's total installed solar power. Gujarat has one of Asia's largest solar park with a capacity of over 750 MW in Charanka. India's largest solar cell and module manufacturer, Adani Solar is based out of Mundra, Gujarat. Adani aims to become a fully integrated solar PV manufacturer.
The total bio-mass potential for Gujarat is about 1,800 MW from crop residue and about 140 MW from forest residue. There have been 53.10 MW capacity of biomass projects commissioned in Amreli, Junagadh and Vadodara. There are 16.77 MW waste-to-energy power generation projects and institutional biogas plants with capacity 15730 m3/day across the state.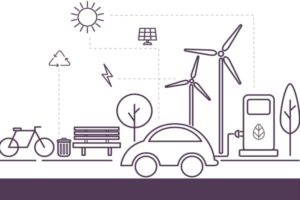 To bring in more invstments in renewable energy sctor, Gujarat Electricity Regulatory Commission (GERC) has enhanced the renewable power obligation (RPO) from the current 10 per cent to 17 per cent for the next four years.
Government of India has declared Gandhinagar as a Model Solar City setting example for Solar Cities throughout India and other nations. Total installed capacity on government buildings in Gandhinagar is 10 MW which contributes about 5.3% of the total Energy demand. Out of the total 10 MW installed capacity, 4 MW is SPV-based grid-connected power generating rooftop systems at government buildings. The programme aims at minimum 10% reduction in projected demand of conventional energy at the end of 5 years.
Tourism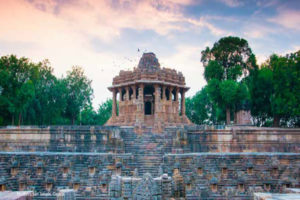 The Vibrant State of Gujarat, a veritable Growth Engine of India, accounts for about six percent of the total geographical area of the Country and five percent of its population. From being a favoured port for mariners, nucleus of business and industry, cradle for culture and religion, epicentre of the Freedom Struggle, home of Mahatma Gandhi and Sardar Patel to the abode of the Asiatic lion, Gujarat is richly endowed with tourism assets.
Gujarat is bestowed with great geographical diversity, from the ethereal saltencrusted desert to the expansive wetlands, pristine beaches to languid valleys, arid grasslands to lush forests. From Dholavira, one of the first cities in the world, to the first prototype of "Smart City" in India, Gujarat has it all. Tourists here soak in the rich cultural diversity, indulge in the various fairs and festivals, savour the cuisine and take back fond memories of their visits which they relish for a lifetime.
Also Read: Growth Drivers of focus sectors Gujarat's Economy
The state has 16 beaches on a 1,600-km long coastline, which is largest in India. Gujarat also offers 22 sanctuaries and 4 National Parks, the only white desert in the world and multicultural heritage and monuments to the tourists. The diversity in tourism assets is matched by a robust infrastructure base. In terms of infrastructure, the state has 19 airports (two international Airports), one major and 48 minor ports, 5,300 km long rail network, 1.63 lakh kms of motorable Road and 24/7 power supply, and above all an enviable law-and-order situation.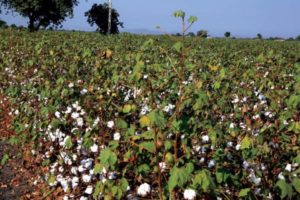 With total tourist arrival of 45 mn in FY 2016 -17, Gujarat has witnessed the growth in tourist flow by over 263% since 2006-07. Gujarat tourism assets include Spiritual destinations, ancient architecture, heritage properties, beaches/water-based attractions, nature and wildlife, fairs and festivals, geographical diversity, diverse cuisines and Gandhi circuit.
The state's tourism policy states that development in this sector requires close partnerships between the governments, the private sector and communities. It is perhaps the only sector which has a very elaborate and multiple backward and forward linkages with other segments of the economy like infrastructure, transport, construction, environment, water resources, etc. Current trends and growth projections at the Global, National and State level reinforce the immense potential of tourism as a noteworthy contributor to Gross Domestic Product (GDP) and employment.
The vision of the Gujarat Government is to position the state as a vibrant tourist destination, with an emphasis on improving visitor experience, livelihood linkages, environmental concerns and enhancing investment opportunities, thus catapulting tourism as one of the most important economic drivers, leading to sustainable development and inclusive growth in the state.
Textiles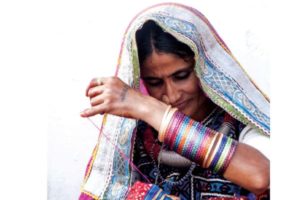 Gujarat accounts for 12% of textile & apparel exports of India. The state is also the largest exporter (60%) and producer (35%) of cotton in India. Having a strong base with more than 1,100 ginning units and more than 4 million spindles, over 25% of India's technical textiles output comes from Gujarat.
The textile infrastructure offered by Gujarat include:
1. 14 Textiles Parks offering plug and play infrastructure.
2. Three Textile SEZs developed in Ahmedabad with investment of Rs.5 billion.
3. Two composite centers in Ahmedabad & Surat
4. 28 Industrial Training Institutes (ITI) offring courses ontextiles and garments
5. The state is home to leading institutions such as ATIRA,MANTRA, NIFT & NID
Ahmedabad Apparel Park (SEZ) and 5 upcoming SEZs for textiles & apparels
The state has presence of 27 clusters including 18 MSME clusters. The state also boasts over 108,000 textile units that are involved in Ginning, Spinning, Weaving/knitting, Processing, Embroidery & zari work, screen printing, etc.
Textiles from Gujarat are exported to about 20 international destinations and the major exported textile products are Meditech textiles, Readymade garments, Yarns & Denims.
Follow and connect with us on Facebook, Twitter, LinkedIn, Elets video