By Sonam Gulati, eGov Bureau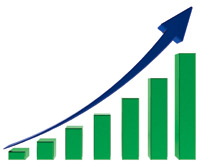 The Public Sector Undertakings which were earlier  plagued with the 'sarkari' tag of inefficiency are leveraging the new age technologies to redefine the work structure and thus re-engineering growth.
Re-engineering can be rightly called the mantra for big public sector enterprises these days. Public Sector Enterprises have long been overshadowed by their tendency to be more like a 'sarkari' office and thus often perceived as the inefficient sector which is less focused on innovation and productivity. But, all is changing as we are seeing the new 'avatars' these PSUs are donning leaving no stone unturned to face the water-tight market when it comes to productivity and efficiency.
As is widely known and accepted, PSUs are great contributors to the economy. In the Financial Year (FY) 2009, 18 major PSUs contributed 15 per cent of GDP and 47 per cent of total income. Over the years though, they have been facing very stiff competition from the ever-growing and expanding private sectors. Also, due to being government enterprise at the end of the day, they are infamous for a lot of corruption and nepotism. The organisations are big enterprises but yet maligned with the 'sarkari' tag and thus plagued with poor work ethics and lack of efficiency. This fact is slowly being realised by the PSUs and things are being re-arranged to sync with the times.  With the FDI the MNCs have come up with multiple offices in India and it has made the market watertight in terms of competition and deliverables and client expectations. PSUs, though still holding major portions in the country's growth story needed to combat this competition with the right strategy.
This is where the need for innovation came in. Technology in the form of innovative solutions is the order of the day today. Where a company like Cisco is holding its conferences via video conferences and screens its high-time our PSUs did away with those files for a start. The challenge was not to adopt high-tech IT solutions, the challenge was to align the existing infrastructure with the new deployments and even make the manpower migrate to the new systems in a hassle-free manner.
"Technology for government sector or PSUs has a huge scope today. Though we can't say that technology will bring will or accountability in people to work more efficiently, it can surely speed up the process and put it in order," said Mathew Thomas, VP, Strategic Industries, SAP. SAP has been focusing on the Public Sector Undertakings for around three-four years and has been deploying customized integrated solutions for many PSUs.
According to SAP, realisation is dawning rapidly on the PSUs to combat this competition posed by the private sector and now they are turning into demanding customers when it comes to deploying solutions. "The unique thing about working with PSUs is that they are one of the most aware customers. They know what they want. It then becomes more challenging for us as solution providers to come up to the expectations. They often ask us to show them demos of end-to-end solutions and integrated process that can be s to suit their enterprise. The PSUs are not anymore happy with just a power point and any packaged solution," he added.
"While many government organisations have been aggressive in the adoption of technology, its usage particularly amongst some PSUs has been relatively slow over the years. That said, we do anticipate for the current levels of usage to increase over the next few years as these companies are slowly but surely realising its potential benefits of increased efficiencies and better economies of scale. We have seen some PSUs move to a transparent fair and secure e-bidding and e-evaluation process," according Ramsunder Papineni, Director Sales, India, McAfee.
Integration of systems is of utmost importance when it comes to managing such big enterpirses as the PSUs due to large operations and manpower. As told by Naveen Mishra, Principal Research Analyst, Gartner, "As far as the PSUs are concerned, the leading enterprises are doing much better in terms of leveraging IT. Hey are looking at different technologies and trying to consolidate and compete with the global markets. However, several PSUs are relatively lagging in the IT adoption." He also said that IT modernisation and consolidation is the mantra today.
Why Should They Revamp?

The question is why should they restructure their processes? It is quite plain and simple. The fact that today, the market is highly competitive and vacuum tight because of the kind of opportunities and scope the various sectors give. For the PSUs it might not be so much as the question of retaining market share as it is of their own functioning as well as image.
For instance, re-aligning their structures through ERP solutions only gives thema better picture of their own productivity and revenues. Where they are losing where there is profit. As rightly put bu RK Tandon, MD, IRCTC (detailed interview follows) "Through ERP we have been able to see at one glance which trains are running in losses and which ones making profit. What are the areas of improvement and the whole performance review can be viewed. Also, the whole os this data is integrated so all the offices across the country can see it without any hassle."
Similarly, leveraging the benefits of a technology like Unified Communication or Vitualisation increases the efficiency manifold while making the company 'greener'.
Tech Trends

There are various technologies that are now catching the fancy of the 'top cops' of PSUs. e-Procurement is one of them. "Business intelligence, mobile technology, ERP solutions and e-Procurement are the top four technologies that are coming up in a big way," said Mathew Thomas from SAP. e-Procurement is one of those technologies that are helping the PSUs in a big way since all the work is tender-based. It makes the process much more transparent and fair to all the competitors.
According to Naveen Mishra of Gartner, Unified Communication, Virtualisation, Cloud Computing, Consolidation, Modernisation are the big focus areas. "Optimising their processes and application re-engineering are going to be the verticals to watch out for in PSUs. The way we see it, PSUs are trying to be more competitive for the market as a whole and that is one of the differentiation in global market."  .
Ramsundar Papineni, McAfee  also included virtualisation, mobility and the consolidation of networks in the major technological trends for PSUs. "From a  security standpoint, the integrated and interlocked defence and depth security solutions and threat vectors are some innovations that will see immense adoption," he added.
Share in The Pie

There is no doubt that PSUs are accelerating the growth of the economy and thus have a great share in the pie-chart of Indian economy. Nevertheless, there again is no second thoughts on the need of re-engineering and business transformation in the internal functioning of these enterprises as to be with the time and compete with today's opposition they have to be as techno-savvy as them. "There is definitely a lot of untapped potential in terms of technology adoption among PSUs. Given the fact that most PSUs in India have their plants located in remote areas across India, technology can enable them to build a seamless and robust network. Technology and last mile productivity can facilitate PSUs to boost their infrastructure capabilities and increase their success rate for projects," Ramsundar Papineni from McAfee stated on the importance of technological development and IT adoption in big enterprises, especially PSUs.
The times also call for a clean, hassle-free and customer-friendly approach for which the right use of IT is indispensable. With these new developments and prediction by experts, one can easily say that the PSUs are all geared up to invade the market not only in terms of economic growth but also efficiency and modernisation.