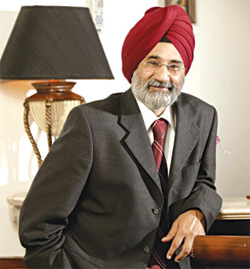 Lt Col (Retd) HS Bedi
Founder and Managing Director
Tulip Telecom Limited
Tulip IT services is one of India's largest network integrators. Lt Col (Retd) Hardeep Singh Bedi served in the Indian Army for 22 years before he set out to start his own company, Tulip.
In conversation with Dr Ravi Gupta, he talks about Tulip's focus on broadband and future plans. Excerpts:
What was your vision when you founded Tulip?

When we founded the organisation, the only competition of data connectivity was with BSNL. At that time data connectivity was confined to only few cities.
In 1999, after seeing a huge potential in the wireless business, Tulip started its operations in this field. We started covering the whole country with wireless connectivity. We were looking for a big order and we got one from a bank. In 1999, we were able to connect a bank across multiple states through wireless technology. This became the first and one of our biggest successes. We quickly captured the low bandwidth market.
With India's economic growth, every Indian is going to prosper. Today, Indians are at par with the Americans. India has suddenly become popular because of improved governance. We'll be increasing market share in data services and looking at international long distance, corporate Internet and national long distance markets. Over the last two years, the wholesale market has changed; companies like AT&T, Orange and even Tulip have got international licenses.
What are the major policy hurdles?
The government also realises that they have to ensure the upliftment of every person. They have to provide the services of the last man. Only challenge is telecommunication i.e. data connectivity. Government needs infrastructure to deliver services. This infrastructure can be in the form of road, water or data connectivity. Data connectivity is fundamental infrastructure for delivering services, today.
Government already has preferences; it creates certain degree of uncertainty. There is a need of some clarity on this policy. There is lack of clarity in government policies in wireless network. There should be no subsidy for anybody. The telecom companies have already set up their networks. There is no need to create individual networks.
With the help of UID, you have a database; you will have the first building block. We can be way head for developing world.
What type of opportunities do you see in enterprise data services space in India?
There are enterprise networks and retail networks. We are enterprise network. We have a unique portfolio of enterprise data services ranging from MPLS VPN, corporate internet, managed services, data center solutions, and international connectivity. Tulip does not address the retail market. I believe, in India the enterprise data services space has tremendous opportunity and Tulip is strategically placed to offer data services to all customers.
We could not go to the smaller times primarily because linking copper is becoming more and more challenging.
The government is connecting every panchayat through optical fibers. How do you see such steps?
The government has come out with a good plan of fiber connectivity. The government decision to connect every panchyat by fiber is a good step. The reality is that as of today, a lot of fiber and telecom facilities are available up to the level of most districts. But the moment they start going beyond district, that is to block and taluka level, a lot of telecom facilities such as fiber are not available, fiber. With our own fiber we can now offer high bandwidth data services. We have successfully laid optical fiber in various cities covering major commercial areas. This fiber rollout has helped Tulip grab more and more customers pan-India, successfully using Tulip fiber for their data connectivity requirements.
The government is planning to roll out fiber that goes beyond the block level to the panchayats. So our recommendation is that the government takes on rollout of fiber from between the blocks to the panchayats, which is the big void today and which does not make commercial sense for the current telecom companies, and thereafter make this infrastructure available to all telecom players for rolling out of services.  My suggestion is that that there should be private participation in its implementation.
What are your views on Cloud Computing?

It is an application focus. Cloud computing, virtualisation and unified communications are giving substantial boost to the enterprise data connectivity segment. Server virtualisation is driving the adoption of the latest data center unified fabric technologies that seamlessly merge storage and network infrastructure into a unified, highly flexible transport.
---
"Cloud computing, UC  and virtualisation are  giving substantial boost to the enterprise data connectivity segment"
---
What are your future plans?
We are a premium Data Company. Our aim is to reach every village within two years, but that depends on us to be able to pick up the orders. The point is that we are willing to make the investments to reach out, but now it is for the government and business organisations to see whether they need services there. If it becomes profitable, then we will go there. Last year, we had about `2,000 crores of revenue. We should see an increase as the pattern has been of about 20 percent and if we continue to see this kind of a growth, we should cross about `3000 crore as we go forward in the next three years. We also expect about `1,000 crores revenue to come from the data centre business, so in the next three years, we should be on track for a billion dollar revenue.