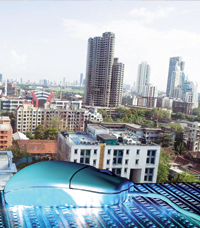 Municipal e-Governance through advanced, interactive and user-friendly technologies is the way forward. The agenda is to minimise personal visits to a government office and ensure speedy delivery of G2C services
By Sonam Gulati,
eGov Bureau
Meena works as a cook in a North Delhi posh residence. Her native place is a small village in Jharkhand. She is not educated enough to read or write properly, yet when she wants to visit her village all she has to do is organise some clicks on the internet. That is the power e-Ticketing of Indian Railways gave us. No more long queues, no more tiring trips to the stations and then realising the ticket you are getting is waitlisted, no more inaccessible phone conversations to get to know the status of your waitlisted seat in the train.  e-Ticketing was one of the pioneer e-Services projects of the country and till date the most successful.
Mohit Bhatia on the other hand is a busy IT professional who doesn't have time to file his income tax. Manually doing it is further a step backwards to filing it   altogether. But again e-governance has changed that. Now, all you need is a well-functioning computer and internet and you can file your income tax online without going anywhere. You don't even need to own the PC, you can go to a  cyber café.
Such is the power of technology that it can transform life. e-Services provided by various municipal corporations across the country have been changing the  way we live. Basic tasks such as paying property tax, getting birth and death  certificates, land records and even checking availability of beds in government  hospitals has made the former mundane and tedious tasks to convenient and quick. The thrust now is to ensure minimal personal contact in the government  offices, with the government officials and more on how to make available  services and their delivery to the citizens on their PCs. It reduces corruption,  increases transparency and also saves time and hassle to both the customer and the government.
"Our basic vision was that people need not go to the government offices. They get the services on their PCs and the delivery happens at their doorsteps," said  Shankar Aggarwal, Additional Secretary, Department of Information  Technology (DIT), Ministry of Communications and Information Technology,  Government of India.
Municipal services are a major project under the NeGP to  offer Government to Citizens (G2C) services to the urban population. The various services offered render a picture of a mature, tech-savvy India where technology is paving way for development.

Municipalities as a Mission Mode project
Mission mode projects (MMP) have been designed at the centre, state and  integrated levels by the government under the National e-Governance Plan  (NeGP) in 2006. NeGP is a plan of Government of India to make available all  government services to the citizens via electronic medium. It comprises 27  Mission Mode Projects (MMPs) and 8 components to give a boost to  e-Governance initiatives in India. Mission Mode Projects are a key part of the  NeGP. There are in all 10 Central MMPs, 10 State MMPs and 7 Integrated MMPs  spanning multiple Ministries/ Departments. Municipalities are one such MMP  under the state government and thus its status and progress differs from state  to state. The general concept is to provide all municipal services such as land records, water bills, property tax, etc online so that the citizens don't have to go physically to the office.
The uniqueness in the project is that it works on a Private-Public Partnership, which the private vendors provide technological infrastructure for the delivery of the services. The advantages of the model are that these provide the best  available technologies combined with the reliability of a government interface.
Been there, done that
A number of municipal corporations are alredy providing several G2C services online to citizens. Some such examples of municipalities doing good work in this arena are as follows:
l. Pune Municipal Corporation offers a range of electronic services to the citizens and has come a long way. "It's been 8 years since our premiere services started, we give online birth/ death certificates, e-Tenders, properties' database and  there also a public grievances system wherein citizens can log in their  complaints," states Jayant Bhosekar, Head-IT Department, Pune Municipal Corporation. "Our online property tax facility is the most popular. It is in place for the last 7-8 years and has garnered tremendous popularity amongst the citizens," Bhosekar said.
2. Ahmadabad Municipal Corporation was the first in country to cover the solution of municipal activity and services like birth and death registration, building plan, primary health and education, city cleanliness, water supply,sewage, road, street-lights, parks and garden through e-governance to  the 55 lakh citizens of the city. "Every citizen has a right to know about the functioning of Municipal Corporation as the functions are directly related to them. At present almost all the department activities are computerised," said, Dilip Mahajan, Deputy Municipal Commissioner, Ahmadabad Municipal Corporation. On talking about the most successful services he said, "All the services are critical for the citizens, but from revenue point of view property  tax system is a very successful and popular service. Our per day collection on an average is almost INR 1.25 crore.
3. Log on to the Municipal Corporation of Delhi (MCD) website (www.mcdonline.gov.in) and a range of offerings spring up in front of you. Booking of parks and community halls, filing property tax online, online factory licensing, registration of birth/death certificates and many more services which  we usually avoid due to the long process are now available online at a  click. One can even file an RTI application on the MCD website.
The main  problem of going physically to the    government offices and then rounds of  visits to get the application 'moved' has been taken care of in certain  cases and thus it's a citizen-friendly and easy process which encourages  transparency and participation.
Vendors' speak
The unique aspect of the project, it being a public-private partnership, has  made it a successful model of e-Governance wherein latest technologies from  private vendors coupled with reliability of government infrastructure is presented to the citizens for use.
"Municipality Mission Mode Project (MMMP) is designed quite well to address  most of the usual concerns in implementation of e-gov project leading to mere  electronic duplication or mere digitisation of records. It has full potential to  transform the municipal functioning. It needs to be seen how well the different  stakeholders, including IT industry and eGov champions from government  departments, adopt the essence of the programme and deliver desired result," states Prakash Rane, Managing Director, ABM Technologies. ABM is the  designated software implementation partner for the state-wide rollout of  KDMC's eGovernance solution; MAINet. This IT project will help automate  access to more than 100 citizen services in Maharashtra including payment of  taxes, property related queries for telephone or internet connections,  application for new water connection, and simple registration of any civic  complaint. The solution will be deployed in all the local bodies by 2012. "Our  experiences have taught us that the challenge of making an e-Governance  initiative successful always starts once the software solution (IT project) goes  live. Various parameters like change management, resistance management, refining the project's functionality, data accuracy and organisational behaviuor  play a crucial role in ensuring that the initiative substance over a period of time. Thus, guarantees the return on investment to the municipal bodies," Prakash Rane concluded.
The big private players are all very positive about the scope of e-Governance in  India and hopeful that it will soon be at par with other nations. "We are seeing  considerable momentum in IT adoption at the municipal, city and state levels. Factors such as increasing broadband  penetration and implementation of UID,  will also boost the adoption of IT in the government sector," Shrikant Shitole,  Vice President, Transformational Business, Cisco- India and SAARC.
Technology trends
Geographic Information System is the new technology to look out for since  most of the government offices are now looking to incorporate GIS in their  e-Governance projects. Pune Municipal Corporation is on the way to use GIS  platform to integrate all services by next year. Another current hot trend is  cloud computing wherein the of use of cloud computing for availing IT  nfrastructure as a Service (IAAS) is expected to be the next big thing in the roll  out of various e-Governance initiatives.
Unique Identification (UID) and use of biometrics for identification of citizens is  heating up as an option as it could solve all problems of carrying various  identification documents. UID initiative, Aadhar has already been rolled out in several states and biometric identification for workers under the Mahatma  Gandhi National Rural Employment Guarantee Scheme (MGNREGS) scheme is  the next step forward.
These are the few of the many technologies that are  gaining popularity and usage in the various e-Governance initiatives and are been looked at as game changers.
Speed Breakers
In a demographically vibrant and varied country anything new is a challenge in  itself. Incorporating new technologies to such a large area and ensuring it  reaches maximum population is a task. The road to an IT-driven country is lit with various types of challenges that oftenb acts as speed breakers.
e-Governance has come to be an important aspect of India's development and a  key to a less corrupt and more transparent society. As of now the municipal  e-Services are more concentrated towards the urban population but the  ultimate goal is to provide each and every citizen the access to be able to avail  everyday services without going to a government office. Urban areas are  currently the focus because they still have a basic infrastructural setup and
resources. Rural areas too have been somewhat touched through the Common  Service Centres being built under the NeGP but still leave a lot to be desired.
"Private vendors don't want to foray into the rural areas yet as they don't earn  that much from those areas. The return of their investments is less and the  earning is slow and very less as compared to the urban projects. For this  purpose government has evolved a new transparent bidding process for the  rural e-Governance projects. In this new approach the government will make  up for the private sector's losses for a period of initial 4 years of the poject on  the basis of bidding. This is our new method to ensure installation of similar systems in rural areas too," says Shankar Aggarwal of Department of IT, GoI.
That is just one part of the story, private vendors have their own challenges to  work with the public sector. "Some of the top challenges when it comes to  implementation of IT services are bureaucracy, cost and lack of sufficient  broadband penetration. Often, for IT to be effective, it requires certain process  changes as well as extensive training of personnel, which may be time  consuming and costly. This often acts as an inhibiting factor although the long-term benefits definitely justify the cost and time investments," informs  Shrikant Shitole of Cisco.
"IT capacity of the municipalities, resources' limitations and the monitoring mechanism of the projects roll out are the major  challenges being faced in this domain," according to Vibha Agrawal  Senior Director, CA Technologies.
Challenges included the journey is  progressing in a commendable way with some very innovative e-Governance as  well as m-Governance 2010 projects  being introduced in the country. A good example here could be the initiative of  the Greater Hyderabad Municipal Corporation's new mobile-based IT initiative  Off-Site Real- Time Monitoring (OSRT) system which enables managing of civic  amenities in a transparent and efficient manner. It uses a combination of Global Positioning System and General Packet Radio Services technologies through  cellphones. With the combined knowledge, effort and competence of public as  well as private enterprises our nation is soaring to become an IT nation .
Social media & urban governance
It is not news anymore how social networking sites like twitter and facebook are  changing the way we do well almost everything. The latest being the  Egyptian revolution wherein twitter updates revolutionized the whole struggle.  Facebook has become a medium to not only discuss but put pressure publically  on authorities to be accountable and it can be a great tool in urban governance  wherein everyone is online 24*7.
Social Media is a resource lying untapped and  its potential is tremendous. It is the answer to our woes when it comes to  making governance interactive. If just a simple page on Facebook can make  Delhi Police so popular and efficient, it can do the same with other departments  as well. It is the 'in' thing today and thus should be tapped as soon as possible. Its another technology lying to be utilised for better governance, reduction of  human interface and more transparency.
It is no coincidence that the planning  commission (12th plan), Municipal Corporation of Delhi, The Commonwealth  Express, National Population Register, National Highways Authority of  India, Tihar Jail, National Knowledge Commission, Jaipur Municipal Corporations are a few organisations which have  made their presence felt on social media (Facebook). Leaders like Shashi  Tharoor, Omar Abdullah, Sushma Swaraj are pro-active on Twitter. The  awareness division of national e-Governance plan is hosts a You- Tube channel.  It is definitely a good sign that the government is realising the importance of  social media and is trying to reach out to the citizens.
Future map
New technologies such as Geographic Information System (GIS), Biometrics,  UID or SOA are the next big things in e-Governance initiatives. Government is  already starting on them and will soon be rolling out new projects. "The new age  technologies will prove to be instrumental in delivering better  eGovernance solution only if the decision makers make provision to Tax accommodate information security, data privacy, affordable technology and  framework for capacity building. Another important aspect that needs to be  considered by both the government and eGSPs is selecting the right new-age technology considering the diversity offered by Indian population in terms of  literacy, computer- literacy, and regional languages; else the acceptance of the  initiative will tread hay-way," comments Prakash Rane of ABM Technologies.
Another important aspect which needs proper lookout is a clear marketing and  promotion of e-Services by municipalities as there is still a section of society in  urban areas that doesn't know about the range of e-services offered. "We have  funds to use for marketing and creating awareness but it presents a key challenge in a vast nation like ours. Everyone doesn't read papers, everyone  doesn't own a television. There have to be specialised marketing initiatives that  engage people from all stratas of society," Shankar Aggarwal of DIT.
Municipal  e-Governance through advanced, interactive and use-friendly technologies is  the way forward for our country. The agenda which is to minimise personal  visits to a government office and ensure speedy delivery of G2C services by  means of interconnected networks and single-point delivery is the main focus  for al e-Governance initiatives. As the first phase of Municipalities as a MMP  comes to an end in 2012 there still is scope for improvisation and enhancement. The future looks to endorse the services in various other cities as  well as rural areas and truly embark on the making of a well-connected,  technology-driven and better governed country.