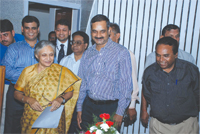 Project  'Parivartan', a turnkey project for implementation of SAP ERP has been successfully completed by  Indraprastha Power Generation Company Limited and Pragati Power Corporation Limited (IPGCL and PPCL) to support their power generation management for the National Capital Territory of Delhi. The project go-live was inaugurated by Smt.  Sheila Dikshit, honourable Chief Minister of Delhi on 7th October 2009, at the Delhi secretariat.
IPGCL-PPCL's journey to business transformation started with its creation in the year 2002 itself when it was carved out of the then Delhi Vidyut Board. It was a gradual and difficult journey to transform an organisation which was working with a typical government mindset without any thrust on profitability and self sustenance.
The journey of IT transformation started with only one desktop which was available to the Chief Engineer (Generation). An independent IT department could be created only in the year 2004. First thing was to make a company website which was done immediately. Then started the mission of educating the employees to work on computers and windows. As a first step, all the offices and plants were connected through LAN (Local Area Network) so that they could work on a unified platform.    A long term vision was finalised and goals were set to bring transparency and efficiency in operations with the help of IT.
This prompted the adoption of a technology platform that drives operational excellence, maximises resource productivity  and enables delivery of superior value to the community.
IPGCL-PPCL decided to increase its efficiency through end to end business transformation. With the adoption of SAP ERP solutions IPGCL-PPCL has replaced its existing software systems with a centralised enterprise applications solution across all its existing and upcoming power plants. This has enabled streamlining and seamless integration of business processes on a single platform and aided business diversifications in areas such as power trading and coal mining. In addition, the company has achieved reduction in total cost of ownership by moving on to systems and platforms which allow scalability and interoperability. The ERP project, which took seven months to complete, has consolidated nine core business processes through a comprehensive suite of applications, integrated with leading business support and analytical software.
Utilities today must navigate through a business atmosphere fraught with security risks, geopolitical uncertainty and subject to complex regulatory requirements. In addition, utilities also face the unrelenting pressure to reduce costs. To address these challenges utilities must implement innovative technologies and best practices, and transform their organisations into the utilities of the future.  By implementing SAP, IPGCL-PPCL has adopted the best practices of major industry players from across the world. IT has now become capable of maximising the  power generation capacity along with setting the highest standards of plant operation and environment protection. IPGCL-PPCL is confident that business insights that it will gain with SAP ERP will enable it to comply with the regulatory requirements and bring in great transparency in its system management.
Problems Faced
Allthough  the project is implimented successfully, it was not without its share of problems. The topmost problem was to depute suitable manpower in the project because of shortage of manpower resources since so many activities were going on together; most importantly New 1500 MW power project at Bawana, for which whole team was to be deputed. However with the support and clear vision of top management, this was overcome.

Connectivity became major issue because DTL, on whose fibre opticle network IPGCL was  operatiing, had to relocate it's transmission tower and lines on which optical fibre was laid due to construction of ring road bypass. This was overcome by immediately switching over to wireless Wi-Fi system.

Uncertainity in the mind of people and fear to loose power also acted negatively and was very hard to overcome. Legacy data cleaning and migration into ERP, response from end-users, particularly in providing clean data, training and role mapping, maintaining  motivation of core team members were the other challenges faced during the implementation period.
Strategies adopted to overcome the resistance 
The most important was the top management's support without which, the success would have not been achieved.
Effective communication strategy was adopted to communicate the progress and advantages of project and to encourage people to participate through workshop sessions and training.
Conclusion
The biggest advantage of this system would be that the information related to every transaction made in the Company along with the data in correct format, would be available at one place.
The  correct information at right time for decision-making will always be available to those who need it at the time of taking such decisions.
The success of this project also proves that if intentions are good and goal is clear then anything can be achieved through hard work and ability to change in any given circumstances.
Follow and connect with us on Facebook, Twitter, LinkedIn, Elets video