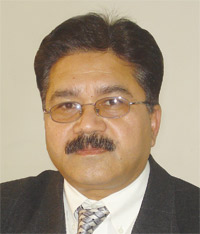 Savitur Prasad
Secretary, Department of IT, Government of NCT of Delhi
"With the ICT interventions, especially the TETRA, on one hand and IP based PTZ cameras on the other, Delhi would be the safest place in the country."
"The Delhi government has taken mandate that the citizens may not have to come to government, instead, the government reaches out to the citizens."
Being on position of IT Secretary of Capital City Sate, how do you see the challenges  and opportunities in your way?
Delhi gets a huge influx of millions of people commuting daily for work in the Capital, which puts strain on the limited urban infrastructure. We should see that the planing and the development should not be short lived but it should address the future needs of the city- at least  for 20 years. In essence, all infrastructure facilities and technology deployed should be linked with the future scenario.
There are about 60 to 70 lakh houses in the Capital. For availing government to citizen (G2C) services, people commute long distances for submitting electricity bill, water bill, property tax etc. This pattern of citizen-government  interaction demands more  resources, as in, time, energy and fuel and increases costs and stress to the day to day life.  To deal with this situation, the basic principle that Delhi government has taken as mandate is that the citizens may not have to come to government instead the government reaches out to the citizens.
Crystalising the principle, the Delhi government has taken initiative to set up citizen facilitation centres popular as Jeevan Centres in citizen's own locality for availing various government to citizen (G2C) services.
These centres offer 45 types of services  which includes utility payments, air and railway tickets, submission of forms for government schools and applications for the 'Bed and Breakfast' Scheme (of the Ministry of Tourism).  Currently, there are almost 300 centres operational. In near time, 500 centres will be operational and in times to come it would be scaled to 1000 centres.
To make the senior citizens, house wives and other residents computer literate, the government, with the help of Resident Welfare Associations, will be organising mass awareness camps  in residential areas.
The objective is to make the given sections  of citizenry capable enough of taking advantage of the various [government] programmes, through computers itself. Shortly, 100 to 150 camps will be set up to teach people on how to operate computers, use Internet, do e-mails, and access Delhi government websites.
Can you tell us about the Geo-Spatial Data Infrastructure project?
Under the Geo-Spatial Data Infrastructure project, entire Delhi has been mapped, three-dimensionally,  under the ground (10 meters), over the ground and above the ground, making  available the 3D view of Delhi for better decision making. Besides, all government offices will be able to interact and transact their business with the help of this project. Shortly, it will be made available in public domain as well.
Basic motive of this project is to assist authorities in better planning and maintenance of existing infrastructure. It aims to map the utility pipelines that have been laid out under the ground- including water pipelines and sewage pipelines. Many times, the drawings of the underground layout is not available with departments and so in case of emergency or even in normal times of operation, it becomes difficult to zero in on particular area beneath which lies the faulty pipe line.
Please throw some light on areas of ICT applications in hosting of the forthcoming Common Wealth Games 2010 in Delhi.
The Asian Games held in Delhi in the past replaced the black and white television sets to coloured television sets. This time, the Common Wealth Games 2010 will take the security infrastructure of the Capital to the next level. While organising the games, security will be a priority. Towards this end, secure communication systems (government to government) is one of key infrastructure elements. The Department of IT, Government of NCT of Delhi has endeavoured to establish country's first Government Radio Network (GNR), providing state of the art Terrestrial Trunked Radio (TETRA) communication system to the government agencies, participating in hosting of Common Wealth Games in Delhi. The GNR project is being implemented by HCL Infosystems and Motorola.
10,000 TETRA handsets will be provided to the participating government agencies which includes: Common Wealth 2010 Organising Committee, Delhi Police,  Transport department, Hospitals, Fire Services, Municipal Corporation of Delhi (MCD), New Delhi  Municipal Corporation (NDMC) and Disaster Management authority.
We are also deploying Internet Protocol (IP) based Pan-Tilt-Zoom (PTZ) cameras for video surveillance that would cover up to 5Kms. There will be 63 cameras in the entire city. Cameras will be commanded by 10 monitoring  centres and two control rooms. The cameras will be able to provide real time information on 24×7 basis.  In addition, the Delhi Police will be deploying 2000 closed circuit television (CCTV) cameras in the city.
Entire Delhi will be visible from these control rooms – where 10 to 15 monitors  would provide view of any part of the city. MTNL would provide 2Mbps leased lines to all the government departments, which will subsequently be scaled to 10Mbps, though having a capacity  up to 100Mbps. With these ICT interventions, especially the TETRA, on one hand and IP based PTZ cameras on the other, Delhi would be the safest place in the country.
Can you elaborate on the Service Level Agreements (SLA) proposed by the Delhi Government for departments in providing service delivery.
To ensure citizen centric governance, every department has been mandated to adhere to service level agreements (SLA) issued by the Delhi government to deliver the services in particular time frame.
Any citizen who wants particular service like issuing of driving license, ration cards or certificates, can avail the services in the given time period, failing which accountability parameters have been put in place(for the government personnel). This system is already operational in nine departments and would be operational in all departments by April this year.
Anaam Sharma
Pratap Vikram Singh
Follow and connect with us on Facebook, Twitter, LinkedIn, Elets video