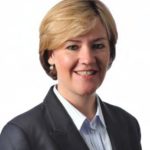 As Vice President of the Public Services group for SAP's Asia Pacific Division, Adaire Fox-Martin oversees the strategic direction and activities in the area of public services in the health, education and defence sectors across the region and executive relationships with customers and partners. Ms. Fox-Martin is a key member of the SAP leadership team and plays a lead role in delivering SAP's offering to public secto­r customers. A respected thought leader, Ms. Fox-Martin continues to be invited at seminars and conferences by the media and analysts to address public services issues ranging from e-Government transformation and reengineering of Government processes to public service policies. She is regularly featured and quoted in numerous publications throughout Asia and Australia. Ms. Fox-Martin has over 20 years of experience in the field of information technology and management.
Effective e-Governance can take information technology (IT) to the common man, while helping Governments to regulate their services in line with the changing needs of both citizens and stakeholders, as well as develop the economy. Recognizing the growing importance of e-Governance we bring you a much needed, regular, interactive platform, where your questions on a pre-defined theme are answered by Adaire Fox-Martin, Vice President, Public Services, SAP Asia Pacific and Japan.
In this issue, we focus on e-Governance for urban bodies and municipalities which hitherto has been a key and mandatory reform requirement for the cities for purposes of getting approval on City Development Plans (CDPs) under JNNURM. Large numbers of cities are currently in the process of getting their CDPs under way and it is important to deliberate on the mechanisms and options for e-Governance for various cities and municipalities.


What is meant by e-Governance in municipalities? What functions does it cover and how does it enhance urban governance and infrastructure?

As a popular notion, e-Governance in municipalities essentially refers to electronic provisioning of citizen services like certificates, licenses, permissions and approvals. However, a broader perspective needs to be taken and every ICT initiative that enhances efficiencies and improves governance and infrastructure need to be given importance. Hence functions like accrual accounting, revenue enhancement, works and engineering, town planning, real estate and fleet (transport and SWM) need to be given significance in the planning of any e-Governance initiative. In fact, these are areas which impact the citizens every day compared to certificates and approvals which are sporadic activities in citizen lifecycle. Additionally, these functions also enhance governance and infrastructure.
What is the current status of e-Governance in municipalities?

Municipalities have been on the forefront of e-Governance (compared to other government departments and agencies) and several metro and mega city municipalities have put one or the other ICT systems. However, such systems are highly heterogeneous and vary in scope and quality. They range from just simple websites for grievances, to delivering services over CFCs and Web, to managing e-Governance comprehensively and in fully integrated manner. Also, there are a range of solutions– multiple custom built (MCD, NDMC and several others);  specifi cally designed and productized (KDMC); and fully integrated enterprise applications  (Greater Mumbai, Bhopal etc.). As e-Governance matures, municipalities need to look at comprehensive applications that cover citizen services, governance and infrastructure on a  fully integrated platform which preferably brings in best practices with the solution.
Since a municipality may have already done a lot of computerization, what is the best course for them?
While a lot of computerization may have been done, they may be just point solutions on different platforms with different levels of obsolescence. Additionally, they may be lacking best-practices, workfl ows, and integration. It is important that the municipality takes stock of  the current situation, software and hardware and looks at the potential of deploying  scalable enterprise applications. Now, this does not mean trashing of the investments already  done. The present times' enterprise applications provide a signifi cant platform to integrate the worthy applications that such bodies wish to retain and at the same time provide them an  opportunity to upgrade to world-class, proven, best-practices driven and comprehensively  integrated municipal applications.
While enterprise applications may be a viable solution for larger municipalities what should the smaller ones do?
There are a lot of examples of sharing the applications and infrastructure by smaller councils  and towns in different parts of the world – US, Canada, Australia, UK etc. Shared Services for  Municipalities is an excellent way for the Urban Administration Departments to leverage  enterprise applications for smaller municipalities and councils in a highly effi cient and  economically viable manner, whilst providing all the benefi ts of enterprise applications.

Who are the key providers of "enterprise applications and shared services for municipalities" and can you cite some examples
Information about municipal (urban local body) solutions and implementations is largely  available on websites and can also be seen at websites of solution providers, SAP being one of  the prominent ones. Examples include MCGM, Bhopal, KDMC, Aurangabad in India;  Birmingham, Manchester, Vienna and scores of others in UK and Europe; Toronto, Ottawa  and Vancouver in Canada; Erie County in New York and several others in the Asia Pacifi c  region as well. The numbers are growing as the demands on e-Governance grow and this is  particularly true for India. A policy direction by government to consider enterprise  applications and shared services by municipalities could signifi cantly improve the quality of  urban governance and infrastructure.\\