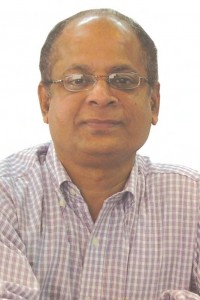 C-DAC was given the mandate and privilege to take the initiative for aggregating a minimal set of Indian language software tools and fonts in all the 22 languages and release them free in the next couple of years
C-DAC's PARAM series of supercomputers have already made mark on the global scenario. What next we can expect on the same pattern from C-DAC to make an impact on Global ICT Scenario?

C-DAC has completed over two decades of journey.  In fact, we celebrated our 22nd Foundation Day only recently. While Supercomputing, and more recently Grid Computing, continue to be strong drivers of C-DAC's R&D work, we have added many more critical enabling technologies of national importance to our portfolio.  Each of them has come to be of great relevance today.
As Indian IT revolution has been spreading in multiple ways, growth in domestic IT applications and services has been growing at a phenomenal pace only in the last decade.  E-Governance and mobile telephony symbolize these and have caught the attention of the public.  Our foray into the areas of language computing, open source, e-Governance– especially redeployable & packaged products based applications and cyber security have  reached critical mass. In fact, in some of these C-DAC has already made a signifi cant mark. High-end education and training is another area, which has been received extremely well,  meeting the needs of the industry. We have also made some moves outside India as well  setting up centres in some of these areas and hopefully we will look for getting greater opportunities in the future.
How can the Government use advanced technologies for transferring benefi ts to the society in terms of improving health care, education, administrative and citizen interface services?
Investing in advanced technologies is indeed a crucial differentiating factor, which can  prepare a country like India which faces soaring aspirations amongst its citizens. It is  unbelievable how much faith public placed on IT and Telecom in changing the way of life.  While government has put a lot of faith in technology over a long period of time, our  continuing faith in the last two decades with addition of well identifi ed topics from  time-to-time as well as major programmes such as NeGP means we can hope to get services in  a much more effi cient, transparent and cost effective way, often leap-frogging even advanced  countries in many areas. The underlying issues are often very similar in all cases,  except that legacy domain expertise and capacity may vary from vertical to vertical or  domain to domain. NeGP has given a great momentum through defi nition of architectures,  open & interoperable standards and deployment of critical, common infrastructural elements  (SWAN, Data Centres, CSC programs). These have been done with quite a bit of thought and  technology inputs for building services around these, using critical technologies have come into play. You have referred to health care, education administration and citizen interface  services. Local language interface and contents get referred to repeatedly in all fora. C-DAC's  work in these areas over the two decades gives it a unique opportunity and has helped to address these issues in quick time frames. Over the last three years, we have demonstrated  repeatedly the value of these and have initiated efforts in specifi c areas by architecting  suitable programs.
In health care, our work in underlying technologies over the last decade has given us  opportunity to address both back-end as well as front-end health informatics services. Again,  standards and EMR/EHR (Electronic Medical Record/Electronic Health Record), contribution  towards preparation/ development of EMR/EHR in conjunction with DIT as well as Ministry of  Health have been of unique value that C-DAC has brought to the table. What is to be remembered is that India has a unique opportunity at this stage to avoid the huge health care  costs that some advanced countries including US have landed themselves in, because of  deployment of incompatible systems and equipments. We can leap-frog these by right sizing  and suitable use of technology and standards.
"In health care, our work in underlying technologies over the last decade has given   us opportunity to address both back-end as well as front-end health informatics services"
Open Source Software is another area in which  C-DAC has taken significant initiative in the last couple of years. There is an opportunity to  put India in a leadership position in this area – given over half a million developers  community in India – next only to USA.
Localization of language seems to be the key mantra for expanding e-Governance initiative. What do you feel about the current localization scenario in India?
Many years ago, around 2004-2005, Department of IT looked at the issue of localization with  a fresh perspective. The scenario was like this. India has 22 official languages, hundreds of scripts, over billion people with a possible installed base of 100 million desktops & laptops by  2010-2012 – with a very likely situation of e-gov services under ambitious programmes such as NeGP bypassing a large number of people, if the localization issue was to be ignored.
The result was a concerted focus on the localization issue. I am happy to report that C-DAC was  given the mandate and privilege to take the initiative for aggregating a minimal set of  Indian language software tools and fonts in all the 22 languages and release them free in the  next couple of years. We could begin the exercise with the first launch in less than a month  and have already done it in over 16 languages covering almost all the major languages  (except Bengali in which also we have been) ready for sometime to launch the tools. The  initiative has been a tremendous success – one of its kinds in the world. Not only 7 lakh CDs  have been shipped against request, but also 30 lakh downloads have taken place since then.
Apart from this, C-DAC has continued its efforts to provide local language support for  integration in all platforms from desktops and laptops to web, video (including DTH) and mobile. Perhaps India is the only multilingual country of this kind with such language  diversity, attempting to address these issues so effectively. And so many players are also  involved now at every stage of the value chain. As a result localization is not a serious issue in  technological terms for e-Governance but more an issue of well architected programs at the  state and local levels, attractive service offerings and things of that kind. Viability of industry and start ups can depend on the size of the market – the way regional radio and TV channels  have blossomed. C-DAC has been more than willing to address any issue in this regard. In  respect of other topics as such a Machine Translation, OCR (Optical Character Recognition),  OHRS (Online Handwritten Recognition System), CLIR (Cross Lingual Information Retrieval  System) as well, a consortium based program had been undertaking R&D during the last  three years. C-DAC has played an important role in working in all these consortia to develop  practical tools and raising the bar for achieving practical results in respect of Indian languages.
In addition, C-DAC has also been actively working in areas of Information Retrieval, Natural  Language Processing (NLP) Speech and Search Engine tools for Indian languages. Our focus  has been to see how well contemporary search within C-DAC and academia in the Indian  language field can be converted into usable practical tools at the earliest or to ensure that  foundational research work of value is contributed as well. We have deployed or released,  many successful tools and solutions in practical situation – Mantra Rajyabhasha at Rajya  Sabha for over two years, IDN (Internet Domain Name) for Indian languages (for deployment  in many Indian languages) along with contribution to standardization efforts, Text-to-Speech  systems, G-CLASS tools for Search Engines being some.
How is CDAC approaching go green strategy it terms of solutions and services?
We have recently completed, in November 2008, a 54 TeraFlop PARAM Yuva Supercomputer  ranked 68 globally. And our roadmap is to move towards PetaFlop/Sub- ExaFlop range in the coming years. Our experience in building large systems has taught us  that cooling system efficiency and power availability are limiting factors to realizing large systems. This is in addition to the traditional technology limits imposed by network and  software scalability. We are looking at the road map of processor vendors and are also actively  exploring possibility of using a large number of low power, low-end processors for building  C-DAC's next system. This new approach could result in savings of operational cost and capital cost.
"Go Green" can go beyond chip, architecture or computing systems level. Virtualization can  bring better utilization of resources. Grid computing, and cloud computing and other virtualization technologies can be of value in realizing this. In addition, suitable practices for  optimizing of power need to be adopted in the entire eco-system.
We have not yet comprehensively looked at technology and practice initiatives in this area.  We are likely to do so in a concerted effort soon.