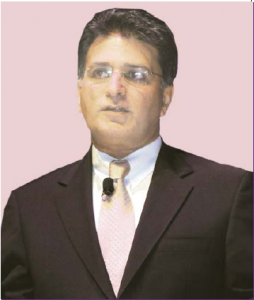 "USOF India and USF Pakistan can certainly learn some things from each other by looking at each others' models and the progress made so far" says,  Parvez Iftikhar, CEO, USF, Pakistan in an interview to Sandeep Budki of egov magazine.
What is the background of  Universal Service Fund in  Pakistan and what have been its major achievements till now?
The Pakistan Telecom Act created a "Universal Service Fund" to spread telecom  services to unserved/under-served areas of all the country –  universally. And in order to disburse this fund for providing these services,  Pakistan opted to follow the innovative Public-Private-Partnership (also called  "Corporate") Model. This led to establishment of the USF 'Company' under a  Section of Companies Law, called Companies Ordinance, 1984.
The Company has an independent Board of Directors, consisting of eight  members (plus the CEO), evenly balanced between private and public sectors. All decisions regarding projects are discussed and debated in the Board where  collective wisdom of government as well as private industry is applied before  giving go-ahead to the management. The management is only responsible to the Board, which makes decision-making simpler and faster. The Company was  established in early 2007 and the fi rst employee (myself as CEO) was hired in  May 2007. In about a year-and-half, USF Co. is not only up and running as a  company, it has already started basic telecom services projects in 7 different  unserved areas ("Lots"), for which contracts have been signed with major  telecom operators of the country following an open auction process.

How is the USO Fund utilised in Pakistan in terms of providing last mile connectivity?
The Fund is utilised by open and transparent competitive bidding, encouraging  competition among telecom licensees. Utilising the Fund, USF Co fi nances  spread of telecom services to previously un-served or under-served areas and makes it possible for the licensed operators to provide lastmile connectivity in  those areas, on normal commercial terms. Telecom services include not just  basic last-mile connectivity, these also include Broadband Internet, and  Telecentres (for those who cannot afford the necessary instruments/devices) and so on.
The job involves fi rstly identifying the unserved areas, which is done with the  help of data collected from various organisations like "Survey of Pakistan"  (topographic maps), "Census Organisation of Pakistan" (population data of  villages), "Space and Upper Atmosphere Research Organisation" (digital  imagery) and the Telecom Operators (existing telecom infrastructure). After  identifying the unserved areas, "Lots" are created for auctioning of subsidy.  Finally, the open auctions (based on sealed bidding) result in contracts with the  successful telecom operators.
Up to now contracts with Telenor (Malakand and Bahawalpur Lots), Mobilink (Sukkar Lot), Warid (DG Khan Lot) and PTCL (Pishin, Mansehra and Dadu Lots) have been signed covering more than 5,000 villages. Bids for the 8th Lot  (Kalat-Mastung) are under evaluation. Bids for another 3 Lots (Mirpurkhas, D I  Khan and Sibbi) are under preparation by the operators. Similar processes are adopted in case of Broadband and "Special Projects" – like the Optic Fiber Project.

What are the major challenges that you face in providing last mile connectivity?

The fi rst challenge for the Company is to achieve its targets through a fair,  transparent and effi cient process. Therefore all fund disbursements are done by open and transparent competitive bidding, encouraging competition among
telecom licensees.

The second challenge is to protect consumers' interests so these are not    compromised by the operators winning subsidies. This is done in several ways,   like: The subsidy winner is obligated to follow all the tariff (and other) guidelines of the regulator, PTA, just as in the rest of the country.

Subsidy winner is obligated to share the new infrastructure with at least one other licensed operator so that USF funding is not used to create local monopolies that lead to exploitation of consumers.
It is also ensured that no Operator collects more than 50 percent of subsidy that is disbursed. This keeps the interest of all operators in the process and no one operator gets away with major piece of the subsidy cake. On the technical side, the challenge is of reaching the remote areas. Before any last mile solution is implemented, just connecting a far fl ung area with the served area is a challenge in itself. It is abnormally expensive because either the Operators have to connect by installing long strings of Microwave towers or via Satellite. Both are expensive and unaffordable especially considering that these  areas are low revenue areas. This can be termed as a major challenge.
To address this challenge, USF Pakistan has launched a separate special project aimed to extend the reach of Optic Fiber Cable to all 'Tehsils' of the country (a "Tehsil" is a small revenue unit and its size can be gauged from the fact that presently there are around 400 Tehsils in Pakistan). More than 30 percent Tehsils in the country are deprived of any fi ber connectivity. Laying of fi ber to each one of these Tehsils will help telecom operators in reaching and deploying last-mile connectivity solutions to all corners of the country.
Other than that the challenges are more of how to get focus/ strategy of telecom operators in line with USF objectives, but up to now USF Pakistan has been successful in getting competitive bids from the Operators by facilitating and making it easier for them as much as possible.

What is the strategy that you have adopted to take the telecom revolution to the rural segment and bridge the digital divide?

The strategy is to provide "coverage" to all the villages in the country so that anyone wishing to get a telephone connection should be able to get it. We have specifi c laid down targets and we have to meet those targets. And with today's technologies, it is no problem to measure if those numbers have been reached or not. The measurements are taken by professional technical auditors, who mostly do not belong to USF. To elaborate with an example: In the so-called 'Mansehra Lot' (consisting of the districts of Kohistan, Batagram, Abotabad, Haripur and Mansehra), there are one million people, living in 1,479 villages (spread over 11,366 Sq.Kms) who have no access to a phone connection. Therefore in that area USF targets are: to give each and everyone in these 1,479 villages, the possibility to get a phone connection
to have PCOs in villages/towns of the area that have a population above a certain number

to have telecentres in towns with a population of above another certain level

to reach at least 5 percent teledensity overall, as a fi rst step

After the bidding, award of contract and then network roll-out by the successful  operator, the technical auditors will go to these villages and take  measurements to verify that these targets (except the last one) have been met.  Only then the payments will be made. The measurement work will be done in 4  phases in the Lot (after every 25 percent) so that subsidies can be disbursed  progressively against achievement of these 4 milestones.
USF will be holding Bank Guarantees from the Operators worth 40 percent of  the subsidy value and in case of any breach of contract USF will have the option  of imposing penalties.
Other than that, a project "Broadband for unserved urban areas" has been  launched aimed at improving Broadband penetration in smaller cities and  towns that are yet unserved. The fi rst phase of this has been advertised,  pre-proposal meeting with the bidders held and bids will be received in
late-November.
In the very near future USFCo will also be launching telecentre projects aimed   at introducing and promoting e-Services in the rural areas of the country.

Recently, you had visited India. What is your opinion about the progress at which rural connectivity programmes are going in India?
India has made signifi cant progress in rural connectivity, as I heard the very  competent Administrator, Universal Service Obligation Fund (USOF) India,  Ajay Bhattacharya, in eIndia 2008. However, the approach is very different  than Pakistan's mainly because Pakistan chose to tread the uncharted path of  Public-Private Partnership (PPP) model which seems to be working well. But  one must not forget that the issues are very different. India is a vast country  with a billion people and around 30 percent teledensity, as against Pakistan's 160 million people with over 50 percent teledensity. In my opinion, India's  greatest achievement has been the tremendous progress in the fi eld of  telecentres. I am not too sure how far the USOF is involved in it. But it was quite  impressive to see that a lot of organisations and state governments are  involved in creation and operation of telecentres in rural areas bringing fruits  of ICT to the doorsteps of majority of population.
How can USO fund departments of India and Pakistan benefi t from each others experience?
It is normally not easy to "transplant" individual solutions – or parts of  solutions – from one place to the other. However USOF India and USF Pakistan  can certainly learn some things from each other by looking at each others'  models and the progress made so far. Once some understanding of the other's  programme has been reached then each one of them could apply whatever  seems relevant and useful. It has to be an on-going process and has to be  steered by the respective governments/ministries.
Follow and connect with us on Facebook, Twitter, LinkedIn, Elets video