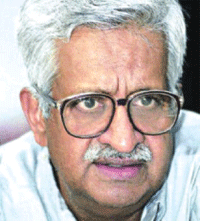 Currently the Chairman, Board of Governors, IIT Delhi, Dr V S Ramamurthy has held several positions in his long and distinguished career with a reputation of serving his responsibilities with great dedication and professionalism. He was the Scientific Officer, Nuclear Physics Division, Bhabha Atomic Research Centre, Bombay from 1964-1982 and Head, Fission Physics Section, BARC Bombay from 1982-1989. From 1989-1995, he was the Director, Institute of Physics, Bhubaneshwar. From 1995, he served the Government of India for a period of ten years as Secretary, Department of Science and Technology.
In an interview with Digital Learning on the sidelines of eINDIA2008, Dr Ramamurthy shares his views on issues related to education.

Is the current policy landscape suited for innovation in India's higher education sector?

Policies are in place because they were relevant at one time. But over a period of time they become irrelevant and outdated. When a certain policy is not allowing you to function effectively in today's context, we need to modify that policy. For that consultations are carried out and a revised version is brought out. But by the time the whole process is completed, a new change occurs resulting in the revised version also becoming outdated. Policy has to be a dynamic document; it cannot be a static. It will always have gaps, but we need to keep identifying and modifying them. Foras like eIndia help us identify these gaps and see where modifications are warranted in today's context.
Do you think policy reforms have addressed the need of the education sector?

It is difficult to say yes.
The e-Learning sector has seen fast paced developments in the last few years. How have they impacted the education scenario?

With new technology comes new opportunities. The Internet offers us an opportunity to move information anytime, anywhere. On one hand, we need to see how to make use of this technology for educating a person residing in a village or a rural area. On the other hand, we are living in a technology-driven world where nobody is out of its purview. So familiarity with technology is necessary to take full advantage of it. Today technology touches every field, like healthcare, agriculture, education, etc. This implies that everybody needs to be exposed to technology skills along with education. For accomplishing this task, we need to have teachers, resources and infrastructure. But its not possible to create them overnight. Now is the time to start grooming teachers. A teacher is today's student. Moreover, education is no longer related to schools and colleges. In this fast paced world, we have to constantly keep ourselves updated to keep pace with our competitors. And it may not be possible to go back to the university due to time or age constraints. So we need education in the office, at home. It has to be any time, any place, affordable and accessible. Internet can make this possible. The challenge is to make use of technology effectively.
Do you think IT can give a boost to teaching as a profession?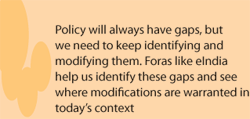 Career options are based on one's interest and flair and also the remuneration offered by the profession. In today's environment the teaching profession needs support and incentives from the government. A teachers' salary should be matched to the scale that a student gets once he/she gets employment in an MNC or a public sector. For example, if a student joins Infosys, he gets five times the salary of the teacher. It's a complex game of employment and financial incentives. The issue can be resolved with focus.
What do you think of the importance given to education sector in the 11th Five Year Plan, vis-a-vis expenditure and projects for school and higher education.

I am very glad that ample emphasis has been given to education in the 11th Plan and lot of investment planning has been made for the sector. It will take some time till we see the actual impact on the ground.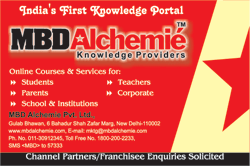 There are three levels of teaching; first is general education where everyone has basic knowledge and soft skills up to class 12. General education does not generate knowledge or address the requirements of the technologically-driven industry. Hence the need for the next level of professional education where people have problem solving skills. All college education – technical and non-technical – translates into professional education. Unfortunately today a large section of people who enter colleges do not get professional education. The third level is that of knowledge generators. While the gradual progression from general education to R&D is seamless, they are distinctly different and their strategies have to be different. There are lots of weaknesses in the system. Today most of the landscape is driven by the market. But we need to go beyond the market and the government should take initiative in this regard.
Slowly innovation is being recognised as an integral part of education. Entrepreneurship and innovation will convert knowledge into real economic benefits. I have always pushed for and believed in that.
Follow and connect with us on Facebook, Twitter, LinkedIn, Elets video