Given the proper training in ICT enabled tools, it is seen that women can do wonders by equipping themselves better in the society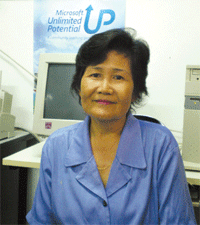 Gone are the days when women were looked upon only for the role of a 'caregiver'. With today's technological pace of development and innovation, they are able to impart relevant skills training from home that are valuable enough for the 21st century and beyond. The transition was inevitable for Information Communication Technologies (ICT) pervading presence in all facets of today's life. To be able to send an e-mail from one's mobile phone or conduct banking transactions online is no longer a luxury or convenience just for the tech-savvy but rather a necessity for all. And this necessity knows no bounds – it doesn't matter if one is an IT professional or a housewife.
How can women embrace ICT?
One of the constant comment, about mothers or caregivers is that they never understand their children . Traditionally, many are at a loss for words whenever they engage in conversation with their children, who, with immense exposure to multiple forms of media and entertainment via ICT, are more technologically savvy. The pace and speed at which children learn ICT leave many adults gasping for air in their wake. The choices? Learn to understand your children or be left behind. But, given the proper training and tools, it is seen that many women do wonders with ICT. They are not necessarily the run-of-the-mill IT professionals who have post-graduate qualifications in space-age electronics technologies. Having run the UP programme in Malaysia for over two years, it has been found that some of the most heartening and empowering stories comes from single mothers. Yes, women who not only have to work to support their children and keep the family economically afloat, but have to run and manage the family as well. Societal discrimination and prejudices have rendered one blind to the sacrifices these disadvantaged women have to make and the personal struggles they have to endure to even get a chance for a better life.
Substantiating examples
Dayang Satiah Nasir received the Microsoft Unlimited Potential (UP) programmes ICT skills training with Pertubuhan Wanita Sabah (PEWASA) at the age of 43. More than being just additional skills and knowledge to her, she found it had enriched her life and enabled her to find ways to assist in her family's finances. With the aid of Microsoft Publisher, Dayang learned how to create invitation cards for important occasions like her wedding anniversary or her children's birthdays. This has assisted in reducing her family's expenditure. It is also widely mistaken that much of this training is best reserved for well-to-do housewives who still have enough time on their hands even after a shopping spree and evening tea with friends.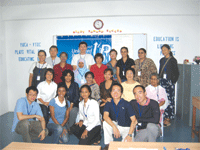 Some of these women have to travel more than 60 km just to reach an NGO centre for such ICT training. For single mother Irene Syam Norhayati, who understands the values of such skills, it is a small price to pay for the potential of opening doors in a world that is ever evolving and progressing. Her village in Sabah is so remote that even basic technology and infrastructure is lacking. Due to her tenacity, she has learned how to use Microsoft Word to write letters and has even progressed to use PowerPoint for the presentations of her Neighbourhood Committee activities. This is a far cry from the days when she had to write her notices and information on manila cards and post them on the local village community hall.
On the other hand, young Poh Lin didn't have to write on manila cards or stay at remote areas of the country. Her mother was a drug addict, her father an odd job worker. She used to roam around Petaling street in search of food at the age of three. Her father finally threw her mother out as she was unable to kick her addiction. At the age of nine Poh Lin was found by a Home and taken in. Only then was she able to begin formal education. Not long after she completed her final year secondary school exams, her father suffered from a stroke and was unable to take care of her. The Home then referred Poh Lin to the YWCA where, along with her vocational training, she learned ICT skills training under the UP programme.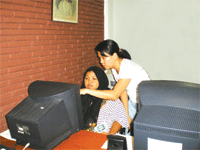 This young woman completed a one year Culinary and Baking course at the YWCA Vocational Training and Opportunity Centre (VTOC) in Kuala Lumpur, and went on to gain employment with a renowned hotel. She often recounts that the first question she was asked during the job interview at the hotel was: "Do you know how to use the computer?" Understandably, there was a sense of utmost pride when Poh Lin presented her certificate from the programme. Not only was she able to get a job, but also a starting salary of RM1500. This is an astounding feat for a child who once roamed the streets begging for food, and who did not have the formal and proper channels and process of education as most children do.
Another worthy example is Sembagavali who, in her early 20s, aspired to be a caregiver. She was accepted for the Caregiver course at the YWCA VTOC where she learnt ICT skills. She showed initiative and was proactive in searching for job opportunities online, a skill acquired through the UP programme. She soon found a job with a boutique hotel and, in the meantime also applied for a scholarship to go on further with her studies in nursing. Sembagavali was accepted for both. Had she not had the ICT skills to find these opportunities, it might have been more difficult for her to progress in her chosen profession.
ICTs for senior citizens
Senior citizens in their 70s and 80s probably do not see the value of learning ICT skills, as opposed to the younger generation who supposedly have the whole world in front of them. Those in this age group have a set of barriers to overcome – the fear of embracing something which is new including technology which appears most daunting. More often than not, it is so intimidating that it totally prevents them from even thinking of trying. Individuals like Nancy and Patricia, who dared to learn ICT skills, have found a world of change that not only fits their lifestyle, but is enriching as well!
Nancy, a line dancing instructor, can now find line dancing steps as well as music for her classes via the Internet. Meanwhile, Patricia learned how to e-mail and IM (Instant Message) to her family members all over the world. ICT has brought them greater access to the world and connected them in a cost effective and efficient manner. For Nancy, gone are the days when she used to spend hours and days sifting through stores looking for a few photos of dance steps or, in Patricia's case, exorbitant phone bills from calling grand children on far-away continents. ICT has definitely made the world smaller and more accessible.
Conclusion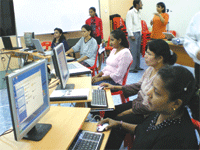 It's heartening to see many young women and even senior citizens thriving as a result of the Programme eager to learn more once they overcome the fear of using ICTs. There are many more wonderful stories that have come as a result of the great work of a small group of women without whom the UP programme would not be what it is today. These heroes have helped many underprivileged and underserved women stand on their own feet and create opportunities for themselves. Not all heroes come in body-fitting nylon suits and flowing capes. These heroes are everyday women, like one and all, except they perform extraordinary acts of kindness and fortitude on a regular basis that most would participate in perhaps only occasionally in life, if at all.
Partner organisations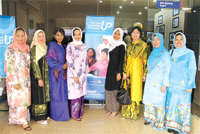 The National Council of Women's Organisations (NCWO) is the largest umbrella organisation in the country, with over 120 affiliates in Malaysia alone, not to mention the numerous affiliations worldwide. NCWO has advocated women's rights and provided important programmes for women over the years.
The Young Women's Christian Associations (YWCA), which has existed for a century, is another home to heroes. It has opened its doors to various underprivileged and marginalised girls from every corner of the country, regardless of race, colour or creed. Some are from places so remote they have to take multiple forms of transport in order to even reach the Centre.
PEWATAN Kelantan centre launch   PEWASA Sabah centre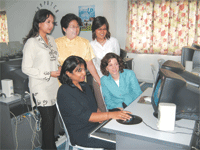 NCWO partners with PEWASA in Sabah, Pertubuhan Wanita Kelantan (PEWATAN), Lembaga Kebajikan Perempuan Islam in Terengganu (LKPI), Women's Institutes (WI) in Perlis, NCWO Pahang and NCWO Kedah while YWCA partners with its sister organisations in Negeri Sembilan, Melaka, Pahang, Ipoh, Penang Island and Kuala Lumpur and a partner, Compassionate Link Programme (CLP) in Butterworth, Penang. These are two organisations that have tirelessly ensured that women and the underserved receive an equal opportunity to contribute to society and make something for themselves, and UP Programme, Microsoft is privileged with the honour of working with the NCWO and YWCA since 2006. The partnership continues to grow and progress.
Microsoft Malaysia's NGO partners and their trainers

Within these two organisations, there are two women that would humble even the most accomplished individuals. Dato' Ramani Gurusamy is one of the kindest and gentlest souls one would ever come across, but threaten to offend a woman's rights, and she pounces faster than a hungry tiger.
A stalwart for women's rights and development, women today have people like Dato' Ramani and her compatriots to thank for the modern day woman's ability to earn equal pay and equal opportunity in jobs. And as we all know, heroes work in teams. Those who have opened eyes and minds also include people like Mrs. June Yeoh, whose strength is greater than any world leader and whose mastery in finances will rival any Fortune 500 company executive. Mrs Sandra Simon is another person that must be mentioned. A volunteer who almost never says, No, her ICT skills are matched only by her big heart and warm demeanor. These are heroes that don't demand media or PR. They don't ask for any special favours for the work they do. They do it because at the end of the day, equipping women with the necessary 21st century skills is what matters. They know they are helping to create better lives for these individuals and families, and that the women they train have the skills to help lead Malaysia become a knowledge-based economy. Women of Malaysia salute you.
Follow and connect with us on Facebook, Twitter, LinkedIn, Elets video