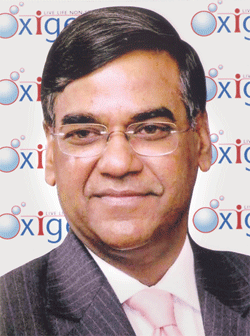 "Our ultimate aim in all these initiatives is to connect with the mobile user because mobile telephony will continue to grow at a faster rate, as we have witnessed in the recent past. Connectivity with the customers through aggregation of telecom services is our present focus," says Pramod Saxena, Chairman and Managing Director, Oxigen, India, to Chaitanya Kishore Reddy and Sandeep Budki of egov magazine
In a span of three years, Oxigen has fast grown into a one-stop online payment solution for various services using an IT enabled platform in the country. What has been the USP of Oxigen in attaining such a status in the market?

From the beginning, our philosophy has been to establish a foot print in the market for providing convenience to the consumers to get a number of services at a single point. Our first service started with telecom sector where we have integrated and provided services such as mobile top up, fixed line bill payments, Internet services, long distance calling cards and direct to home services (DTH). This way, we have tried to cover the entire spectrum of services in the telecom industry and moved further to add other services related to entertainment, content and applications. In this way we are also trying to provide a platform called 'mobibuzz, for aggregating content and applications in the same direction.

The key differentiator for us in our journey has been the integration of various services including services other than the telecom services. For this we have launched a product called 'Oxicash' recently. It takes away the need to visit the retail stores for availing the services. Instead, by adding a top up to Oxicash wallet at a retail point, people can handle their transactions directly through Internet or mobile phones. Therefore, we have created another avenue for connecting directly with the consumers. Oxicash gives us the opportunity to integrate a large number of services. These services could be web based such as e-Commerce services or platform based services where customer pays through Oxicash and we take the responsibility of paying to the service provider. It could be a travel service through oxitravel.com or communication and entertainment related services, or SMS pay services, or bill payments for utilities. In addition to these we can also connect with other aggregators of services at our backend and offer all our services to our customers. Thus, we are going for direct connectivity with the consumer and connecting through integration of services.

Our ultimate aim in all these initiatives is to connect with the mobile user because mobile telephony will continue to grow at a faster rate, as we have witnessed in the recent past. The subscriber base is likely to reach 600 million in the next three years in India. Connectivity with the customers through aggregation of telecom services is our present focus. The huge subscriber base will further provide impetus for providing more and more services to the mobile user.

We have two business layers for our operations. Firstly, connectivity so that people can find a convenient location for making their payments for services. Secondly, aggregation of services so that a customer can find all of them at a single location. In a way we were intending to create a wallmart of services under one roof and continue to integrate more and more services. In content and applications we have provided a open platform for any content provider to integrate with our platform. Open platform, integration opportunity for all has been our approach to connect with the customers by providing greater choice of services. Therefore, mobile, value added services (VAS), content and application and DTH form the complete spectrum of Internet communication and entertainment (ICE).
What benefits do the customers derive by utilising Oxigen services?

Credit cards will continue to be used by high end customers. Compared to about 10 million credit card holders in India there are 300 million mobile users out of which 90% make their payments in cash. Many of these people have no other alternative but to pay in cash. Therefore, cash being the dominant mode of payment, we believe that a mechanism to allow cash to be used in a safer manner such as Oxicash is a definite advantage.

Our business target is the mass market comprising of middle, lower middle and lower segments of the pyramid where 80% of the population live. These people can avail Oxicash services through Internet and mobile phones. Internet and mobile phones together will meet the needs of the most of the people. At the moment the only technology technology that is touching the masses is the mobile. Thus, we believe a wallet, like Oxicash that integrates with mobile phones and gives access to payments is a way for ordinary people to carry out their transactions conveniently.
How are the mobile recharges offered by Oxigen different from the one's being offered by other players in the same arena?

Whatever the mobile companies are offering as recharges, we are offering the same to the customers. We are connecting the service provider with the end user through our retail presence. All we are giving is a benefit to the retailer by making available various services at a single machine. This reduces their inventory, they are not required to stock industrial products of individual operators. Thus, retailers will benefit. The retailers can draw any coupon at will, there is no restriction of the territory and then they will have access to multiple services.
Does Mobile Virtual Network Operator (MVNO) excite you?

MVNO is good for customers in the market. We are not thinking in terms of MVNO. But, if somebody starts an MVNO our distribution system will be available to them.
From home banking to network shopping and online information subscription services, security remains a growing concern. In what way do you ensure the security of these transactions?

As far as top up is concerned everything is pre-paid. We buy service from the service provider and offer it to the customers. We only facilitate convenience and guarantee the service. If a bill payment is made we give our customers a confirmation of the credit bill payment. We as a company are responsible for ensuring that services are delivered to the customers whether it is a prepaid or postpaid service. We stand as a guarantor.

When a Oxiash wallet is created we provide a dynamic six digit personal identification number (PIN) like a security PIN for a ATM card. We have built three levels of security; at the first level the customers can reset their dynamic PIN as many times as they want. After resetting the PIN, at the second level, customers can give the mobile number of one of their family members to which the new PIN will be sent. At the third level, they can ask for a transaction by transaction PIN to transfer money. Once the transaction is successful that specific PIN dies. In the case of Oxicash the mobile number of a customer will be his or her identity.
What are the various financial inclusion related services being provided by Oxigen?

The Oxicash platform can be used for repayments, micro-payments, micro-finance related payments, micro-insurance among other things. People who do not have access to mainstream banking system to pay can now pay through Oxicash. By using Oxicash through mobile phones, we are providing a bank like experience for using their money for transactions in a secured way. Our Oxigen terminal location can be used for disbursing of cash subject to the permission from the Reserve Bank of India (RBI). If RBI permits money can be transferred and paid at Oxigen locations. This way people can collect money in person at these locations (retail points). Micro-loans can be repaid through Oxigen outlets and the customers can obtain receipt of payment of micro amounts such as INR 10, 15, 20 etc. This money will in turn be credited to their repayment account. These are the various methods through which Oxigen's presence at retail points and Oxicash through the mobile phone, can be used to allow people who otherwise do not have access to financial system for payment of insurance, repayment of loans etc.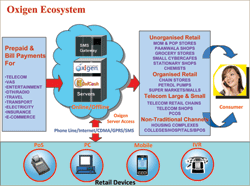 How to authenticate these transactions?

Respective mobile numbers will be the identity for the users. Mobile Id is a better to use than any other Id. When number portability come into operation, the issue of change in mobile numbers with a change in service providers will be addressed. A no frills account of a bank requires a certain minimum know your customer (KYC) satisfaction. This can be fulfilled by KYC of a mobile number. Therefore, a Oxicash wallet can be a no frill account subject to RBI regulations permitting the opening of the wallet to disburse cash and for cash payments. At the moment this is the requirement in rural India.
In the domain of e-Commerce 'Oxicash' which is like a virtual wallet, enables customers to purchase just by the click of a mouse. What kind of impact has it made in the e-Commerce arena so far?

Customers can use Oxicash wallet on the net. Many e-Commerce transactions are not carried out owing to the risk involved and are carried out as a last resort. Oxicash can isolate that risk. A customer can put certain amount of money into Oxicash wallet thereby minimising the risk. The money can be transferred through internet banking and charged Oxicash wallet can be used on the net. If a customer is activating a Oxicash wallet through cash payment he/she can purchase various products available on e-Commerce sites. Oxicash can become an effective medium for payment for these services. Now m-Commerce is also picking pace because of the increased use of mobile phones.
Are you focusing on localisation of content for entering rural markets?

We as facilitators of the services will be packaging and aggregating content which is available in plenty from large number of content providers. It is varied and diverse and caters to the needs of the different kinds of users. It is up to the content providers or creators to focus on the generation of specific and user friendly content. We would want to see the use of local language in SMS and other transaction related communication. Transactions does not require much of language. In the course of development we would want to make the use of local language.
What is your business model and channel partner strategy?

We want to aggressively build our foot print of connectivity which is very important for us. We want to build and extend our connectivity foot print all across the country. Our aim is to increase our current foot print of 50,000 to 250,000 in two years time and we will continue to build and extend beyond this in two ways: Firstly, we will place machine in individual stores and secondly, we will connect to the existing systems such as departmental stores or e-Choupals, CSC's. In addition to this we want to establish connectivity in equal number of locations through third party connectivity. We will get connected in all the new locations where these third parties enter.

We believe that 250,000 of our own locations and 250,000 of the third party locations will get connected into Oxigen system. Oxigen and Oxicash will be available in all these locations. We will have small shops, tea shops, barber shops, medical stores, call centres, various offices, housing complexes etc., as our channel partners.
How will the local shops earn? What is the revenue sharing in percentage terms for the retailers?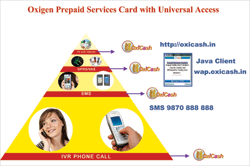 Any service provided to the consumers has a cost of distribution. We are virtualising the entire distribution environment. This way we will reduce the cost of distribution for every service provider. Retail gets the major share of the distribution cost since whatever cost of distribution incurred shared with the retailer.

We as the enabler of the distribution will share a cost. Our earnings are the margins on the service that a service provider provides to the customers. In most cases the customer does not have to pay a additional cost. The service provider pays for serving the customer and we share our margin from the service provider except for monopoly type of services such as electricity bills. Advertising is another huge revenue earner. Access to a mobile customer when he/she is carrying out a number of transactions through mobile is a good opportunity for advertising.

Loyalty of our customers is also very significant aspect. A customer I likely ti have attachment to us than with the service provider because, we bring the services of various service providers through our channels. We give our customers reward points that can be redeemed at our thousands of locations. The fungibility of our reward points will be practical for every thing. Therefore, the customers can redeem the reward points through services or products that they are likely to use daily fro our retailers. This way they can avail the benefits of our reward points in a convenient way.
Retailer's earnings depends on the service and varies from 1.5% – 5% or even more sometimes. Retailers will always get a greater share as business actually happens at the retail points and they are likely to get 70-80% of the earnings/profits.
Tell us about various business partners of Oxigen including the service providers in its successful journey to date and how do you plan to extend it further?

We have tie ups with various service providers such as Vodafone, Reliance, Idea, Spice, Tata Indicom, Aircel, MTNL, BPL Mobile, ex-cel, Connect mobile, zapak.com, Tata Sky, dishtv, deccan fly, BSNL, IRCTC, Chorus call, World Space, Mobibuzz, Games win among many others.

We enter into an agreement with all our service providers, which defines the service level and we are required to meet the defined service levels. We collect money from the customer and take the responsibility of paying it to the service provider. Similarly, we have agreements with our retail partners for giving them the service. For this there is an integration at the back end. We operate in a highly automated environment and generate online MIS to most of our service providers.
By the end of the current financial year where do you see yourself? How do you plan to increase your visibility?

We are doing a lot to increase our visibility. We are using all media channels. Retail visibility is being improved by placement at retail. We went into locations where there were heavy foot falls. Our focus was to choose retails where there is heavy foot fall of pre-paid customers. When we launched Oxicash we were interacting with the customers directly. We want to provide enough visibility at the retail points where customers walk in for various services. We would rather spend money on spreading our foot print, creating connectivity at the retails, improving retailers reliability and capability to offer our services to customers than on increasing our visibility. Through Oxicash we are appealing directly to the consumers by offering thousand's of services.