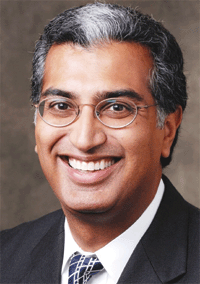 As Chief Marketing Officer of NComputing, Raj Shah leads the company's marketing and business development efforts. He brings more than 20 years of business management experience spanning start-ups, growth stage companies and F500 corporations. Prior to NComputing, Shah was the CMO of ClearCube Technology, pioneer in PC blade computing systems. He was also the co-founder of SiteStuff, a leading e-Procurement service for commercial property management firms. He also served as a senior manager at McKinsey & Company, where he helped Fortune 500 clients in the technology, consumer goods, retail and manufacturing sectors improve their operations, marketing, and organisational effectiveness
Q. Please give us a business overview of NComputing and its offerings for education sector.
NComputing's mission is to enable everyone in the world with access to computing at an affordable cost. Our solutions are  based on a simple fact that today's PCs are so powerful that the vast majority of applications only use a small fraction of their capacity. NComputing's virtualisation software and hardware tap the unused capacity so that it can be simultaneously shared by multiple users. Our virtualisation software is loaded onto a standard Windows or Linux PC. Each user's monitor, keyboard, and mouse connect to the shared PC through a small and highly reliable NComputing access device. The device itself has no CPU, memory, or moving parts so it is easy to deploy and maintain. Till now, over 7,50,000 NComputing seats have been sold to 20,000 organisations to slash their computing costs as much as 70% and electric consumption by 90%.

In the new economic order, it is very important to equip children with information and communication technology skills. So there is an urgent need for schools, colleges, universities and training institutes to have computer labs or computers in classrooms so that students can learn about computers and also use computers to learn more about other subjects (for example science and maths) through e-learning programmes. However, almost all educational institutions have limited funds for computer equipment. This is where we come into picture. We enable them to use their existing budget and stretch it so that they can double or triple the number of students who can have computer access at the same cost. In addition, since our devices are so small and produce virtually no heat or noise, they are perfect for a classroom or a computer lab where students are clustered together.
Q. How does NComputing make computing truly accessible and affordable?

According to Gartner (technology consultancy firm) figures, 850 million people around the world, mostly in developed countries, have access to computing. But there another billion people in the world who want computing access, but can not afford it. They cannot afford to spend INR 20,000 on a PC, but can spend INR 4,500, which is the cost of our solution.
Picture a school in India wanting to set up a 30 student computing lab. Either it can buy 30 PCs with peripherals. Or it can purchase four PCs and 26 NComputing access devices for a fraction of the cost and energy usage. Over the four to five year useful life of a PC, the school will only have to manage four PCs instead of 30. When its time to replace the PCs, the school will have to replace just the four PCs instead of 30 as the NComputing devices and peripherals (monitor, keyboard, mouse) can be continuously used.
Q. In what ways can technology in education help bridge the digital divide? What is NComputing's role in it?




One of the root causes of the digital divide is the non-affordability of the standard PC technologies in developing nations. Our model revolutionises affordability. Take a look at Macedonia, a relatively poor country by Western standards. In 2007, its government decided to improve the living standard there, for which they had to join the digital economy. This meant that every student coming out of the school system had to be computer literate. But Macedonia could not afford to give every child a laptop