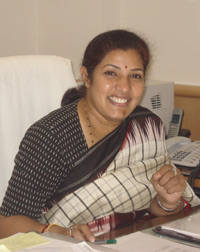 As the Minister of State for Higher Education, how do you view the higher education policies and practices in this country?

Higher education has expanded many folds since the time we attained independence in 1947. Post independence, there were about 20 universities and 500 colleges, while today there are over 400 universities and 20,000 colleges. Even the number of faculty has increased from 15,000 to 5,00,000 plus. The Gross Enrolment Ratio in higher education, or rather in education, has also risen from 1% to around 10-11%. But this should not make us complacent. There are challenges to be addressed and hurdles to be crossed in making education accessible, equitable, relevant and of quality. I think these are the core aspects which need focused attention.
Please elaborate on these core areas and how Ministry of HRD is trying to address them.

When it comes to accessibility, particularly since 2004, we have been trying our best to ensure that every child is able to access education and resources should not be a constraint. We also want to take education closer to the marginalised sections of society, particularly in the rural areas. Private players have definitely played their role in this, but yet there are disparities, like geographical, inter-university, inter-disciplinary, etc.
Talking about geographical disparity, take the case of technical education. Technical education has seen a spurt in South India due to private players coming in much earlier, than in North India. There is also an inter-university disparity in terms of accreditation process as not every university has subjected itself to it, especially with the mushrooming of institutes of higher education.
The inter-disciplinary disparity emerges because there is not much awareness about certain disciplines, for example, civil engineering. Two-three years back there was not much rush for the stream. But today, there is so much emphasis on infrastructural development, but complete dearth of civil engineers.

As far as relevance is concerned, there is a gap between the market requirement and what our universities and institutes are offering. However, we are trying to address it by opening a dialogue with the private sector and stressing on their participation in the curriculum framework.
When it comes to quality, infrastructure is a major aspect that needs to be looked at. We are trying to bring in as many colleges under the University Grants Commission (UGC) funding by giving incentives to state government to upgrade them. Quality-wise there is a shortage of good faculty in both the central as well as state universities, which poses a major challenge. Not many young people are interested in research nowadays or pursue MPhil or Phd since there is lucrative pay outside the teaching profession.

We have taken some measures to address the shortage of faculty by increasing the superannuation age from 62 to 65 years. Faculty can also be appointed on a contractual basis till the age of 70 years provided they are fit to fulfill their obligations. In western countries, particularly, you will find teachers as old as 75 years.
We also have the faculty Early Induction Programme, initiated by the All India Council for Technical Education (AICTE), wherein adequate support is given to those graduates who are interested in pursuing research. We have also increased the number of the Junior Research Fellowships and Senior Research Fellowships and also the grant given to them.
So UGC and AICTE have been taking various measures to lure young graduates into research and thereby the teaching profession.
What is the role of Public-Private Partnership here?

Today, our country spends about .81% of its GDP on research and 80% of it comes from public sector. However, in a country like India with geographical and demographic challenges, it is not fair to lean on the government every time. We would like the private sector to play a responsible role and supplement the efforts of the government.
The Ministry of HRD is looking at PPP, particularly in vocational education and setting up of polytechnics.
To come up with a policy on PPP, the government needs to take consensus of various stakeholders. We have opened a dialogue with the private sector and are also in consultation with the state education ministers to see how we all can play our role in PPP.
What is the level of support provided by Ministry of HRD to the states?

The Centre has always been supportive of the state governments. For example, elementary education is completely a state subject. But in it we have the Sarva Shiksha Abhiyan programme and the Mid-Day Meal scheme for schools, which are centrally supported. Infact the states are asked to submit proposals to the Centre, which are normally accepted, unless there is misutilisation of funds.
As far as higher education is concerned, UGC, which is a statutory body under the central government, has been supporting the state universities. So there is no way the government of India is shying away from its responsibility.

Here, I must emphasise that though India's public expenditure in higher education has increased to 6% of the GDP, unfortunately we have seen an increasing expenditure from the Centre. Earlier, the ratio of government-state expenditure was 20:80, which has now increased to 24:76. This needs to change and states need to shoulder more responsibility.

What role do you foresee for ICT in education?

India's Gross Enrolment Ratio in education is 10-11%. But if you take developed countries like US, Canada and European countries, this ratio is 40 to 60%. In developing countries, the ratio is 21%. The international average is about 23% and for a country to be economically stable we need to have a gross ratio of atleast 20%. Even China has a ratio of 15%. Keeping this in mind, the Planning Commission of India has kept a target of raising the Gross Enrolment to 15% by the end of the 11th Five Year Plan. I think, ICT has a greater role to play against this backdrop, as we are looking at reaching remote areas and marginalised sections of society. And ICT definitely provides the kind of space for learners who want to pursue education at their own pace and convenience. Integration of ICT in education is therefore a good opportunity for both the country, where focus is on increasing the gross ratio; and learners, who can pursue education anytime anywhere.

What are the reasons for India still lagging behind in ICT integration?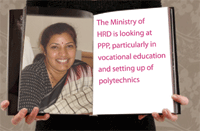 Although Edusat was a very good beginning in that direction, we do agree that ICT has not been used to its full potential. People talk about US$100 laptop, but do not realise that US$100 means spending INR 5000 per child. With infrastructural problems like power supply, trained manpower, etc, glaring in our face, our priority should be to put the infrastructure in place before latching on to such schemes. I don't think any other country, except for China, faces the kind of challenges we have in terms of demography. We need to holistically keep our challenges in mind before formulating a policy.
What is the message emanating from Ministry of HRD for stakeholders in the education sector?

Ministry of HRD would definitely like to make quality education accessible for each person and child in the country. And as we know education is what ultimately decides the position of a country in the comity of nation, so our effort should be to make our country a knowledge based society. And that is what the HRD ministry is aspiring for. So I wish and hope that all stakeholders play their role in supporting and supplementing the efforts of the government.
Follow and connect with us on Facebook, Twitter, LinkedIn, Elets video