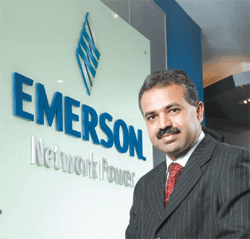 "Designing of optimal data centres, keeping the power management and cooling in mind is very critical for green data centres. Whether it is power consumptions, cooling or acquiring space, everything has to be designed and thought of, in order to make data centres more efficient," says Sandeep Nair, MD, Emerson Network Power (India) Pvt. Ltd., to egov magazine
Data centres are vulnerable to power anomalies that can cause lost packets, switch outages and other persistent problems. What are the Emerson power protection solutions for the data centres?
In today's 24×7 world of information availability, on-demand services and round-the-clock commerce sites, companies are increasingly adding high-performance servers, storage and other equipments to their data centres to satisfy user and customer demand. As a result, companies find that they need more and more power to run and cool this equipment. At the same time, the cost of electricity is on the rise. Many companies are trying to be good corporate citizens by becoming green (or at least greener). The combination of these factors is forcing many IT departments to evaluate their data centre power consumption and find ways to become more energy efficient.
Realising this need to cut cost and save energy, Emerson started propagating the benefits of energy efficient data centres or 'green data centres'. These data centres are a repository for the storage, management and dissemination of data in which the mechanical, lighting, electrical and computer systems are designed for maximum energy efficiency and minimum environmental impact. Emerson also pioneered and launched the concept of Adaptive Architecture (called as Liebert Adaptive Architecture) which consists of an array of products and technologies designed to adapt to changes in technology or business environments, while maintaining or improving availability and efficiency. We have been promoting and conveying the benefits of going green to the customer at large through all forms of communications.
Please tell us about your Smart Energy solutions for increasing data centre performance while lowering energy usage.

Designing of optimal data centres, keeping the power management and cooling in mind is very critical for green data centres. Whether it is power consumptions, cooling or acquiring space, everything has to be designed and thought of, in order to make data centers more efficient.
Typical solutions that exist in the market take up too much floor space and consume enormous power. To cope up with the space constraint, Emerson came out with a concept- Adaptive Architecture that provides the flexibility to extend the existing infrastructure investment by handling heat loads of 20kw per rack, requiring less energy for cooling than any other technology and using refrigerant and not water in the controlled space. The solution helps to provide the cooling at the source itself, rather than using extra energy to cool the entire room. All these features make the solution extremely energy efficient.
Using Liebert Adaptive Architecture, businesses can create a dynamic critical infrastructure that supports IT agility and enables operational efficiencies that contribute to business innovation and competitive advantages. With Liebert Adaptive Architecture you can:
Respond to rising energy costs with high-efficiency power and cooling solutions

Remove barriers to new technology deployments imposed by power and cooling limitations

Increase computing capacity without building a new facility

Add redundancy to achieve higher levels of availability without disrupting operations

Add power and cooling capacity without impacting system reliability
With solutions that extend from flexible, reliable Uninterruptible Power Supplies (UPS) to scalable and efficient power distribution systems to intelligent, reconfigurable cooling solutions, Liebert Adaptive Architecture gives you the power to manage changing IT systems and business requirements.
Liebert Adaptive Architecture Solutions include:
Liebert Cooling Technologies are scalable, efficient and easy-to-reconfigure cooling solutions: The solutions give the power to adapt to increasing densities at the room, zone and rack level.

Liebert Power Technologies create a foundation for critical systems that can grow and accommodate new applications and technologies without compromising availability.
Liebert UPS technologies are available in a broad range of sizes, allowing them to be sized to the exact needs of the application, while delivering more ways to scale and add redundancy than any other family of UPS products.
These highly reliable solutions are supported by a family of power distribution systems that manage power from the UPS to the rack using a staged approach that delivers the flexibility to easily support changing technology requirements.
With Liebert technology, power management extends all the way to the rack with intelligent power strips that provide visibility and control of in-rack power.
Together, these solutions create a reliable, flexible and efficient system for ensuring continuous, conditioned power to business-critical systems.
Liebert Monitoring Technologies enable proactive management of critical systems from the data level to the enterprise-wide system. This helps in getting the required information to prevent failure, respond quickly to unexpected events and plan for the future.
Tell us about the PNR 42 rack solution by Emerson.

PNR 42 is a unique floor mounting rack solution for data centres. It is a high quality rack, especially designed for cabling, networking and light server applications.
PNR 42 is a complete sheet steel structure and is designed for easy configuration and mounting flexibilities. The folded sheet steel frame gives it the capability to handle static load of 350 kgs. The top cover design enables effective air management and easy cable entry.
Emerson entered the rack cooling solutions segment last year, post its acquisition of Knurr AG, the global leader in Rack and Enclosure Technologies for IT and telecom vertical. With the rack-cooling solutions as part of its portfolio, Emerson Network Power now delivers the broadest portfolio of technologies- taking proven cooling technologies from room-level applications and integrating them into the rack.
How big is the Indian data centre rack solution market? What is your company's strategy to capture a substantial share of the Indian rack solutions segment?

In 2007, the Indian rack solutions segment was estimated to be around $ 80 millions. It has tremendous potential and Emerson is confident of garnering a substantial market share in coming years. India's emergence as the back-office hub of the world coupled with the exponential growth of telecom and other segments has driven the need to develop and maintain world-class data centres.
Currently, Emerson has captured 15% of the IT and telecom rack solutions market. Emerson's high-tech rack solutions offer turnkey solutions to all organisations. We further extend our leadership with the launch of high-tech rack solutions.
To effectively reach its target audience across India, Emerson adopted a unique sales model. In this, apart from selling to prospective customers directly, Emerson also identified and selected large System Integrators (SIs) who actively supported the sale of rack solutions. Through this model, Emerson leveraged the relationship that these System Integrators shared with the IT managers and educated them on the relevance of 'Business Critical Continuity'. Emerson also created a special profile for these partners referring to them as 'Network Solution Partners' (NSPs) and plans to tap 8-10 NSPs for its rack solutions business.
Who are some of your government sector clients in India? Which of your power, energy and rack solutions are finding their way in the government?
Today, government is one of the most important verticals that is fuelling the growth of UPS industry, in India. Emerson works with more than 80% of the top 100 organisations in the country. We have stronghold in the government sector and are currently working with a plethora of clients in this space.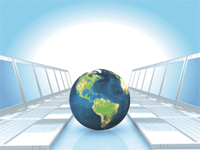 In Financial Year 2007, we formed a separate team to service the government sector. This vertical is now a 15 member strong team dedicated to doing business development only in this domain. We are working towards identifying and sourcing major Government Rate Contracts and have already bagged few prestigious projects such as NICSI (National Informatics Centre Services Inc), DGS& D (Directorate General of Supplies and Disposal) etc. This increased headcount has helped us to reach out to the right customer at the right time with right solution and product offerings. We have also received tremendous response from our system integrators who are willingly quoting Emerson in crucial government projects, purely due to the authenticity, reliability and effectiveness of product offerings. Going forward this vertical will be our biggest growth driver. We have been actively participating in government customer focused events/seminar to update them with latest trends in air and power conditioning industry.
Emerson Network Power (India) Pvt. Ltd. has won various awards such as Maharashtra IT Award in IT hardware category, Frost & Sullivan 'Voice of Customers Awards' for the Indian UPS Industry. What are some of your company's future plans in the power solutions space?

The awards that we have won are recognition of our commitment to manufacturing high technology IT products in India. We aim to sustain our leadership and keep introducing newer, innovative technologies in Business Critical Continuity space.
Today, Indian power conditioning market is almost touching INR 20,000 million. The market is getting more sensitive and mature to the evolving needs of the businesses. With India assuming a key role in the Asian economy, businesses have become attuned to the fact that they need to be robust in terms of infrastructure to attract and retain investors. Hence, Business Critical Continuity is being viewed strategically and upcoming businesses are realising the importance of factoring and aligning it as key component in the overall business model.
In last five years, Emerson has moved from being a UPS and Precision AC manufacturer to a 'Global Leader in enabling Business Critical Continuity Solutions.' Emerson Network Power (India) Pvt. Ltd. has grown at a consistent pace, much above the market growth rate. With its foray into the SOHO (Small Office and Home Office) segment, Emerson has become the only vendor in the Indian market to offer complete spectrum of air and power solutions across large Enterprises, SME and SOHO.
Today, Emerson is acknowledged as the global leader in enabling Business Critical Continuity by providing best-in-class integrated network uptime solutions. It offers AC power (UPS), connectivity solution, DC power for telecom, embedded power, inbound power, integrated cabinet solutions, outside plant, precision cooling all supported by world-class site monitoring and services.
In the new fiscal, the company plans to focus on upcountry market and indulge in solutions marketing with partners.
The UPS business has been growing tremendously in India and will continue to grow in the coming years. Due to enormous growth in the IT, telecom and BPO sectors, the high-end UPS segment is poised to reap maximum benefit. Given the fact that India has emerged as an outsourcing destination for MNCs, this will fuel the growth of the UPS market with a gradual focus on B and C Class cities. In addition, as the quality of power in these cities is a concern, there is a need for a reliable power protection solution.
Being the leader in its segment, Emerson takes the responsibility of introducing new technologies and products to the market. Investment is an ongoing process and we will keep investing in the Indian market. Some of the key areas of focus are as follows:
Engineering resources and technology: Innovation has been our key strength and we have a dedicated team working in the R&D center in India.

Marketing (branding and positioning): Emerson has been investing a lot in branding and positioning itself. Our aggressive marketing strategy supported by a superior product quality and delivery has been our key strength and we are committed to continue investing in this field.

Human resource: Backbone of any organisation is its people. Skilled and committed man power is our strength, be it the engineers, marketing and sales force, management and administration team.
Follow and connect with us on Facebook, Twitter, LinkedIn, Elets video