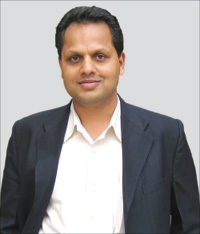 "The expenditure on healthcare in India is 5.5 % of the GDP, while most established market economies of the world spend 7-10 % of their GDP on health."
Q. How do you foresee the growth of the healthcare market in India? What role do you see ePlanet play in it?

A: The healthcare sector in India is one of the most promising and fastest growing sectors in the country. Mainly due to the growing middle class of 300 to 400 million Indians who are demanding more sophisticated medical treatment in addition the changing patterns of disease; increase in health awareness; unmet clinical needs (though the number of private healthcare institutions has doubled in the last ten years, the number of doctors and beds, 0.5 and 0.9 per person respectively, is still well below the world average of 1.5 and 3.3); rising income levels; increase in health insurance & awareness (hospitalised Indians spend on an average 58% of their total annual expenditure.) Over 40% of hospitalised Indians borrow heavily or sell assets to cover expenses and over 25% of hospitalised Indians fall below the poverty line.
At ePlanet, our major focus will be on the Medical Technology market which includes healthcare devices and equipment, diagnostic equipment and services, medical software and consumables and home care products, though we are also looking at other niche services like clinical services and contract research services.
Q. What are the key challenges in the current healthcare scenario that hold back venture capitalists from investing more heavily in India?

A: Challenges are many, the key ones include- need for increased domestic manufacturing of high-end technology products; high cost of setting up a large domestic network- while an early stage company can get into development and manufacture of a product, they will need to spend heavily in setting up a large distribution and support network to sell its products; duty differential rates between imported products and raw materials/components are not very attractive for domestic manufacturing; the large capital expenditure required for setting up hospitals; products to be sold in international markets require quality approvals like FDA, CE etc., which is time consuming and expensive; government hospitals continue to be the largest consumer of healthcare products and services and this has got its own challenges like tendering and approval, collections etc.; delay in acceptance of IT by various healthcare organizations in improving their automation.

Q. How do you see the healthcare IT market emerge in the face of increased investments in healthcare in India? Do you think the healthcare market is ripe for increased automation and interoperability?

A: Currently IT forms 2% of the medical technology market. However, the increasing demand for software in medical technology varies from place to place, hospital administration, medical equipment software, clinical applications software, networking between equipment & facilities, telemedicine and medical transcription. While the market is slowly getting into increased automation (given that hospitals are increasingly being run by the corporate.) For interoperability, the main challenges are that most stand-alone IT solutions are disparate and have major interoperability issues, since the customer expects the software to be provided free along with the hardware and hence most IT solutions are bundled along with the hardware; issues on software up-gradation and AMC also continue to be a challenge.
Q. Please elaborate on your future investment plans in healthcare in India.

A: As indicated earlier, our major focus will be on the medical technology market which includes healthcare devices and equipment, diagnostic equipment and services, medical software and consumables and home care products, though we are also looking at other niche services like clinical and contract research services.Also, given our global footprint, we are able to identify replication products and services in other global markets, which look attractive in India.
Q. What has been your key focus and strategy for investments in healthcare? Have you looked at a more hands on approach, such as buy-outs?

A: We continue to look at investment opportunities in medical technology and related services. We are also open to looking to do small buyouts, if the target fits into our investment strategy.