"Over the years, we have worked extensively with the public sector companies to provide them document management, BPM and e-Forms based solutions. We have deployed our solutions for central and state government agencies, PSUs, legal departments, utilities, trasportation, defense, education, company registers, audit agencies and international organisations", says Punit Jain (punit@newgensoft.com ) Senior VP Sales & Marketing, Newgen Technologies Softwares Ltd., in conversation with egov magazine.
Please tell our readers briefly about Newgen Technologies Software Ltd.
Newgen Software Technologies Limited is a market leader in business process management (BPM) and enterprise content management (ECM), with impeccable track record of implementing mission-critical workflow and document imaging solutions. We have global footprints with an installation base of more than 700 customers in over 25 countries. More than 40 of our customers are Global Fortune 500 companies. Having domain expertise in Industry verticals such as Banking, Financial Services, Insurance, BPO, Telecom, e-Governance and Manufacturing, among others, we are known as one of the fastest implementers of BPM solutions in the world. Newgen has over $25 million investment in creating IP in Imaging, Document Management & Workflow technology.
Our sales and support offices span across major cities in Asia, North America, Europe, Africa and the Middle East. Winner of several awards such as "Frost and Sullivan's Information Communications and Technologies (ICT) 2006 Award" and "Distinguished Application Product Company" by NASSCOM, Newgen Software is an ISO 9001:2000 certified and CMM Level 4 company.
Being a leader in the area of document management, what are some of your e-Forms and document management solutions for the public sector?
Over years, we have worked extensively with the public sector companies to provide them document management, BPM and e-Forms based solutions. We have deployed our solutions for central and state government agencies, PSUs, legal departments, utilities, trasportation, defense, education, company registers, audit agencies and international organisations. Some of the successful implementations are described below.
Gujarat State Fertilizers and Chemicals (GSFC) Ltd. wanted a solution to manage the approvals and proposals generated for management consideration. The prevailing manual process was tedious, cumbersome, and highly complex. Newgen provided an enterprise-wide document management solution with built-in workflow capabilities. Different users in various departments independently send all the proposals and approvals on predefined paths for immediate action. A parallel setup is also maintained to handle any contingency. A parallel setup is also maintained to handle any contingency. The Newgen solution led to 80% reduction in turnaround time and 90% reduction in paper usage. Process simplification and standardisation provided enhanced employee productivity, greater level of transparency, employee accountability and improved disaster management capability.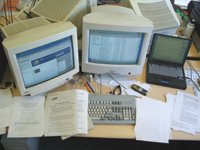 Estate office, Chandigarh (India) needed a solution to efficiently and accurately manage large number of property records so that they could be tracked and made available when needed. The Newgen BPM solution provided automation of both back office and front office processes. These processes were streamlined across departments and employees were trained on the new system. Also, the property details were hosted on the Website of the estate office. The solution provided instant access to the file/record and property details to the estate office leading to improved employee productivity and accountability. The turnaround time for application processing was reduced from 35 days to 13-20 days, resulting in faster reddressal of customer grievances. Making records available at the click of a mouse ensured transparency and reduced fraud.
The solution comprised modules for handling multiple processes across various departments. These included: payment module, processing module, customer grievance module, legal module, and miscellaneous module.
SEC (Security and Exchange Commission) Philippines needed a solution to allow users to view and print the audited financial statements and other documents of companies registered with the department. iReport Project, which has BPM and DMS as core components is aimed towards realising the holistic goal of bringing transparency, accountability and fairness in companies' financial reporting. The department deployed Newgen workflow & document management solution on their portal. e-Filed applications were processed at the back-end using Newgen OmniFlowTM. All applications and associated documents are archived and retrieved using OmniDocsTM. The solution efficiently manages the huge number of legacy and new documents, makes them available online and implements process workflows in diffrent departments. Some of the key processes that have been implemented or are being implmented include:
Common licensing procedures for market regulation department

Financial statement / stock and transfer book / membership book processes for company registration and monitoring department

Monitoring financing company process for corporate financing department

Procedure leading to investigation / inspection / surveillance for compliance and enforcement department

Registration of dealer for non-traditional securities and instruments department

Newgen Solution provides instant access to these documents, cost containment for storage and management of documents, increased productivity and efficiency, better customer satisfaction and responsiveness, and effective de-risking and control of the process. More importantly, it enables SEC in achieving its aim of increasing tranparency and accountability for companies' financial reporting.
How does your solutions have an edge, as compared to the other market players, in the field?
Newgen software has established itself as one of the fastest implementer of BPM and ECM solutions in the world. This helps our clients to quickly go live and in turn help them realise quick return on investment. In addition, we extend extensive and excellelent post-implementation support to our clients either by deploying dedicated personnel or through our vast network of partners and system integrators. In addition, our solutions are based on open standards, support unicode, and seamlessly integration with other enterprise systems and legacy systems. We offer end-to-end solutions and are focussed on providing BPM and DMS solutions to our clients.
What is the role of standards and interoperability for e-Forms?
e-Form solutions are currently being developed using different technologies and approaches. Therefore, being technology agnostic is the best way to go forward. Moreover, taking the standard approach has the advantages of cutting down on implementation time and cost. e-Forms repository could be used across multiple projects.
What in your opinion should be the approach adopted in implementation of e-Forms solutions in the current scenario by the government in India?
e-Forms have been in an infancy stage and only now their role is increasingly being recognised in India for effective e-Governance solutions. The National e-Governance Plan (NeGP) has taken off in a big way and its final success depends on its sustainability and reaching common citizens. There is a requirement for e-Governance solutions to be multilingual, workflow enabled, hybrid with paper-based mechansim, capable of being re-engineered and able to achieve maximum penetration. e-Forms based on open standards can be one of the mechanisms to achieve these goals. Government of India has established a working group to come up with policies and guidelines for e-Forms. These policies are being framed with the objectives like proper handling of both structured and unstructured content, addressing security and privacy concerns, having an XML base, and ensuring access through multiple devices. Usage of e-Forms in mission mode projects and reusability of e-Forms is essential for achieving ROI and cost advantage in NeGP projects. A monitoring body for institutionalising e-Form implementation methodology should be formed. Establishment of central e-Form repository, reuse of e-Forms and addressing legal aspects would go a long way in doing this.
Based on your experience in delivering solutions on projects involving e-Forms, what are some of your key recommendations for the public sector?
Some of the key recommendations proposed by Newgen for projects involving e-Forms are:
There has been a widespread use of e-Forms worldover and a good amount of work is being done by government in India and vendors for promoting use of e-Forms.

During project execution, the public agency should see in case there are templates already available and re-use them.

Business processes should be re-engineered and international best practices should be adopted.

Change management aspects should be addressed in the early phases to ensure success of the project.

e-Forms should be as per the recommendations for policies and standards established by Government's working group.

Hybrid solutions ensuring handling of paper-based forms: The solutions should be able to not just handle electronic forms but also paper-based forms.

Newgen document mangaement solution is being adopted by the banking sector, in India (for instance Karnataka Bank) and beyond. Please tell us about your DMS solution and how it enables clients to streamline document-centric business process, leading to better productivity and faster decision making?
Banks and financial service organisations are increasingly facing global competition, demanding customers and regulatory compliance issues leading to pressure on margins. The mantra for succes is, therefore, improved customer service, effective management of innovative product offerings and continuous enhancement of productivtiy. Banks in India, as well as globally, are increasingly centalising their operations, adopting core banking solutions bringing in standardisation, and rapidly expanding their network with lean branches. Newgen helps banks achieve these goals through its BPM and ECM suite of products and solutions.
Business benefits include faster transactions, leading to better customer service and reduced resource costs. In addition, end-to-end view and control of processes across branches, back office and head office leading to streamlined processes, compliance to regulatory norms, rapid growth with lean branches, organisational agility, enabling outsourcing, maximising ROI from IT investments are other realised benefits.
What kind of strategic partnership do you have in implementing mission mode projects under the National e-Governance Plan in India?
The focus of NeGP is to ensure public service delivery for long term sustainability and efficiency. This requires public and private organisations to collaborate. Since DMS and workflow are critical components of most NeGP projects, Newgen is closely working with large system Integrators for mission mode projects . Integrated projects like CSCs require higher adoption of public private partnership and unique business models. For such projects, Newgen has created consortiums with public sector banks and private companies. In addition, we continue collaborating and participating in standards-related activities of NeGP.
What are some of your future plans for the next five years for providing software solutions for the government?
We are working with government agencies in India and developing countries in APAC and EMEA for providinge-Governance solutions. We are closely aligned with the e-Governance initiatives in these regions. We work closley with large system integrators, e-Governance consultants and regulatory authorities.
We will continue providing DMS and workflow components for important e-Governance projects through our partnership with large system integrators.

We will continue participatinmg in standards-development activities.

We would develop process frameworks for specific

e-Governance processes where we have deep domain expertise.
Follow and connect with us on Facebook, Twitter, LinkedIn, Elets video