Owing to the fast progress of the state of West Bengal in recent years in IT and e-Governance services, it is now being counted as one among the leading states in e-Governance along with Karnataka, Andhra Pradesh and Gujarat. West Bengal is now all set to implement India's first rural e-Governance pilot project where connectivity will go upto the panchayat level in a southern district of the state, Burdwan. egov talks to Dr. GD Gautama, Principal Secretary IT, West Bengal Government (www.wbgov.com) to find more about the state's key achievements in e-Governance and its future focus.

What are the key initiatives taken by the government of West Bengal in e-Government?

We believe that Information Technology (IT) has no meaning unless the benefits of technology percolate down to the masses. We have taken various initiatives in the area of e-Governance. There are nine departments, which are spearheading this initiative in a very aggressive manner. These are land & land reforms, panchayat and rural development, health and family welfare, school education department, pollution control board, transport department, consumer affairs department, agriculture department and municipal affairs.
Also, Government of India has sanctioned Rs 68.95 crore (15.2 million USD) to take connectivity right up to the block level (341 blocks). Burdwan district has been chosen as a model for the whole of the country, where the connectivity will go right up to panchayat level and Rs 4.85 crore (1 million USD) has been sanctioned for the project. The connectivity is vital for e-Governance, because unless there is a backbone infrastructure, any initiative of Information Technology cannot reach the people. We are planning to complete the project by June 2006.
What have been the key achievements of West Bengal in terms of e-Governance?
Our three main initiatives include the Telemedicine project. Under this project we have a referral hospital and a nodal hospital in Calcutta, which are connected to districts in far flung areas and patients get advice from the doctors in Calcutta. 18000 patients were treated last year. At present this project is in 4 districts and it is going to be rolled-out soon. The Department of IT, Government of West Bengal received the Bronze Icon award for Telemedicine project in year 2004 and the Skoch challenger award for e-Governance in 2005. We also got an order to implement this project in Tripura.
Digitisation of the land records is another project. 97% of our land is fully digitised. The state comprises of 341 Blocks and 42,309 mouzas. The land records and cadastral maps have been computerised for all the 341 Blocks and 42309 mouzas.
Another initiative we have taken is the computer literacy programme. We are targeting 9000 secondary, higher secondary schools and Madrasas to be covered under this programme. Already 500 schools have been covered – mostly in rural areas. We have started this programme under public-private partnership with NIIT, Wipro and IBM. This year 2500 schools are going to be covered in this programme. 1 million students are going to be targeted this year. We plan to cover the entire State in the next 3 years time. Microsoft and Intel will impart teachers' training programme from this year.
Compared to other States, where do you see West Bengal in e-Governance?
The kind of penetration we are making, is reasonably well. More importantly, the bulk of developments have been recent. It is a matter of pride as I maintain that in IT and services, we are growing at a huge rate close to 74 %. Very soon we will be positioned very-very high.
Is there any complaint-redressal system online in West Bengal?
Different departments have done that, like Pollution Control Board but not all of them. They would be doing it soon. The citizens can file on line pollution complaints at http://emis.wbpcb.gov.in and interact with the Pollution Control Board for redressal of their grievances. The Industrial Units can file online application for 'NOC' on the Portal.
The interactive Portal guides on procedures and policy. The citizens can access latest environment information on www.wbpcb.gov.in. The daily air quality data is uploaded on this website. The Portal is developed on 'Open Standards'.
Do you think West Bengal has been getting equal support along with other states by the Centre?
Union IT minister has already said that West Bengal, Karnataka, Andhra Pradesh and Gujarat are the leading states. We are satisfied with the support we are receiving from the Centre.
What are going to be your main focus for next few years?
Our focus will be on creating a connectivity backbone and an agri portal. The agriculture portal is intended to cover all the aspects of the rural economy in the state – useful information to people, farmers, fishermen, artisans etc. Around 20 departments of the state government are  involved in compilation and updation of the information on the portal.
The portal would provide needful information on government & panchayat schemes for people  including weaker sections of society, information on land, fisheries, crops, seeds, fertilizers,  technical inputs, best agricultural practices, meteorological data, prices of seasonal crops,  fisheries, agri-marketing etc. The Agriculture Portal shall serve the needs of rural work force  as a single window source of information for their day-to-day requirements.
Moreover we have planned for an education portal for a single window source in education  sector namely higher education, school education, technical education and mass education etc.
This education portal will have inventory of the educational institutions with information on  courses (including correspondence & vocational), eligibility criteria, admission procedures,  forms, results, job searches etc.
West Bengal Mission Mode Projects would be:
• Land Records
• Property Registration
• Transport
• Gram Panchayat
• Commercial Taxes
• Treasury
• Agriculture
• Municipalities
• Police
What is your view on using Open Standard Technologies in government (Linux/ OSS)?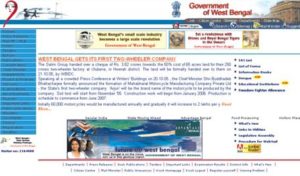 We are open to new technologies. This is totally dependent on comfort and user friendliness of  the application. We have adopted LINUX application in our Pollution Control Board, fund  monitoring in Panchayat and Rural Development and to some extent in Tourism. We are also encouraging Open Source culture at the grass root level when we have introduced Open  Source in CLTP(Computer Literacy Training Program) curriculum.

What are the key challenges you are facing in implementing e- Government projects?
The key challenge is the mindset of people. Some other are:
• Lack of education in end-users
• Lack of network reach
• High cost of hardware
• Lack of localisation
• Lack of IT related culture
For successful implementation of the Mission Mode Projects (MMPs) under the NeGP, the policy  enablers and the creation of 'State Wide Area Network', 'State Data Centres', and 'Capacity Building' are at the core.
All the aforesaid endeavours in the right direction would ultimately converge to establish  sustainable and advantageous 'Citizen Service Centers' in the rural areas to bridge the digital divide.

How is West Bengal government encouraging public-private partnership in e-Governance projects?

West Bengal government has already decided to implement the extension of the WBSWAN  network project through a PPP model and also under the NeGP programme's Common Service  Centers, 8 blocks have been identified in different locations for test run of various  citizen centric services. IT has notified "Technical  Committee" to guide the implementation
of the extension of the WBSWAN network project in the state through selection of the appropriate private partner through the process of competitive bidding.

What are the Citizen Service Centre/ Telecentre initiatives being taken up in West Bengal?
• The DIT, GOI recommends in the National e-Governance Plan to set up the Common Service  Centres (CSCs) in the premises of the Panchayat Samities and the Gram Panchayats.
• The P & RD Department has selected 8 GPs in 4 districts (Hooghly, Jalpaiguri, Burdwan and Bankura) to start the pilot project of CSC.
• 'GRASSO', (Gramin Sanchar Society), an NGO, has been selected by the Department of  Panchayat & Rural Development to share their valuable field level experience in establishing  the citizen centric Information Centres.
What are the approaches of West Bengal Government in terms of business process re-engineering (BPR) and capacity building while proceeding towards e-Government?
Under the NISG, Government of India has provided the State Government some names of the empanelment vendors who would implement the entire NeGP programme for the State. Very soon the shortlisted vendor would be conducting a System requirement study for all the departments and come out with a Business Process Re-engineering solution for the entire State Government set up.
The State recognises the vital role that training and capacity building has to play in each of these MMPs. Capacity building initiatives to be undertaken to cover all departments and levels.The Administrative Training Institute (ATI) has been designated as the nodal agency for the same. State level Steering Committee is being constituted to guide the Capacity Building programme in the state.
Under the Capacity building program, the State Government has already been allotted 5.3 million Indian rupees this year.
Follow and connect with us on Facebook, Twitter, LinkedIn, Elets video