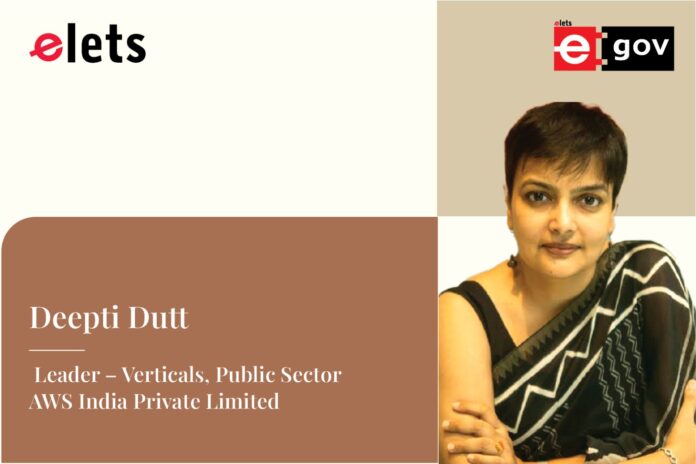 The digital age has transformed various aspects of our lives, none more so than the realm of infrastructure. At the helm of this transformation is geospatial data that's shaping smart infrastructure, shared Deepti Dutt, Leader – Verticals, Public Sector, AWS India Private Limited in an exclusive interaction with Kaanchi Chawla of Elets News Network (ENN). Edited excerpts:
For smart infrastructure projects, what role can geospatial data and technologies play in smart highway bridge and facility management?
Geospatial technologies act as the backbone for smart infrastructure projects, proving to be invaluable across the entire lifecycle of infrastructure development and management.
Planning Phase: Geospatial data grants a clear and detailed spatial visualization, simplifying the decision-making process. It helps urban and rural planners understand the terrain, population density, existing infrastructure, and other crucial elements. Based on this data, decisions regarding the locations of schools, hospitals, roads, and other facilities can be optimized.
Operations and Monitoring Phase: Once the infrastructure projects commence, geospatial technologies play a vital role in ensuring quality. They can provide real-time data on the construction quality, progress rate, and any deviations from the planned blueprint. For urban environments, they can highlight congestion points, leading to informed decisions about where to build additional infrastructure such as flyovers or pedestrian crossings.
Also Read | Geospatial Technology Transforming India's Governance System
Policy-making Phase: Geospatial insights don't end after the completion of the projects. They continually feed into the policy-making process by offering real-time data on urban growth, green cover changes, and more. This data guides policymakers in making future-ready decisions, ensuring that cities and rural areas grow sustainably and efficiently.
Furthermore, with the advent of cloud technologies, processing geospatial data has become more flexible and efficient. AWS, for instance, allows users to leverage the cloud for varying processing needs. With the potential for automating feature extraction through AI and ML, it's clear that cloud technology will be an integral part of the future of geospatial data processing.
How does your organisation support industrial clients in utilising drone data insights for improving areas such as site planning, asset management, and adherence to HSE standards, while also aiding in their market expansion and addressing technical challenges?
Our primary role is to allow our clients to concentrate on their core business needs and challenges, while we handle the intricate technical aspects, such as infrastructure and equipment selection. This ensures they aren't bogged down by these concerns. Additionally, our team of solution architects collaborates closely with them to enhance applications, optimize costs, and more.
A significant part of our value proposition is our expansive sales network. We assist our clients in expanding their market reach and serving more customers. For instance, when exploring the potential of drone data in rural segments, we not only proposed a pilot project but also partnered with Aereo to develop a comprehensive proof of concept. This collaboration aimed to leverage drone data for improved rural planning.
In essence, our collaboration with clients revolves around three main pillars: eliminating technical complexities, continuous technological enhancement for emerging needs, and market expansion support by connecting them with potential customers. This partnership approach ensures mutual growth and success.
What methods or collaborations have been most successful for businesses aiming to digitize their geospatial resources and processes?
The modern approach is more collaborative, resembling a honeycomb structure where partnerships are valued over traditional supplier-vendor dynamics. This shift emphasizes mutual trust, co-developing use cases, and fostering an environment conducive to innovation rather than adhering strictly to predefined scopes of work. The idea is to promote a mindset where continuous innovation is prioritized, new solutions are regularly explored, and where rapid experimentation (even if it leads to quick failures) is encouraged. Viewing innovation as an ongoing journey rather than a one-time event is pivotal. The essence is to embed innovation into the process, be open to novel technological solutions, and understand that it's a continual learning curve. Those businesses and public sector entities that have adopted this approach have expedited their innovative pursuits.
What obstacles do businesses encounter when embracing new digital technologies and what strategies can they employ to overcome these challenges?
Firstly, understanding digital transformation as a continuous journey is crucial. You can't achieve everything all at once. Digital transformation requires a well-defined roadmap, starting with digitization and then advancing to digitalization. It's about plotting the journey step-by-step.
Secondly, the human factor – leadership and commitment from the top are paramount. The senior management must be invested for the digital transformation to be realized. Initially, this entails significant change management and resource allocation before tangible results are seen.
Thirdly, it's about fostering a culture of innovation within the entire organization rather than confining it to a specific team. Like at Amazon, we've established mechanisms, such as our two-pizza teams, to spur innovation. The idea is to have small, nimble teams, typically of six to eight people. We also have our 'working backwards' approach, where we draft a press release before initiating work on a product.
Lastly, forging the right partnerships is crucial. This includes collaborating with startups and solution providers who genuinely understand your challenges.
"Exciting news! Elets eGov is now on WhatsApp Channels 🚀 Subscribe today by clicking the link and stay updated with the latest insights!"
Click here!