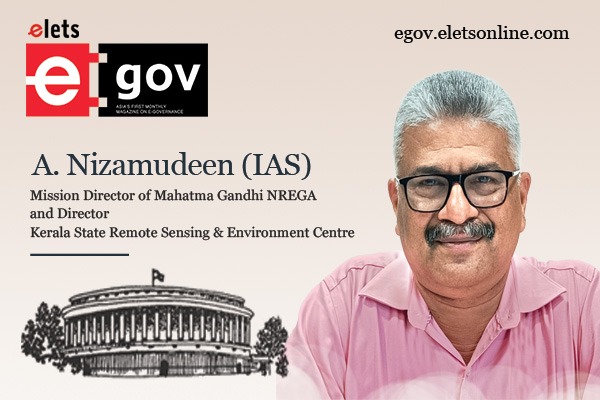 A. Nizamudeen (IAS), in an exclusive interview with Nisha Samant of Elets News Network (ENN), shares insights about his dual role as the Mission Director of Mahatma Gandhi NREGA and the Director, Kerala State Remote Sensing & Environment Centre. Edited excerpts:
The Mahatma Gandhi NREGA program aims to provide employment opportunities in rural areas while promoting sustainable development. How can technology interventions, such as skill development and capacity building, enhance the outcomes of this program?
The Mahatma Gandhi National Rural Employment Guarantee Scheme (MGNREGS) not only provides employment opportunities in rural areas but also envisions asset generation and livelihood enhancement. Skilled and semiskilled workers are essential for constructing durable and productive assets. The majority of interventions are based on Natural Resource Management (NRM), for which comprehensive watershed plans are prepared under the 'Neerurav' project. Skill development and capacity building are required for the effective implementation of NRM activities. The induction of advanced technologies improved the livelihood outcomes of the program. For example, scientifically designed cattle sheds, goat sheds, etc., enhance productivity compared to conventional structures. The capacity building of functionaries and the skill development of workers are given primary importance.
The state mission's 'Mikavu' project, aimed at creating skilled workers, has already completed its pilot run in 56 Grama Panchayats. A total of 1,165 workers are trained in masonry and other similar skilled jobs. The focus of the program was to equip them with basic masonry and construction skills for compost pits and soak pits. The trained workers are utilised for works related to the 'Malinya Muktha Keralam' (waste- free Kerala) campaign in local bodies.
Additionally, training was given in building compound walls for government schools and constructing Anganwadi buildings. Once the statewide launch is completed, labour banks consisting of skilled labourers will be formed at the local level throughout the state. The MGNREGS state mission is making a conscious effort in creating durable and productive assets. This is reflected in the increase in the state's material expenditure out of the total annual spending, from a mere 8.51% in 2018-19 to 19.78% in 2020-21 and 22.50% in 2022-23.
Remote Sensing plays a crucial role in monitoring and managing natural resources. How has Kerala State Remote Sensing & Environment Centre utilised remote sensing techniques to address environmental concerns and support sustainable agriculture in Kerala?
Remote Sensing provides timely, reliable, and spatially comprehensive data on various natural resources for effective planning, implementation, and monitoring. There is a need to achieve an environmentally sustainable future for the people of Kerala, which calls for the use of technological solutions, including Remote Sensing and Geographical Information System, to address environmental concerns and support sustainable agriculture in Kerala.
In the present day, remote sensing- based precision agriculture, the use of Unmanned Aerial Vehicles (UAV) for hyperspectral and multispectral image processing and data collection, has become a new revolution for smart agriculture solutions. The availability of a large amount of satellite data, data analysis algorithms, data processing tools, and machine learning programs has further advanced the application of remote sensing in the agriculture sector.
The Kerala State Remote Sensing & Environment Centre (KSREC) is at the forefront of utilising remote sensing and geospatial techniques to develop spatial information, location-specific recommendations, visualisation of suitable sites, Decision Support platforms, etc. KSREC is extensively involved in areas like land use/land cover mapping, groundwater impact assessment, wetland dynamics, paddy land status assessment, landslide assessment and modelling, flood mapping, and impact assessment, etc. The data developed by KSREC is used by disaster management authorities in preparing the DM plans at various levels.
KSREC developed a technology platform for building household/plot level and citizen-level granular data, including agriculture and environment, for the eco-restorative development leading to sustainable development. KERALA-GIS (K-GIS), a comprehensive web portal, and GRAMAM (Grass Root Level Mapping and Monitoring), an end-to-end mobile application, are useful for natural resource managers to understand and collaborate more effectively with remote sensing scientists to address environmental concerns and support sustainable agriculture.
In your dual role as the Mission Director of Mahatma Gandhi NREGA and the Director of Kerala State Remote Sensing & Environment Centre, how do you ensure synergy between these two entities to achieve common goals in promoting sustainable agriculture and rural development?
Kerala State Remote Sensing & Environment Centre (KSREC) is the nodal agency for geospatial technology and related activities in the state. Along with advancements in technologies like Remote Sensing, GPS, and GIS, the inflow of spatial data is increasing in a geometric progression. KSREC is at the forefront of spatial data building, dissemination, analysis, and decision support for the government, decision- makers, academia, and local self- governments.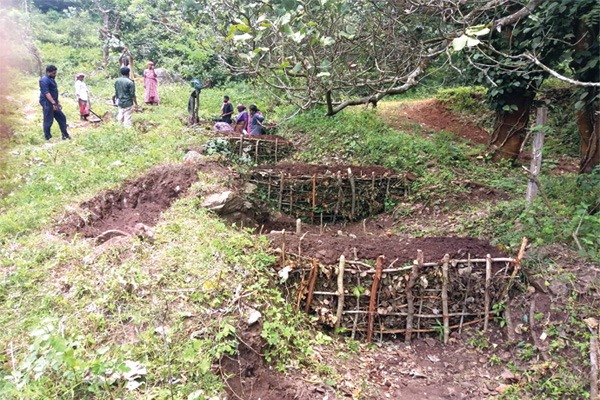 The recent advancements in remote sensing techniques have provided open access to high-resolution satellite data along with the processing platform. GIS-based planning under Mahatma Gandhi NREGA is a robust tool for spatial planning at the Gram Panchayat level that supports well-informed decision-making through correlating spatial and non-spatial information. Information on crop water demand, water use, soil moisture condition, related crop growth at different stages can be obtained through the use of remote sensing data. These tools help determine the areas where MGNREGS works need to be implemented on a priority basis. It also saves cost and time, as holistic information is available on a laptop with an internet connection on a real-time basis.
Kerala has a unique agricultural landscape and diverse crop patterns. My top priority is to effectively utilise the potentials of geospatial technologies in scientific planning, timely implementation, and effective monitoring of MGNREGA activities, which can cut costs, improve efficiency, speed up execution, and increase productivity. By using geospatial technologies, sound decisions can be arrived at that will ensure the sustainable use of natural resources to meet the needs of the current as well as future generations.
How can advanced technologies and data analytics be harnessed to optimise agricultural practices and improve the overall efficiency of the farming sector in the state?
Integrated watershed-based action plans are required at both macro and micro levels. There is a need for a land use policy in the state that envisages strategies to increase the utility of land and its productive capacity, prevent the degradation of the ecosystem, and address consequent disasters. Landscape ecological analysis provides a unique opportunity in this context. Based on this analysis, it is possible to characterise each unit of land in terms of topography, soil type, drainage condition, state of water availability, and overall environmental capacity. Landscape ecological units exhibit a biophysical setup that is different from the rest of the area in the context of production potential.
Also Read | 'Vattatha Uravakkay Jalasamrudhi' – Kerala's Smart Water Conservation
Communications technology has rapidly evolved in India and has made smart farming a possibility. Sensors are now being used in agriculture to provide data to farmers, enabling them to monitor and optimise crops given the environmental conditions and challenges. These sensors are based on wireless connectivity and find applications in many areas such as determining soil composition and moisture content, detecting nutrients, providing precise locations, airflow measurements, etc. Sensors help farmers save on pesticides and labour, resulting in efficient fertiliser application. They allow farmers to maximise yields using minimal natural resources. We tried this on a pilot basis in Kattakada under the Jalasamrudhi project.
Big data provides farmers with granular data on rainfall patterns, water cycles, fertiliser requirements, and more. This enables them to make smart decisions, such as choosing the right crops for better profitability and deciding when to harvest. The right decisions ultimately improve farm yields.
Given the current agriculture status of India, do you think India is on the right track to achieve the status of becoming the food bowl of the world by 2035?
Agriculture in India is largely dependent on nature. Climate and global warming issues make farming unpredictable. The need of the hour is to educate farmers in the use of modern technology and innovative approaches to increase productivity and raise profitability. The role of modern technologies is significant in agricultural development, and with the advent of digital technology, the scope has widened. Innovation is leading to an evolution in agricultural practices, reducing losses, and increasing efficiency.
Artificial Intelligence (AI) finds slow acceptance in a country like India where marginal farming, fragmented land holdings, and other reasons act as impediments. But there is no doubt that technologies based on AI can bring precision to large-scale farming and lead to an exponential rise in productivity.
If the Agriculture sector focuses more on increasing efficiencies in the agricultural produce trade, incorporating quality standards, and optimising production costs for market demand, the country has the potential to become the food bowl of the world.
"Exciting news! Elets eGov is now on WhatsApp Channels 🚀 Subscribe today by clicking the link and stay updated with the latest insights!"
Click here!