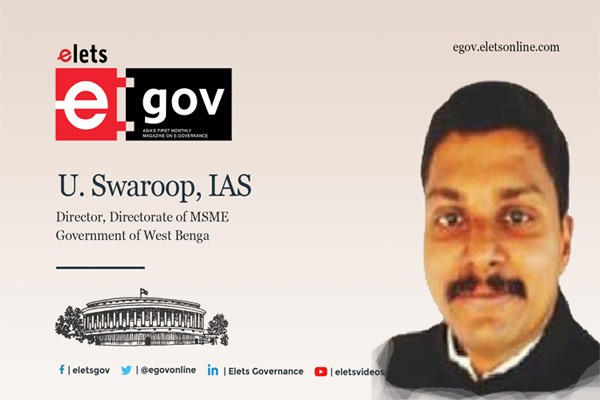 West Bengal occupies a predominant position in the country in terms of development of micro, small and medium enterprises. Strategic initiatives of the State Government taken up in the last few years for promotion and growth of MSMEs have resulted in spectacular growth of MSMEs in the State in terms of investment, employment and export. Number of MSMEs and people employed in the sector in the State, in formal and informal segments are one of the highest in the country.
In order to provide better service to citizens, several online measures have been undertaken.
Myenterprisewb portal: an online portal for resolving all the quarries of existing as well as new entrepreneurs in a single mouse click. They can get full information about statutory and other compliances to be followed. Moreover, a shorter version of various applicable laws is available in the portal. Entitlement of MSMEs has also been uploaded in this portal.
Karma SathiPrakalpa portal: State Government has taken remarkable initiatives in creation of employment for the promising youth through opening new doors to help intending or prospective entrepreneurs and make them self-dependent, those who are interested in new ventures. Employment generation is one of the thrust areas of the present Government and because of that West Bengal government has launched and announced West Bengal Karma SathiPrakalpa Scheme 2020 to provide financial assistance and help enthusiastic intending or prospective entrepreneurs to start their own business as a self-employed youth who will become an employer in upcoming days and generate more employment. The scheme is maintained through the portal https://karmasathi.wb.gov. in/ and the entire process is through online mode to make it hassle free.
Banglasree: The e-Governance projects of Banglashree Scheme of the Directorate of Micro, Small & Medium Enterprises, Govt. of West Bengal is a comprehensive and exhaustive Online system. The major features of the projects are:
1. No physical interventions with Govt offices for availing the Scheme
2. Automation in subsidy calculations, checks and validations,
3. Eligibility Wizard to facilitate entrepreneurs to know their eligible subsidies based on a combination of various parameters.
4. Application is developed using Open-Source Technology and keeping in view Web Security aspects as per standard protocols.
5. The application is completely Work Flow Based with assigned Roles and Functionalities
6. The portal is based on Content Management System where Vital Information can be managed dynamically from the system by Content Managers within and generation of various MIS Reports. The objective of the Portal is to provide a single window access for incentive related services for eligible MSME enterprises and other stakeholders.
Silpadisha: an Android and IOS based mobile app for redressal of grievances related to MSME. This app helps entrepreneurs to reach the highest authority of MSME Department, Govt. of West Bengal. This is a grievance redressal app for convenient, meaningful solutions to the issues, problems and hardship, if any,
faced by the entrepreneur.
https://banglaricloud.wb.gov.in: Bangla iCloud aims at Digital Empowerment of Entrepreneurs & Citizens providing access to Authentic Document Anytime,Anywhere. Banglar iCloud helps residents digitally store their important documents and all kinds of certificates safely. Keep all your digilocker documents in the digital locker for documents like driving licence digilocker, ration card digilocker, etc. At present, 24 services from 8 departments are available in the portal.
https://eodb.wb.gov.in/: Ease of doing business is the talk of the day. Like other states in West Bengal also initiative has been undertaken by the Department of MSME&T to make process of statutory clearances online. This online process enables entrepreneurs to get necessary approval through online mode , without visiting different Govt. offices.
silpasathi.wb.gov.in – This is a single window system that has been enacted for delivering more than 65 services related to setting up of industries.
Wbseps.com– website of West Bengal State Export promotion Society under Dept. of MSME&T. Main activity of this organization is export promotion. Functioning of this organization can be monitored through the website.
wbspoe.myenterprisewb.in – West Bengal state portal for online exhibition of handicraft products.
The Directorate of MSME, Khadi Board, Handloom all have own websites those helps entrepreneurs to know different information online. Online tender, procurement of items,etc have also been done since the last few years.
Also Read | WEBEL leading the IT transformation in Bengal
Digital upgradation of MSMES- During the last BGBS, a Memorandum of Understanding was signed with NASSCOM for digital upgradation of MSMEs in the state. Accordingly NASSCOM is visiting different clusters for their need assessment w.r.t. digitization.
The Department of MSME&T is very keen to come forward with different IT initiatives for giving services to all micro , small and medium enterprises of West Bengal.
Views expressed by Shri U. Swaroop, IAS, Director, Directorate of MSME, Government of West Bengal.