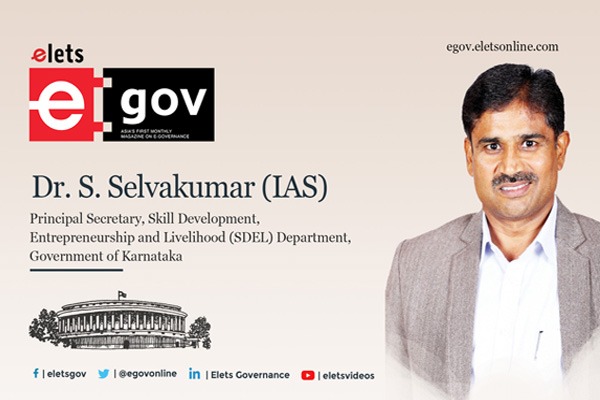 The Government of Karnataka is giving impetus to various skill development programmes to drive its vision of 'Kaushalya Karnataka'. The state envisages an industry- driven skilling ecosystem that ensures demand-driven training. The evolving landscape of skill development and entrepreneurship with rapid advancement in technology demands continuous reskilling and upskilling, shares Dr. S. Selvakumar (IAS), Principal Secretary, Skill Development, Entrepreneurship and Livelihood (SDEL) Department, Government of Karnataka with Krishna Mishra of Elets News Network. Edited excerpts:
The Skill Development, Entrepreneurship and Livelihood Department was created to bring all skill development programmes under one roof. How has this convergence been achieved?
The SDEL Department was formed in 2016 for the convergence and streamlining of all the skill development initiatives and programmes in the state to better the outcomes in terms of employment and livelihood opportunities.
Each of the institutions under the department is fulfilling its mandate through targeted interventions for different beneficiary groups. The Commissionerate of Industrial Training and Employment oversees the management of vocational education through the Industrial Training Institutes (ITIs). The Livelihood Missions implement programmes for financial inclusion, urban and rural poverty alleviation, and resource mobilisation for boosting livelihoods and entrepreneurship. The five Karnataka German Technical Training Institutes (KGTTI) across Karnataka have so far provided world-class multidisciplinary training to more than 36,000 youth in industrial automation, electrical, construction, automotive, welding, manufacturing, and information technologies.
Government Toolroom and Training Centre (GTTC) has established centres of excellence with Siemens, Parametric Technology Corporation (PTC), and Dassault Systèms for skilling youth in Robotics, IoT, CNC, renewable energy, reverse engineering, and automation, among others. The Centre for Development of Entrepreneurship of Karnataka (CEDOK) has been building the ecosystem from the ground up through its entrepreneurship awareness and development programmes, especially for rural, micro and women entrepreneurs. Lastly, the Karnataka Skill Development Corporation (KSDC) is the nodal implementation agency for the state's flagship scheme for skill development – the Chief Minister's Kaushalya Karnataka Yojane (CMKKY) which is modelled after the Pradhan Mantri Kaushal Vikas Yojana (PMKVY). These initiatives and institutions collectively drive the vision of 'Kaushalya Karnataka'.
Karnataka is coming up with a policy for Skill Development. What are its key focus areas?
The policy envisages the empowerment of 100 lakh youth by equipping them with marketable skills by 2030. We are giving impetus to an industry-driven skilling ecosystem that ensures demand-driven training. The policy also outlines a framework for upskilling and reskilling the workforce in the face of increasing transition to Industry 4.0, along with fostering a culture of lifelong learning.
Aligning with the Union Government's vision for decentralisation, we are building the capacities of our network of district skill development offices to plan, implement and monitor region-specific skill development and livelihood programmes. Such initiatives are aimed at ironing out regional imbalances. The policy lays emphasis on orienting the youth towards entrepreneurship through awareness, skill development, and institutional support.
The policy also promotes the spirit of inclusion through special interventions for women, artisan communities, and marginalised groups such as persons with disability and sexual minorities. In fact, our partnership with Aequs is ongoing for the development of the toy cluster in Koppal for skilling over 25,000 youth. We have also introduced the One District One Skill programme for upskilling artisans of each district through design interventions and market linkages. We are also training inmates of all 8 central prisons to engage them in income-generating activities within the prisons to encourage their financial independence and to assist in their rehabilitation after release.
You have always stressed the importance of an industry-driven skilling ecosystem. How is your department fostering the same?
We have created a dedicated Industry Linkage Cell – ILC to consult with industries on their requirements for skilled workforce, map their demand, and introduce market-oriented skilling programmes. The Karnataka Skill Development Corporation, through ILC, has established a green channel to fast-track the empanelment of companies, corporate bodies, and industrial associations as accredited training partners. We want industries to actively contribute to the entire value chain, right from curriculum design to training and placements. This ensures quality training and captive employment for the candidates.
Also Read | Technology making industry sustainable with real time benefits
We have always welcomed collaborative partnerships with the industry. We joined hands with Tata Technologies to revamp 150 government ITIs into technology hubs to skill the youth in Industry 4.0 technologies
The project you initiated for the upgradation of ITIs is being replicated in other states as a successful PPP model. Tell us more about it.
In partnership with Tata Technologies and an industry consortium of 20+ partners, we have upgraded 150 government ITIs across Karnataka at the cost of Rs. 4,636 crores under the pioneering programme of Udyoga. A first-of-its-kind initiative in India, Udyoga is assisting industries in the adopting Industry 4.0 by equipping the youth with the requisite skillset in emerging technologies such as IoT, advanced plumbing, advanced manufacturing, robotics, automotive manufacturing, electric vehicles and industrial automation. Udyoga aims to create 20,000 highly skilled individuals every year through long-term courses and train 1,00,000 professionals annually through short-term courses. The project envisions a pool of highly trained workforce with specialised skills for employment and entrepreneurship. Udyoga has emerged as one of the successful industry-government collaborations for achieving shared goals.
What is your perspective on integrating tech-led innovations in skill development and entrepreneurship?
In Karnataka, we have been continuously exploring innovations in technology for skill development, entrepreneurship, and employment. In fact, Dr Ashwathnarayan C N, the Hon'ble Minister of Higher Education, SDEL and ITBT Departments recently launched the Karnataka Skill Connect Portal. It is an integrated one-of-its-kind platform that offers a gamut of hiring functionalities for recruiters to source candidates for internships, freelance projects, and employment. The platform also provides skilling courses for job aspirants to skill, upskill and reskill themselves in their fields of interest, and apply to thousands of job openings in multiple sectors. The AI-powered portal has unique features such as video resume for candidates to showcase their communication skills, and direct campus hiring options for employers.
Additionally, we have set up state-of- the-art language labs in multiple towns and cities for improving the communication skills of youth to widen their employment and entrepreneurship opportunities. We are employing the LokOS app at the community level to create profiles of lakhs of self-help group (SHG) members in every district of Karnataka and to digitally record their transactions. To illustrate another example, we have incorporated AR / VR -based learning in the upgraded ITIs for a few courses as an innovation in pedagogy. These interventions have set a precedent for incorporating tech- based interventions in education and skilling as envisioned in the National Education Policy 2020.