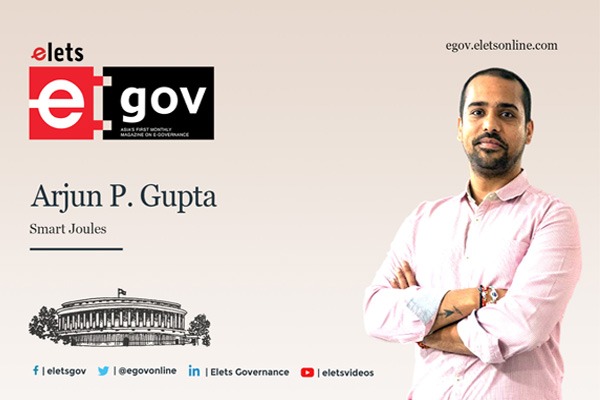 Data efficiency should be automated to continuously reinvent the entire IoT technology stack for reliability and real-time execution through automation with very little reliance on humans. To know more about the innovations in the energy sector, Arjun P. Gupta of Smart Joules, had an interaction with Garima Pant of Elets News Network (ENN). Edited excerpts:
Please detail the contribution of your organisation through your various initiatives towards the energy sector?

The energy sector is undergoing significant transformation, but the majority of this development is being driven by the supply side. It is about how we can use clean energy that is accessible.
There is not enough emphasis on the demand side, which minimises the amount that we require. So, Smart Joules has focused on the demand side, making it simple for large businesses to save significant amounts of energy.
We have mostly worked in the healthcare industry, and we have worked with over 45 institutions to reduce their energy use by 30 per cent on average. As a result, huge energy savings occurred, totaling more than 130 crores in energy savings and 100,000 tonnes of avoided carbon emissions.
We have also shown how to decarbonise businesses while making them more profitable by focusing on the demand side of energy and significantly reducing energy use. We intend to continue doing so in the industry, and we expect that the amount of additional power generation capacity required will be constrained in order to scale up efforts to reduce demand.
What kind of innovations in the energy sector are pertinent for a sustainable future?
Top decision makers and persons who pay the bill through operators run the facilities of one bill per month. Nothing in the text indicates whether the amount of energy used is unreasonably high or excessively low.
These findings suggest that the machine needs to be repaired or we should adjust the way we use it. How do we get these insights nowadays? We rely on our maintenance team, which today does hundreds of jobs, including energy manager.
The essential innovation that makes it more accessible for the maintenance engineer in charge of operations is getting the correct information to the right people at the right time. Automation enables you to carry out tasks without relying on humans, who have multiple obligations and may lack the discipline or time to carry them out.
Data efficiency should be automated so that you don't have to constantly reinvent the entire IoT technology stack for stability and real-time execution with very little reliance on people. Machine Learning is a critical invention that can reduce your reliance on manual repetitive activities conducted by humans to the greatest extent possible.
Also Read | Tata Power transforming power utility in Odisha
It is possible to have skilled analytics engineers and data scientists who are responsible for increasing data scalability. Machine learning can evolve faster and rely on data rather than human knowledge. Because actual data is the sweet spot for humans, and many calculations are not even possible for humans to execute data interpretation results in a finding.
Machine learning-based inputs can help you pinpoint exactly where reductions are needed. The Internet of Things' automated applications are driving a large-scale innovation push across various industries.
How do you see the public private partnership if it can be successfully initiated and implemented towards having a sustainable future?
Partnerships are required for industries that rely heavily on infrastructure and assets to develop quickly. The government represented the public and private sector partnerships, which comprise a significant energy consumer.
With many public sector operations, the government consumes a lot of energy, and the public sector has a very important policy that helps businesses scale up solutions that operate much faster. So, a variety of cooperation forms may be the key over here.
We've seen a lot of public-sector organisations with strong and aggressive leadership. It is more vital to partner with people who are committed and want to do something and make quick decisions. Many factories and structures are powered by the government. Companies provide their consumers ways to save energy and empower them with advanced digital technology that can be quite effective in driving efforts.
So looking ahead, which are the sectors you see yourself being getting into and what are your future plans for the next 5 years?
We look at energy-intensive facilities and consumers who utilise energy around the clock. This is the primary criterion for determining which industries should be addressed around the clock.
Airports, hotels, data centres, pharmaceutical firms, food and beverage production companies, and automobile manufacturing sectors are some of the other industries that come into play. Because each of these industries has many utilities, we focus on utilities rather than energy use. People are protected in many ways during the process.
Other businesses that come into play include airports, hotels, data centres, pharmaceutical enterprises, food and beverage manufacturing corporations, and automobile manufacturing sectors. Because all of these industries have several utilities, we focus on utilities rather than energy usage. People get every kind of protective coating as they go through the procedure.
The entire energy consumption of utilities is very high, and the utilities that operate 24 hours a day, seven days a week are our priorities for the next few years. We have models that are aimed toward or targeted at both existing facilities and buildings as well as new buildings that are coming up to make all of their utilities much more efficient with no investment on their part.