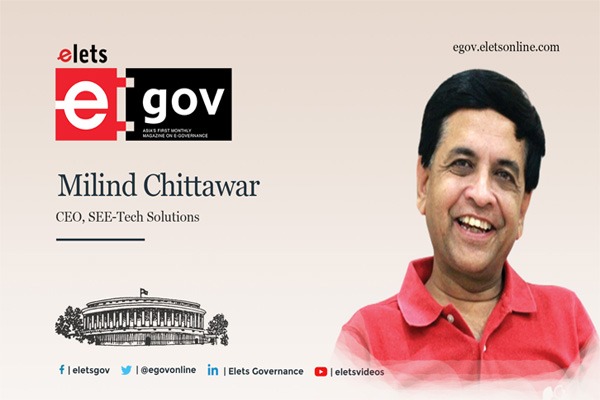 SEE-Tech Solutions first understand the issues with the energy organisations and then try to map them with the best technological solutions available in the market. It has constantly been accredited as the best Energy Saving Companies in India. Milind Chittawar, CEO, SEE-Tech Solutions, in conversation with K C Mishra of Elets News Network (ENN). Edited excerpts:
Tell us about your organisation's journey since inception and the work it deals with?

We have been in the field of energy since 1994, and earlier we used to carry out various studies that show how energy costs can be saved and how carbon footprints can be put down. Now we are completely doing this from end to end point – ideation to implementation.
We are the best ESCO (Energy Saving Companies) as the Government of India has constantly accredited us grade 1 ESCO for six consecutive years between 2013 to 2019. Our energy conservation program for 15 Taj groups of hotels across India was well received by the fraternity as we were able to bring down energy costs by 20 per cent.
In the energy doman, first energy is generated at lower costs, that is from the generation side but then on the consumption side, there are also plenty of technologies leveraging which we can reduce the cost of energy. So, we are in that domain for which we are being hailed as one of the leading energy conservation in the country.
Please give a brief about the contribution of your organisation through various initiatives undertaken by your company?
We basically identify and implement energy cost saving measures which helps the customer to reduce the carbon footprint from ideation to implementation. We are one of the leading ESCO companies in the country which is delivering energy savings on a guaranteed basis. We have been able to reduce the energy costs of our clients by at least 20 per cent.
To put it simply, everybody is well aware about the solar photovoltaic panel which is kept on the rooftop to trap solar energy. But what happens is, the availability of sun for power generation is only 8 hours in a day, and the industry is consuming energy for 24 hours, so it covers only a limited amount of energy. Factors like limited availability of space on the rooftop for solar energy and its high payback period makes the projects costlier. But our energy efficiency payback period is only 1 to 2 years which helps in saving the costs. So, our technological solutions are uniquely designed to address this gap. Our ROI is actually double than the investment on solar photovoltaic panels.
What are the innovations in the energy sector that are driving it towards a sustainable future?
In any manufacturing process, we require electrical motors. They are a very important part of the manufacturing process. As in vehicular emission there are government regulations like BS norms (1,2,3,4,5,6), the same regulation has been brought in by the government of India energy efficiency department that no motors will be manufactured below I2 class as motor is the main component which consumes maximum amount of electricity. I (1,2,3,4,5) is the efficiency class which refers to the quantum of saved energy, but the technological development today operates at the level of I5. Energy efficient motors are just one of the technologies. There are many such technologies with regard to energy saving in the market. So, leveraging those technologies, the country can save huge amounts of energy and costs.
We implement I5 efficient motors in our technological solutions and are successfully able to deliver around 6% to 25% of energy saving depending on case to case basis. With tariffs in Maharashtra, we are still able to deliver a payback period of less than 2 years for a motor which is operating more than 20 hours per day and with around 325 days of operations per year. It makes perfect economic sense.
Apart from the Taj hotel group of companies, which other clients have you served or are serving?
In the public sector, we worked for MTNL. We have very good cooperation with Tata power. Other organisations also utilise our competence. We have worked a lot for the Bureau of Energy Efficiency (BEE), and also for the Petroleum Conservation Research Association. PSUs like IOCL, BPCL, HPCL and ONGC are our clients.
In the private sector also, we have we have good number of customers across the country. Today, customers are worried due to Indian commitment for net zero by 2070. Every company and corporates wants to do something substantially by 2030 in order to fasttrack and streamline their net emission journey. Despite greater emphasis on renewable energy, there is a realisation that a country like ours of size and scale will not be able to meet its energy requirements solely through renewable energy. So, the focus is being given on restructuring or reducing the energy consumption through technological solutions.
So, we, through our technological solutions are driving that transition and helping the corporations in efficient usage of energy What is your take on the energy outlook of the country by 2030?
With Net Zero emission taking centre stage, the time for reorienting or restructuring our energy usage has come. Corporates and companies have started taking initiative at their level as they do not want to fall behind. Big oil companies are having EV charging stations. It's a fundamental change that has already come and nobody wants to remain behind and when there is an economic case, when there is a financial return, when there is a return on investment then it is becoming a business case as well. People want to really showcase their leadership and they are concerned with all this. So, sustainability, today if you see on any responsible companies website, there is a section highlighting their initiative regarding cutting down their emission or restructuring their usage, which indeed is a positive change.
People have started taking initiatives given the fact that solar photovoltaic has really penetrated very well into the market and it has started giving results also.
We know that the solar project may be the first step but it is not going to give us desired results. So the movement for the next step has started. Today, there is a movement for hydrogen, there is movement for storage batteries. Earlier these were talks, but today it is being implemented and executed.
So, by 2030, I definitely feel that we will see so many technologies getting adopted which will bring radical changes in the energy sector.
What are the opportunities and roles for the private sector in the energy field?
Frankly speaking, all these new technologies are mainly coming through the private sectors. It's not that it is not a government mandate, but the private sector always takes the lead in terms of technology and innovation development.
In today's world, where consumers are technologically and economically more aware, it has become imperative for the private sector as well as the government to be more responsible while making their products in order to meet the global standards.
Also Read | UP leading the energy transition

The carbon footprints and net zero emission have become buzzwords of late. The consumers know and can easily find which products and which company releases what percentage of emissions and they make the choices accordingly. Consequently, world over, companies have started to explore the options of becoming net zero or lessen their emissions. One can see the palpable changes happening and there is leadership definitely coming from leading companies. And in the near future, more companies will follow suit.
What challenges do you see from the regulatory side and what would you look forward to as far as policies are concerned?
If you see the regulatory contribution towards solar photovoltaic or wind energy adoption, I would say that this has gone really very well. In terms of solar photovoltaic energy, if somebody wants to take solar energy from outside his premises, it has become very handy as the earlier limit of one megawatt has been brought down to 200 Kilo Watt. These kinds of moves are really helping.
Similarly, in energy efficiency projects too, the government must demonstrate their leadership by adopting energy efficient technologies in the government unit as they are the shareholders and owner of those establishments especially when the government mandate is so clear in terms of reducing greenhouse gas emissions.