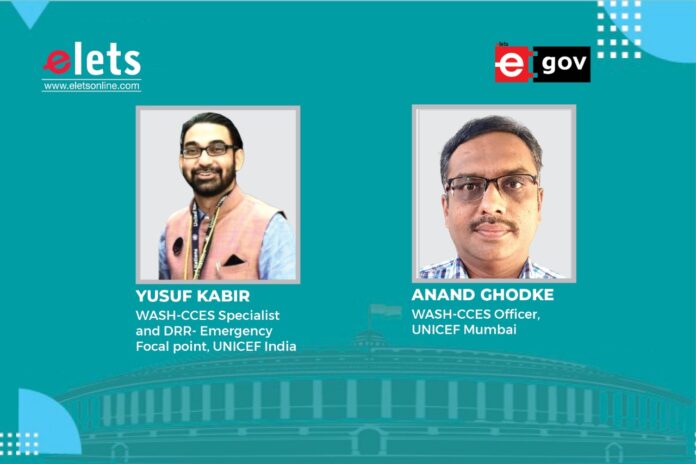 The adoption of healthy hygiene behaviours at the school level helps foster these behaviours with benefits beyond the school environment to the home environment where children can be agents of change, writes Yusuf Kabir, WASH-CCES Specialist and DRR-Emergency Focal point, UNICEF India and Anand Ghodke, WASH-CCES Officer, UNICEF Mumbai
Background
On August 15, 2014, the Honourable Prime Minister of India made a fervent and passionate appeal to the nation, to ensure that every child in India, especially girls, have access to a toilet in school. The Prime Minister urged all parliamentarians to invest their constituency funds into building toilets in every school. This is the moment for WASH (Water, Sanitation and Hygiene) in Schools, as he appealed to all stakeholders, including the corporate sector, to increasingly invest in the provision of WASH facilities to every school. In his message was the strong underlying point that providing quality education means creating a supportive environment to give children the best possible opportunity to enjoy school and perform to the best of their ability. This supportive environment not only includes well-resourced, clean classrooms and trained teachers. It also includes providing child-friendly WASH facilities and hygiene education including menstrual hygiene management (MHM). If boys and girls have separate clean toilets, come together to wash hands with soap before eating their Mid-Day Meal (MDM), and have safe drinking water throughout the day, they will be healthier, and perform better in school. Beyond school, children also positively influence the hygiene practices at home; by investing in WASH in Schools, everyone wins.
In accordance with the Convention on the Rights of the Child, every child's right to education is a fundamental principle to compulsory primary school education for all. WASH in schools helps fulfil the universal right to education and health and meets its role in achieving the United Nations Millennium Development Goals, thereby increasing access to primary education, reducing child mortality, advancing gender equality, and meeting targets for improving water and sanitation under SDG 6.1 and 6.2. The adoption of healthy hygiene behaviours at the school level helps foster these behaviours with benefits beyond the school environment to the home environment where children can be agents of change. Benefits of proper hygiene behaviours extend also beyond school age, and even across generations, and women play a critical role in realising these benefits.
WASH in Schools – Boosts Attendance and Achievement
In the long term, educational achievement is one of the most important determinants of health, life expectancy, economic productivity, and the well-being of future generations. Safe water to drink, water and soap to wash hands, and clean and private toilets make healthy, child-friendly schools, and healthy schools make healthy children. Young children are more vulnerable to the ill effects of unsafe water, insufficient quantities of water, poor sanitation, and lack of hygiene. Girls and female teachers are usually more affected than boys by the lack of sanitary facilities, because this may mean that they cannot attend school during menstruation, thereby giving rise to unequal learning opportunities. Some studies in rural India report that girls' attendance at schools rises when communities gain access to water, leading to a general rise in literacy levels in the area.[1]Studies from India and Nepal have presented some evidence, though self-reported, that when girls have access to safe and clean toilets and water at school, they are somewhat less likely to miss school during their menstrual cycle each month.[2]However, the presence of sanitary products, safe and clean toilets and sufficient water goes hand-in-hand. Each contributes to the creation of a clean, safe, and girl-friendly school.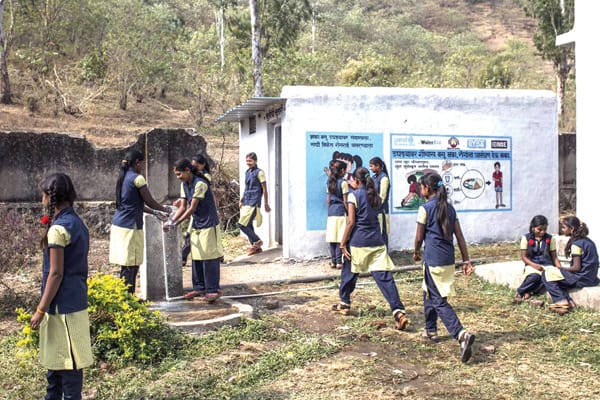 Milestone for WASH in School Program in India: Swachh Vidyalaya Puraskar
The Ministry of Human Resource, Department of School Education and Literacy has constituted the Swachh Vidyalaya Puraskar (SVP) under overall program of Clean School Clean India initiative with an aim to recognise, inspire and celebrate excellence in sanitation and hygiene practices in elementary and secondary schools. The awards are given at the National, State and District levels with technical support from UNICEF India and different State Offices. SVP has also brought many public and private sectors, corporates, business houses, INGOs like Coal India, Rotary International, ONGC, Hindustan Unilever, Water Aid, Aga Khan Foundation, National Stock Exchange Foundation, Viacom 18, Tata Trust, etc., to allocate substantial investment for improving hand hygiene, MHM and sanitation facilities in schools (including tribal residential and Kasturba Gandhi Balika Vidyalaya's) with focus on behaviour change and operation and maintenance of WASH facilities.
Way Forward
While there has been substantial momentum created by SVP, India and many states have to go a long way to achieve SDG targets for schools in WASH. As per the national standards, there should be one toilet for 50 students with separate toilets for girls and boys, while the toilet ratio in schools is currently at 115:1[3]. Only 47.6 per cent of schools have basic hand washing facilities and 13 per cent of schools have no handwashing facilities at all.[4] Toilets and MDM places should have group hand washing facilities and access to water. Girls' and teachers' toilets should also include MHM facilities. Key challenges to effective WASH in schools are the lack of targeted investment in O&M for WASH facilities in schools, as well as the lack of accountability for these tasks among stakeholders, including school management committees and local bodies. To optimally realise health benefits for children, WASH should be recognised as an important life skill among educators and parents, complemented by environmental and climate change education to sustain WASH practices in the long-term. Covid has further brought the importance of sustained hand hygiene in the community.
References:
Freeman M.C., Clasen T. (2011) "Assessing the impact of a school-based safe water intervention on household adoption of
point-of-use water treatment practices in Southern India." American Journal of Tropical Medicine and Hygiene
WaterAid-Nepal (2009). "Is menstrual hygiene and management an issue for adolescent school girls? A comparative study of four schools in different settings ofNepal"http:// www.wateraid.org/documents/plugin_ documents/wa_nep_mhm_rep_march2009.pdf
NHS 2018
MICS, 2019