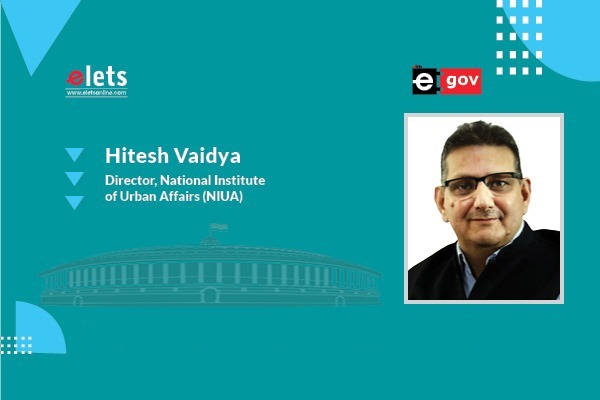 HITESH VAIDYA
Director, National Institute of Urban Affairs (NIUA)
One of the most significant demographic developments of our time is urbanisation. Globally, around 4.2 billion people live in the cities without sufficient access to sanitation facilities, including safe disposal of waste. Despite numerous efforts made under different urban sanitation programmes, a lot of work is still required in order to achieve 100 per cent coverage of sanitation facilities.
Sustainable Development Goal (SDG) 6.2 sets the target 'to achieve access to adequate and equitable sanitation and hygiene for all and end open defecation, paying special attention to the needs of women and girls and those in vulnerable situations by 2030'. The Government of India has undertaken various initiatives in order to achieve this target. The Swachh Bharat Mission – Urban, which calls for cities to be 'open defecation free', contributes directly towards achieving the target under SDG 6.2. The recent shift in the sanitation sector from rural to urban has helped cities in improving their health and economy. In fact it is quite evident that safe drinking water and sanitation systems are the key to ensure long-term sustainability of cities.
This edition on SDG 6.2 – Sanitation and Hygiene- is a compilation of seven uniquely articulated articles, related to the theme of urban sanitation and hygiene. The prime objective of this edition of the magazine is to capture and disseminate the perspective of experts, on different aspects of sanitation and hygiene relevant for Indian cities. This edition covers specific challenges, including sanitation for all, open defecation free cities, gender and sanitation and sanitation for vulnerable groups. In order to ensure a comprehensive outlook towards these challenges, this edition focuses on four different areas of SDG 6.2, which include 'Practice Oriented Policy', 'Inclusivity', 'Data & Technology' and 'Capacity Building'.
Also Read | Drinking Water for All in India! It's Work in Progress

NIUA is committed to help Indian cities in improving their performance against each of the SDG Indicators. In addition to relying on our internal resources to do so, we partner with media houses, academic institutions and other government and non-government organisations, for research, capacity-building and advocacy outcomes. The collaboration of NIUA and eGov Magazine is a demonstration of the same. To come up with this special edition, teams at NIUA and eGov have enthusiastically worked together, to collate a diverse range of knowledge-base on the cross- cutting themes of urban sanitation and hygiene in India. My sincere thanks to all the authors who have contributed to this special edition and shared their knowledge to make this possible.