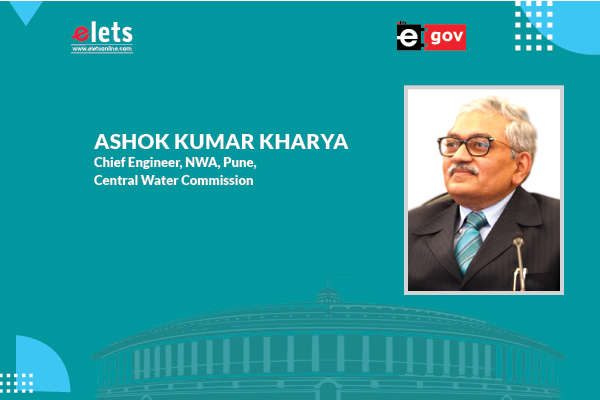 India, home to the world's second-largest population, faces immense challenges when it comes to water distribution and management. However, institutions like the National Water Academy (NWA) have been making transformative efforts to address the issue. Highlighting this, Ashok Kumar Kharya, Chief Engineer, NWA, Pune, Central Water Commission interacted with Nisha Samant of Elets News Network (ENN).
The National Water Academy, Pune is envisaged to function as a 'Center of Excellence' in training water resources personnel. How are you faring on that front?
The National Water Academy (NWA), Pune is certainly faring well as a 'Center of Excellence' in training water resources personnel in India. The NWA was set up in 1988 under the Central Water Commission (CWC) which is an attached office with the Ministry of Jal Shakti. In its journey of over three decades, the NWA has systematically and consistently upgraded and expanded its activities towards its mission of training all stakeholders in the water resources sector.
Besides conducting cadre training programs for Central Water Engineering Services (CWES) officers, the Academy also conducts training programs for various stakeholders. These programs cater to stakeholders in core technical areas, emerging technologies, as well as in non-technical areas including water governance, participatory irrigation management, etc.
Since its inception till March 2022, NWA has conducted 832 programs benefiting 41,144 participants. Major beneficiaries of NWA programs are officers from the Centre and state governments, Central/State PSUs, as well as academia. The NWA's training programs are open to all stakeholders. Since 2010, we have also been conducting awareness programs for school teachers; NGOs; Media; Farmers; Panchayati Raj Institutions (PRIs); Youth Representatives; etc. Further, customized training programs for professionals from other countries were also taken up as per demand.
Also Read | Reimagining Water & Sanitation in Cities with NUDM Standards
NWA has been recognised as a Regional Training Center of the World Meteorological Organization (WMO) since 2012. The WMO's executive panel of experts on Education and Training has recognized that 'NWA is well organized with excellent programme and support facilities at international level'.
Building capacities of water resources personnel is of paramount importance, especially when we see new technology- driven solutions coming up. How has this impacted the water scenario in the country? What are some of the latest technologies being leveraged in the sector to tackle water-related issues?
The NWA has always recognized the importance of leveraging technology-driven solutions to tackle water-related issues. The NWA conducted its first workshop on the Applications of RS & GIS in the water resources sector way back in the year 1996. Since then, the Academy has played a vital role in the capacity building of government organizations, PSUs, and even academic institutions. The training programs of NWA impart training and skills to the officials in the application of technology-driven solutions for water resources development and management. Being a national level academy, our role has always been in setting the trend through the introduction of new and emerging technologies through training programs. Later, these programs were adopted by State governments. We even provide assistance to State Government institutions as per the demand.
The application of Geoinformatics, various hydrological and hydraulic modelling tools, cloud-based platforms, programming languages, data analytics, etc. have huge potential. We need to leverage this to have a positive impact on the water scenario in the country. Capacity building and training are very crucial to creating a large scale impact in the changing scenario of water management. In this regard, the World Bank has appreciated the NWA's work.
The disparity in water distribution is one of the root causes of India's water conundrum. In your opinion, how can we address this?
The provision of water in requisite quantity, desirable quality, and in time to all the stakeholders has become a huge challenge. Growing sectoral demands, rapid urbanization, changing lifestyles, increasing industrialization, etc., are some of the bottlenecks that we face.
India has to support about 17 per cent of the world's human and cattle population with only 4 per cent of the world's freshwater resources. The country has high temporal and spatial variability, for the precipitation it receives. The irrigation sector is the major consumer of water in India. However, irrigation water use efficiency (WUE) is very low and its improvement is of paramount importance for sustainable water resources management.
Each river basin/ sub-basin presents its own characteristics due to varying agro-climatic conditions, soil conditions, and per capita water resources endowment. Therefore, there is no unique solution for managing water resources. On the other hand, variability in precipitation and therefore water availability is further accentuating and becoming more unpredictable due to the impacts of climate change. While water conservation methods have local level necessities, the creation and management of large reservoirs are to meet large scale necessities.
As water is a necessity, for all economic activities, it becomes crucial to adopt smarter ways of water resources management. Managing water as an economic good is an important way to achieve efficient and equitable use and encourage conservation and protection of water resources. Capacity Building of all stakeholders is definitely one of the important tools to achieve the developmental objectives in a sustainable manner.
Also Read | Water for All Roadmap for Water Management & Conservation

There are 14 Water & Land Management Institutes/ Irrigation Management Training Institutes and/or other similar bodies in all the major states which deliver multi- disciplinary programmes including agricultural aspects. Developing a network of institutions across the country forms a strong ground to synergize the efforts of various ministries/ organizations dealing with Water Resources Development and Management.
As NWA provides training to not only government officials but also officials from PSUs, institutions, and more. Do you also have programs to sensitise people about conserving water and making them realise the limited availability of the precious resource?
Water is an integral part of the social and economic development of the nation. We need to spread awareness on water conservation among school students, teachers, media professionals, etc. and sensitize other stakeholders. It becomes imperative to fight water scarcity by striking a balance between usage and replenishment.
The NWA has been continuously expanding its boundaries regarding the number of training programs, areas of training, and various types of stakeholders or beneficiaries. Recognizing the need for spreading awareness on water-related issues, the NWA also conducts mass awareness programs for promoting water conservation and management. Periodic training for these groups is part of the NWA training calendar planned every year since 2003. Till date, 92 such programs have been conducted which were attended by 11,358 participants including 7374 school teachers and DIET faculty, 351 NGOs and media professions, and 3633 PRIs.