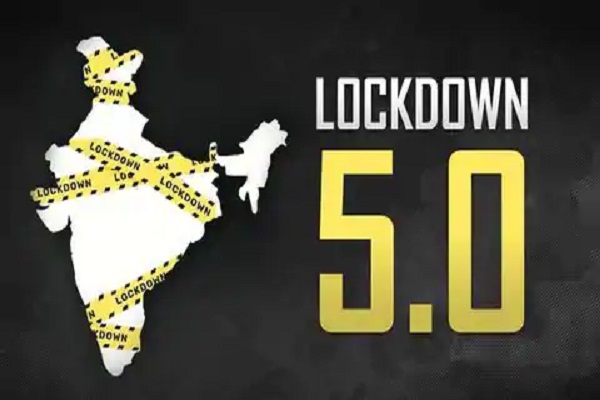 The Government of India extended the nationwide lockdown till June 30 today. However, this fifth phase of the lockdown has come up with more relaxations as compared to the fourth phase which is to end on May 31. As per the fresh guidelines issued by the Ministry of Home Affairs, the lockdown is extended in the containment zones and all economic activities can restart in a phased manner outside these zones.
Home Minister Amit Shah had discussions with the Chief Ministers on May 28. Following the conference with CMs, he met Prime Minister Narendra Modi, informing him about the inputs from the states.
Lockdown 5.0 guidelines 
According to the MHA guidelines, in Phase I the religious places for public visit, hotels, restaurants and other hospitality services, shopping malls will be allowed to function from June 8.
Moreover, the Ministry of Health will issue standard operating procedures (SOPs) for the activities permitted to reopen in consultation with the central ministries and departments concerned and other stakeholders. Also, norms for practising social distancing during the lockdown will be discussed.
In the following phase, Phase II, the educational institutions, schools, etc will be allowed to resume functions. The guidelines advise states to hold consultations at the institution level with parents and other stakeholders. However, the final decision to reopen these institutions will be taken following the feedback and based on the situation. The ministry will then prepare SOP for these institutions.
However, there will be a few activities that will remain shut throughout the country even in the next phase of the lockdown. These include – International air travel, metro, cinema halls, gymnasiums, swimming pools, entertainment parks, theatres, bars, auditoriums, assembly halls and similar places where people gather and interact. Moreover, the social, political, sporting, cultural, and religious activities involving large congregations will remain shut. In the third phase, reopening of these activities will be considered depending on the situation.
The containment zones will be marked by the states considering the guidelines from the Health ministry. Within the containment zones, strict perimeter control shall be maintained and only essential activities will be allowed. Moreover, the guidelines states that there shall be no restriction on inter-state and intra-state movement of persons and goods. Also, no separate permission or approval or any e-permit will be required for such movements.
Also Read: Governance In Times Of Coronavirus
On the night curfew hours, the new orders states that it will remain in force for all non-essential activities. However, timings are revised and the curfew will be from 9 pm to 5 am.
Also Read: India's United front against COVID, Local Governments in Action