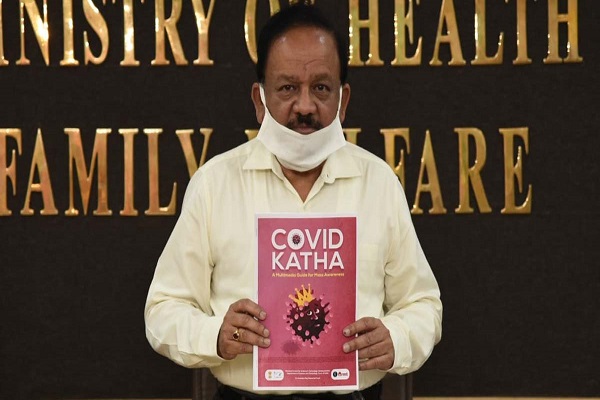 Union Minister of Science & Technology, Health & Family Welfare and Earth Sciences, Dr Harsh Vardhan, on May 3, Dr Vardhan also launched "COVID KATHA", a multimedia guide on COVID-19 on the occasion of the 49th DST Foundation Day. He interacted with the Heads of all autonomous institutions and subordinate offices of the Department of Science & Technology (DST) via video conferencing about their S&T initiatives, particularly in relation to their endeavours for combating the COVID-19 outbreak.
As the DST enters its 50th year of serving the nation through Science & Technology, the Foundation Day celebrations were also launched, initiating myriad activities in different parts of the country through the year.
Professor Ashutosh Sharma, Secretary, DST highlighted the major initiatives of DST, its vision for next five years and the steps DST is taking to identify and map technologies from R&D labs, academic institutions, start-ups, and MSMEs to fund nearly market-ready solutions for diagnostics, testing, healthcare delivery, equipment and supplies to combat the COVID-19.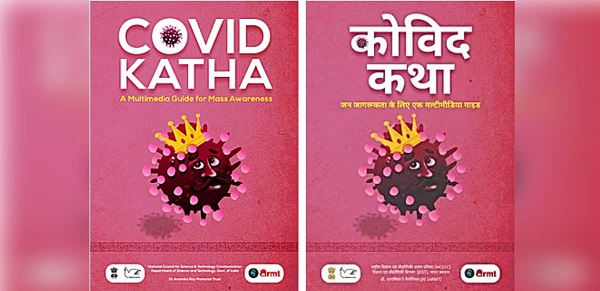 Senior scientists and officials from National Science & Technology Entrepreneurship Development Board (NSTEDB), Science for Equity, Empowerment & Development (SEED) and from the statutory bodies like Science and Engineering Research Board (SERB), Technology Development Board (TDB) and the Survey of India (SoI) spoke about the different initiatives being taken to tackle the viral outbreak. Similarly, Directors of the autonomous institutions like the Sree Chitra Tirunal Institute for Medical Sciences and Technology (SCTIMST), Thiruvananthapuram, International Advanced Research Centre for Powder Metallurgy and New Materials (ARCI), Hyderabad, Jawaharlal Nehru Centre for Advanced Scientific Research (JNCASR) and Centre for Nano and Soft Matter Sciences (CeNS), Bengaluru, National Innovation Foundation (NIF), Ahmedabad and S N Bose National Centre for Basic Sciences (SNBNCBS), Kolkata spoke about the preparations they have made to brace for the crisis.
During the interaction, Dr Harsh Vardhan congratulated DST on the occasion of 49th Foundation Day, and said, "DST and its autonomous institutions have elevated Science & Technology in India to international levels and benefitted people across communities in myriad ways. DST provides the largest extramural research and development support in our country to strengthen national S&T capacity and capability through a competitive mode to scientists cutting across institutions and disciplines. DST's efforts have helped India attaining the third position globally after China and the US in terms of the number of publications in science citation index journals."
Also Read: Tamil Nadu sets benchmark of eGovernance in India
Praising the Indian scientists about their timely response in tackling COVID-19, he said, "Indian scientists have always risen to meet any challenge and this time also they have not disappointed the nation. We should remember that actions were needed with speed and scale at several fronts, which included: (i) Comprehensive mapping of our entire start-up ecosystem to identify and support relevant technology solutions ready for scaleup; (ii) Supporting industries and projects from academia and R&D labs working on modelling, properties of the virus and its impact, novel solutions, etc; (iii) Activation of relevant DST's autonomous institutions in providing solutions. I am happy that our DST scientists achieved that despite the fact that we are running against time. Of particular mention here SCTIMST, Thiruvananthapuram which has already come up with over 10 effective products, several of which are of a breakthrough nature and are being commercialized rapidly.", he said.
Dr. Harsh Vardhan said, "DST has contributed immensely to the S&T innovation space in our country over these 49 years. It has grown considerably with the number of incubators and Start-Ups increasing significantly". He highlighted some significant initiatives of the DST and enumerated, "Schemes such as Augmenting Writing Skills through Articulating Research (AWSAR) launched to encourage young scientists to write popular science articles on their research pursuits; a programme called National Initiative for Developing & Harnessing Innovations (NIDHI) to boost innovation and start-up activity, Million Minds Augmenting National Aspirations and Knowledge (MANAK) to encourage young students to think innovatively, a National Mission on Interdisciplinary Cyber-Physical Systems, new international S&T collaborations to connect with the best global science projects abroad such as participation in Thirty Meter Telescope Project; and India-Israel Industrial R&D and Technological Innovation Fund of USD 40 million have uplifted India's science and technology efforts".
Making a special mention about the National Mission on Quantum Technology and Application (NM-QTA) announced by the Finance Minister during budget this year at a cost of Rs 8,000 crore, Union Science & Technology Minister said, "Launch of NM-QTA is a leap into the future to promote and foster R&D in Quantum Technologies and related areas like quantum computing, quantum cryptography, quantum communication, quantum metrology and sensing, quantum-enhanced imaging etc. I am sure DST will make the country proud by bringing the fruits of this cutting-edge technology for the benefit of common people."
Also Read : All you need to know about Lockdown 3.0
Concluding his remarks, Dr Harsh Vardhan said, "The National Policy on Scientific Social Responsibility which is being worked out by DST should be an embodiment of the principles of responsible innovation and social entrepreneurship which DST has imbibed over its 49-year journey. I am sure the document will inspire all the grantees of projects to reach out to stakeholders of Science and Society at large with all the tools, knowledge, manpower and infrastructure of S&T in the academia and R&D labs by choosing of one or more activities: scientific infrastructure sharing; mentoring/training of college/ university faculty; training on high-end scientific skills and research; student internships; fostering research culture and many more."
Also Read : SCTIMST develops 2 types of swabs and viral transport medium for COVID-19 testing