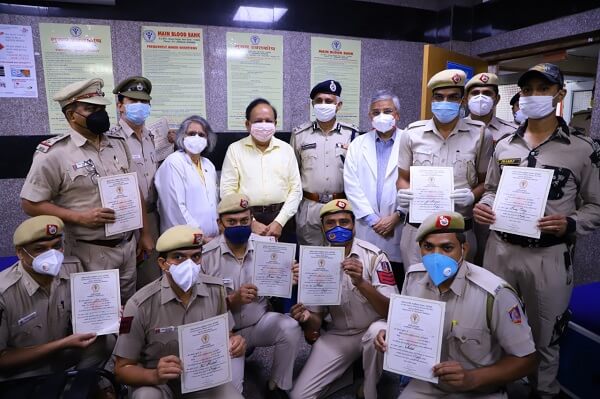 Union Minister for Health and Family Welfare Dr Harsh Vardhan launched a Plasma Donation Campaign at All India Institute of Medical Sciences (AIIMS) Delhi on Sunday, July 19. The campaign launching event was co-organized by the Delhi Police. As many as 26 of the police officials who had recovered from the Coronavirus infection stepped forward to donate their blood plasma.
Dr Vardhan, expressing his gratitude to the Delhi Police said, "It is very sad that a dozen Delhi police personnel died due to Corona. In spite of these casualties, they are doing a great job deploying personnel to contain the spread." Dr Vardhan acclaimed the contribution of these volunteers by conferring certificates to the 26 Police constables.
Also Read: India is well-poised to reboot the economy through S&T: Dr Harsh Vardhan
He stated that the donations made by the police personnel will have a long-lasting impact on other countrymen who will get inspired to donate their plasma. "Every single donor counts in our journey towards victory over COVID-19 and we need more and more of these plasma warriors to help fight the pandemic till a definitive treatment or vaccine is developed", added Dr Vardhan.
Also Read: Dr Harsh Vardhan launches "COVID KATHA" on 49th DST Foundation Day
Dr Vardhan commented, "As of now convalescent plasma therapy has been approved for compassionate use with various plasma banks being set up to ensure round the clock availability. Despite the fact that India has one of the highest cure rates amongst COVID-19 patients, the plasma donations has yet to pick up. I am happy that AIIMS, New Delhi is organising this plasma donation campaign with the support of Delhi Police Corona Warriors."
Also Read: Arvind Kejriwal launches 'Rozgaar Bazaar' to aid jobless & revive economy
(with inputs from PIB)