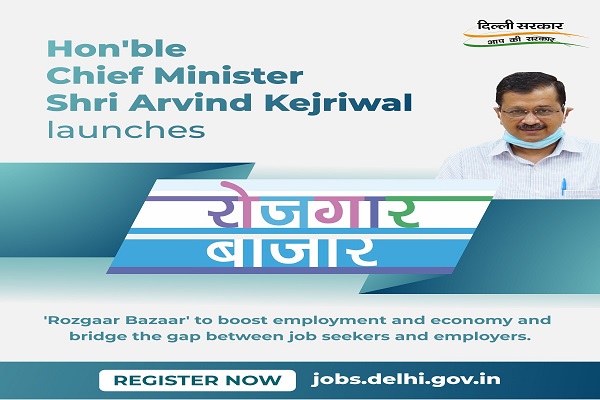 In an attempt to intensify its efforts in reviving the economy of the capital, Chief Minister of Delhi, Arvind Kejriwal on July 27 appealed to the citizens to actively contribute in reviving Delhi's economy while taking adequate precautions against the Coronavirus. The CM also launched a job portal – 'Rozgaar Bazaar' for potential employers and employees in Delhi.
As per the CM, the Rozgaar Bazaar can be accessed through jobs.delhi.gov.in. The move aims to facilitate job seekers, especially those who lost their jobs and businesses due to the Coronavirus pandemic induced lockdowns. As per the adat from the employment department, 51,403 jobseekers had registered on the portal by the end of the day, whereas, 1,071 employers had posted as many as 18,585 vacancies.
Also Read: Delhi Cabinet approves Mukhya Mantri Ghar Ghar Ration Yojana: Arvind Kejriwal
Further, in his address, CM Kejriwal presented the trends in COVID cases in Delhi and showed that the capital is slowly turning the tide in its COVID-19 fight. As per the CM, Delhi's recovery rate is 88 percent and the rate of active cases is only 9 percent, and around 2-3 percent had succumbed to the virus.