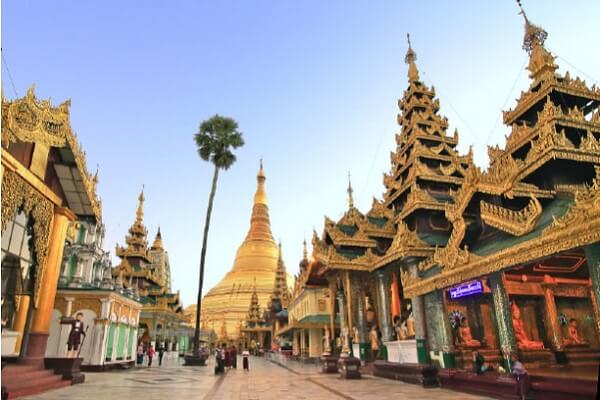 The former administrative capital of Myanmar, and its largest city, Yangon, is often the first point of entry for most international visitors; usually arriving via its international airport or seaport. Home to nearly six million, this is a metropolis on the move. It remains a top commercial hub in Myanmar, with the port and the international airport as its main point of entry. Though you'll find everyone is going about their business in the bustling metropolis; yet with so many spectacular pagodas to enjoy it is possible to find serenity.
TOP ATTRACTIONS
PARKS
For a busy city there is a surprising number of attractive parks and lakes which are veritable oases. Yangon Zoological Park, established in 1901, now boasts over 1,100 animals. People's Park, to the west of Shwedagon offers many activities from a water fountain show and a planetarium, to an old steam locomotive and an old Myanma Airways aircraft. The heritage rich downtown is an oasis of green with refreshing fountains in Maha Bandula Park, home to Independence Monument and imposing statues of the mythical chinthe (lion).
PAGODAS
The well-loved landmark of Yangon is Shwedagon Pagoda, which is reportedly more than 2,500 years old, and it towers above the green landscape of Yangon. Revered locally as the most important place of worship, Shwedagon Pagoda is inspiring to all, even those who are not of the Buddhist faith. It can be seen from lots of Yangon's vantage points but is best appreciated close-up. In the heart of downtown, Sule Pagoda and Botahtaung Pagoda are worth a visit. Yangon is always a fun place to be especially during one of the many festivals held in the country as its inhabitants love to celebrate, especially during Thingyan (Water Festival) in April.
YANGON CIRCULAR RAILWAY
If you prefer to be on the move, then the 46-km long Yangon circular railway offers travellers the chance to participate in, and catch glimpses of, the day-to-day lives of the city's inhabitants and experience their warm, friendly nature.
BAGO
Bago, about 80km north of Yangon has attractions including Kanbourzathadi Palace, Shwemawdaw Pagoda, Shwe Tha Lyaung Pagoda. On the way you can stop to visit the impressive Allied War Memorial Cemetery, dedicated to the fallen from WWII.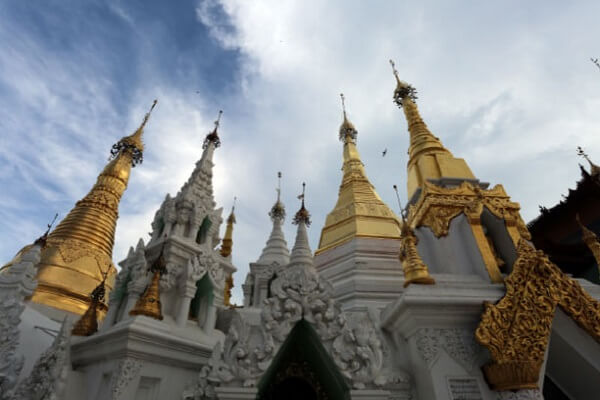 THANLYIN
Thanlyin is about a 30-min drive from the city with attractions including an old Portuguese building, Kyaik Khauk Pagoda and Yele Pagoda on a small island.
HERITAGE BUILDINGS
Downtown Yangon is widely thought to have the highest density of colonial period buildings in Southeast Asia. The Yangon City Heritage List consists of nearly 200 edifices including religious structures, ancient pagodas and British colonial buildings. Not to be missed are the imposing red brick High Court, the legendary Strand Hotel, the sprawling Victorian elegance of The Secretariat and Yangon City Hall.
KANDAWGYI GARDENS
Kandawgyi Gardens is a popular 260- acre park, lake and recreation area. It offers a fabulous view across the water towards the magnificent Shwedagon Pagoda, an orchid garden, a playground for children, a mini zoo, souvenir shops, many local restaurants and Karaweik Hall, an impressive replica of the royal barge where you can enjoy dinner with traditional dances.
Also Read: Myanmar- at crossroads of Asia's cultural exchange
MARKETS
There are many markets worth visiting but the most popular one in Yangon is Bogyoke Market. Built in 1926 under the British rule it was formerly known as Scott's Market. With more than 2,000 shops and a big selection of handicrafts, souvenirs, clothes, gems, jewellery, antiques and art galleries, you can while away your time browsing, searching for that perfect gift for your family or eating at one of the many traditional Myanmar and Chinese food stalls in the market.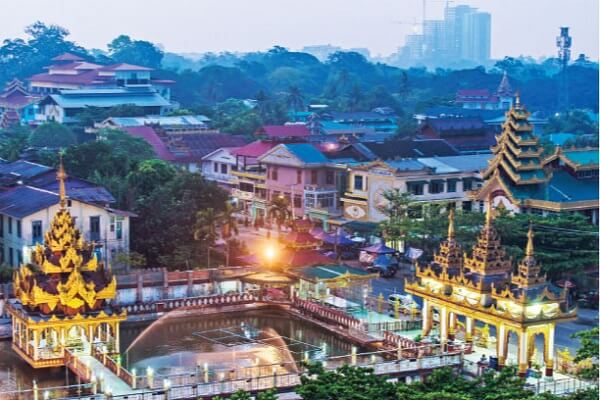 HLAWGA NATIONAL PARK
It is a 1,540-acre nature reserve with a museum of replica traditional Myanmar buildings, a 62-acre zoo with a rock garden and a lake just 25km from Yangon.
THANLYIN
National Races Village is situated in a lush park near Thanlyin Bridge. It plays host to miniaturised landmarks from around the country, a playground, a lake, crocodile farm and bird sanctuary. Thanlyin is a major port city of Myanmar, located across the Bago River from Yangon. The main tourist attraction in Thanlyin itself is Kyaik Khauk Pagoda.
Also Read: Travellers' guide to fascinating Myanmar