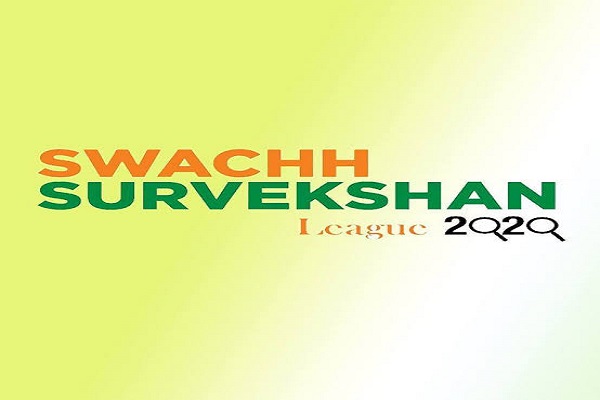 With the advent of the Swachh Suravekshan League 2020 from December 2019, the civic bodies across the country are taking various initiatives to garner a top rank in the survey. Ghaziabad in Uttar Pradesh is one such city in which the Municipal Corporation has undertaken several measures to improve the cleanliness index of the city.
In a bid to create awareness among the citizens, Municipal Corporation of Ghaziabad has encouraged them to participate in the Citizen Feedback survey and vote for their city in the 'SS2020 VoteForYourCity' mobile application. Apart from the app, the other channels to collect citizen feedback are face to face, 1969 Helpline Number, Outbound Calls and Swachh Suravekshan League 2020 website.
There are seven questions which the citizens have to answer. These questions are as follows:
Awareness about Swachh Survekshan.
Whether neighbourhood area is clean.
Whether community or public toilets are clean.
Whether public or commercial areas are clean.
Whether segregated waste collection is ensured.
Whether road dividers are covered with plants.
Do you know ODF and GFC status of your city?
The survey is conducted by the Ministry of Housing and Urban Affairs, Government of India, covering all cities across India between January 4 and 31, 2020.
Dinesh Chandra, Commissioner, Ghaziabad Municipal Corporation shares on some of the key initiatives taken by the civic body to retain Ghaziabad's position as Number 1 clean city in Uttar Pradesh.
Waste Management – Segregation at Source and Recycling
Chandra stated that the Municipal Corporation of Ghaziabad is implementing segregation of waste at source and has also raised the awareness among the citizens. "We are coming up with a solid waste treatment plant on a land of 45 acres in the coming two to three years." He also mentioned that by practicing leaf compost method and plastic management, Ghaziabad is on its way to ensure a clean a green urban environment.
Plastic Waste Management
In a bid to recycle the waste, Ghaziabad Municipal Corporation is utilising the biodegradable waste and plastic wastes convert them into usable products. "We have a tie up with UNDP for plastic waste management," Chandra said.  He also stated that there has been a complete ban on single use plastic from October 2, 2019.
We have utilised plastic waste by making roadways and plastic pipes. Although people were apprehensive about such roads, however, after technical inspection, they have been ensured about the qualitative aspect as well.
Bartan Banks or Utensils Bank
The Ghaziabad Municipal Corporation has launched Bartan Bank or Utensils Bank last year in a bid to get rid of plastic or thermocol utensils used for large gatherings. The banks include steel plates, cutleries, vessels, bowls, glasses, etc. In order to promote the bank among the masses, the corporation has decided to lend the steel items for free of cost. Ghaziabad Municipal Corporation will levy a security amount, which will be refunded at the time of returning the utensils.
Marching towards making Ghaziabad Open Defecation Free City
Ghaziabad has been declared as Open Defecation Free (ODF) and is now moving towards attaining the status of ODF+. According to the Municipal Corporation, as many as 4,436 Individual Household Toilets (IIHL) have been approved and 4,279 IIHL have been constructed.
There are a total of 275 approved seats of Community Toilet and 463 constructed seats of Community Toilets. On the other hand, 1,288 public toilet or pink toilet and 2,984 public and pink toilets have been approved and constructed respectively.
Chandra had graced the Elets Urban Innovation Summit Noida organised in association with New Okhla Industrial Development Authority (NOIDA) on December 23, 2019 as speaker. Listen to his full address in the video below.