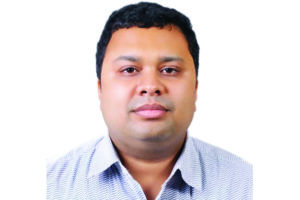 The Health Department of Rajasthan has taken a lead in improving the quality of healthcare delivery across the state. It is observed that the health sector of Rajasthan is getting transformed and Government of Rajasthan is taking initiatives to provide the best of healthcare infrastructure to its citizens. The scenario is such that a handful of private players have joined hands with government to walk them hand-in-hand in easing the problems of their localities so that the patients need not visit any other state for treatment.

In this exclusive interview with Kartik Sharma of Elets News Network (ENN), Dr Suyash Goyal, CEO, Goyal Hospital & Research Centre shares how the hospital was a harbinger of latest medical facilities to the city and his vision for the healthcare sector.
You have taken a lot of initiatives in the urban healthcare sector. Please share the vision of Goyal Hospital.
Our hospital was established in the year 1989. Goyal Hospital has always had a reputation of being the first new provider of a latest technique or procedure or the latest department in western Rajasthan. Jodhpur is the biggest city, situated in western Rajasthan and we have been the first pioneer since its inception. We had established the first ICU, dialysis machine, knee replacement machine, bypass surgery, angioplasty, etc. at Jodhpur. Our hospital was the first to re-implant a hand and foot in the entire Rajasthan. We have been upgrading our services every now and then.
Kindly elaborate upon the Hand and Foot re-implanting provision which you have made prevalent in Jodhpur.
There are many unfortunate people who lose their hands or feet or other body parts in accidents. Earlier, there was no way to save them or give them a normal life. The only way was to amputate the affected body part, which had to be disposed later. Now, with the progress of medical science and technology, it is possible to replace the amputated body part and attach it again to the body from where it was severed earlier. With this, the person can function normally again.
How did you get the idea to provide such unconventional medical services to the people of Jodhpur?
I met Dr Sushil Nahar of Sparsh, Bangalore, a few years back when he gave me a presentation about such medical services. He gave me the idea that we can start these services in Jodhpur. I was extremely fascinated by the idea but I could not think it was possible untill I experienced the first case myself. It is simply unbelievable how the patients undergoing this surgery are now driving, riding bikes, playing foot ball etc. We are doing the surgeries at a minimal cost. For us, money can never be compared to the existence of human lives and therefore many has never been a matter of concern for us as the happiness which we seek at the end of such surgeries, and their happy families is what is priceless.
Your father is a veteran in this industry, and you are a young blood in this profession. How do you tend to utilise your new-age thoughts into initiating more such developmental processes?
Healthcare is my passion. After competing MBBS, I completed my management studies. My goal is to keep upgrading such services and strive to get the latest technologies in medical and healthcare spheres. After the advent of AIIMS in Jodhpur, people have bestowed more faith in Jodhpur healthcare. This is our real passion. If the patient is ready to have faith in us then we just have to deliver results.
What are your plans to spread the best of the medical services to the poorer strata of the society?
Goyal hospital has been known to be continuously upgrading its new services. Also, there are many social schemes being run by the government whom we are very proudly associated with, and have been the leader of those schemes in our area. We are doing heart surgeries, brain surgeries, cancer surgeries and all these are being performed under government schemes and are free of cost to the patients belonging to the lower rung of the economic strata.
How do you welcome the Ayushman Bharat Mahatma Gandhi scheme?
It's been a revolutionary step for healthcare of Rajasthan and I thank the government for continuously upgrading it and benefitting more and more people out of it.
What according to you are the major healthcare challenges?
With coming in of AIIMS in Jodhpur, it has created a new benchmark for us and so we always try to match their standard. They have brought cancer and radio therapies to Jodhpur and have managed to take the healthcare standards to a new level. Our continuous endeavour is to match up to their standard and replicate the services for the people of Jodhpur. While at one side this is a challenge, on the other side it is an opportunity for us to improve.
What is your message for the people of Jodhpur in terms of healthcare opportunities?
Government is looking after the healthcare sector in a big way. The people need to have faith in the system.
Follow and connect with us on Facebook, Twitter, LinkedIn, Elets video