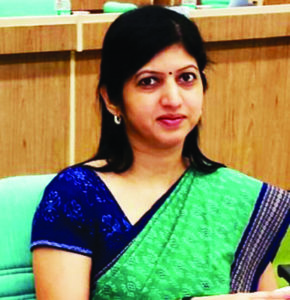 UDAN has transformed the way people travel in remote areas. Whether it is Pithoragarh, Passighat, Jharsuguda, Kishangarh etc., people have adopted air transportation due to the benefits it has provided, says Usha Padhee, Joint Secretary, Ministry of Civil Aviation and CMD, Pawan Hans Limited in an exclusive interview with Sanghamitra Mohanty & Krishna Mishra of Elets News Network (ENN).
How UDAN Scheme is changing the game of aviation sector in the country?
National Civil Aviation Policy 2016 was announced in June, 2016 by the Govt. of India after approval by the Union Cabinet. In compliance with the NCAP 2016, Regional Connectivity Scheme (RCS) – UDAN (Ude Deshka Aam Naagrik) was introduced with an aim to stimulate air connectivity by making it affordable. RCS-UDAN is an innovative scheme first of its kind and airfare for one hour journey of approx. 500 km on a Fixed Wing Aircraft or a 30 minute flight on a helicopter connecting unserved/ underserved airports to key airports is capped at Rs 2,500. Under the ambit of this scheme, few incentives are offered to airlines to commence their operations on regional routes.
Since Independence till 2016, India had about 70 airports having scheduled operations. But, within three years under UDAN, 23 unserved and 19 underserved airports are operational involving 208 routes. Going forward, the scheme envisages to award close to 350 additional routes in the next three years. This would help MoCA to achieve the objective of operationalising close to 100 additional airports in the next five years.
UDAN has transformed the way people travel in remote areas. Whether it is Pithoragarh, Passighat, Jharsuguda, Kishangarh etc., people have adopted air transportation due to the benefits it has provided. So far, 20 lakh people have travelled to adopt air transportation to give impetus to the Civil Aviation sector.
Why it is important to connect smaller and tier II or tier III cities with flight connectivity?
Although India is the third largest aviation market in world's aviation industry, still connectivity by air to tier-II and tier-III cities has been a matter of great concern. To provide connectivity to tier-II and tier-III cities, RCS-UDAN, an innovative scheme based on a unique business model was launched by MoCA in 2017.
Air connectivity plays a decisive role in the economic growth of the country. Air connectivity also attracts business investments and human resources. Air travel has seen massive growth around the world with millions of people joining the global middle class and India, in particular, has seen an extraordinary growth in Civil Aviation sector. International Civil Aviation Organisation (ICAO) study shows that the air connectivity would have economic multipliers of 3.1 times and employment multiplier of six.
The linkage between the Civil Aviation sector and the economic activity and its impact on the general development of India has been well recognised. Direct benefits generated by Air Transport Connectivity which include employment and economic activity have boosted over the last couple of years in India. Air Transport in India is at the cusp of an unstoppable forward march towards reaching eminence in the aviation industry in the years to come. MOCA has successfully concluded three rounds of regional routes bidding in addition to an international connectivity round and the following are some of the achievements of the scheme:
a. Spread of connectivity: A large number of unconnected areas are now present on aviation map of the country, with changing ownership pattern. Connectivity proposed under UDAN-1 has commenced and is stable. Focus is on expediting connectivity under UDAN-2. A number of routes were awarded under UDAN-3 in January 2019.
b. Participation of Startup Airlines: The enhanced fiscal support in the form of VGF (Viable Gap Funding), concession on fuel rates, landing/parking charges and the infrastructural development of un-served airports have not only boosted the operations of giant airline companies but has also lead to the participation of regional start-up airlines such as Turbo Megha Airways, Star Air and TrueJet, which are operating exceptionally well.
c. Routes spread: Currently, connectivity has already been provided to more than 22 States/UTs in the country. The connectivity mechanism has been designed considering the potential of India's smaller industrial hubs and tourism centers which were earlier not on the aviation map. Post connectivity of the Tourism Routes, there has been a steady growth in the arrival of foreign tourists and forex earnings thereof.
d. Number of RCS Seats: More than one crore RCS seats annually will be provided based on three rounds of UDAN completed till date.
e. Unserved airports: The scheme has provided connectivity to 23 unserved and 17 underserved airports in the country; and aims to reach the target of operationalizing 100 unserved airports by the year 2026-27.
f. Additional State Incentives: Various State Governments/Union Territories (UTs) such as Madhya Pradesh, Uttar Pradesh, Karnataka and Andaman & Nicobar have announced additional incentives to promote regional operations under UDAN-RCS.
g. New City Pairs: More than 650 new city pairs are now scheduled to be connected under the scheme (200 already connected). The routes are widely spread geographically, providing connectivity across the length and breadth of the country, ensuring balanced regional growth. Raipur-Jharsuguda and Bhubneshwar- Jharsuguda are the newest routes which started off with operations under Alliance Air on June 5, 2019.
h. Increased aircraft fleet: Noticing the success of SpiceJet Airlines in UDAN-1 with the additions of 16 Q-400 aircraft to their fleet, Indigo Airlines, which did not bid at all in the first round, came up to bid in UDAN-2 adding a fleet of the 72 seater ATR 72-600 aircraft, Alliance Air purchased 10 ATR 72-600 aircraft and Star Air acquired two Embraer-145 aircraft for operating RCS routes, which reflects how confident the industry has been towards the scheme. As an industry average, each aircraft to employee ratio in an airline is 1:100; it means 100 employees for each aircraft. As the ICAO Study suggests that each job in the aviation industry could lead to six indirect jobs which means this expansion of aircraft fleet of Indigo and other airlines is all set to invite new job opportunities.
i. Development of Greenfield Airports: The scheme has also lead to the development of new Greenfield airports such as Pakyong Airport near Gangtok in Sikkim and Tezu Airport in Arunachal Pradesh which aim to connect the tourism routes.
j. Tourism Routes: The fact that India is gifted with huge opportunities in terms of the tourism led to the introduction of routes connecting major tourism hubs of our nation which have been performing exceptionally well. Till date, 46 routes have been connected and the operations of these routes have lead to a steady growth in the arrival of foreign tourists and forex earnings thereof. The latest routes which started operating under M/s SpiceJet are Jaipur-Amritsar and Ahmedabad- Udaipur which are performing very efficiently.
k. Development of Heliports: The hilly regions of the nation including Arunachal Pradesh, Himachal Pradesh and Uttarakhand have received air connectivity via helicopters; thus leading to development of 30 heliports under UDAN-2 in January 2018.
l. Development of Water Aerodromes: The third round of UDAN has witnessed the development of 10 Water Aerodromes which are all set to commence operations. M/s SpiceJet and M/s Turbo Aviation would be operating Water Aerodromes in Andaman and Nicobar Islands. Andaman and Nicobar Islands would be operating three, Telangana would be operating one, Gujarat would be operating three, Assam would be operating two and Andhra Pradesh will be operating one These Water Aerodromes connect Major Tourism Sites such as Statue of Unity in Gujarat, Assam's Umrangso Reservoir and Havelock in Andaman. The development of these Water Aerodromes would lead to the commencement of seaplanes which in turn would foster job opportunities in the region.
What are the challenges of aviation sector in the country?
There are cases where the operational efficiency of the RCS flights are not up to the mark but at the same time, it is important to note that these events are happening due to certain unavoidable circumstances such as weather constraints. These are primarily the situations where the number of flights that an airline is supposed to operate as per the Selected Airline Operator Agreement (SAOA) has not operated successfully. As per the provisions of RCS-UDAN Scheme Document, 70 percent of the routes should be operated by the airlines in a given time. However, the flights have not been able to operate to their optimum level due to the following reasons:
i. Bad weather.
ii. Closure of airport for maintenance work.
iii. Lack of Night Landing Facility.
iv. Lack of fuelling facilities.
v. High ATF Prices.
vi. Slow development and certification of airport.
vii. Capacity requirement at the level of State Governments/UTs to develop infrastructure.
How Technology and Innovation are playing a pivotal role?
Technological advancement and innovation has been the driving factor for improving airlines operational efficiency. Airlines have been able to reduce costs and improve operations by using advanced aircraft engine technology, IT solutions and mobile technology. The technology has created better connectivity and enhanced passengers travel experience.
Utilising appropriate technologies in Air Navigation Services, Airlines, MROs, Bio-fuels, etc., the sustainability of air transport can be enhanced. Drones are the New Generation Technology which can change the way people travel or transport the cargo from one place to another.
What are the Key Policy Measures to boost the aviation sector?
Hon'ble Finance Minister in his Budget Speech of 2017 announced to make adequate provisions for revival of unserved and underserved airports. Accordingly, the Cabinet Committee on Economic Affairs approved the proposal of the Ministry of Civil Aviation and sanctioned Rs. 4,500 crore for revival and development of 50 un-served and underserved airports or airstrips of the State Governments, Airport Authority of India and helipads. So, infrastructure development is one of the key segments for expansion of Civil Aviation sector.
Similarly, 2019 Union Budget focussed on MRO and leasing facilities to be provided in India for growth of Civil Aviation sector. Taxation on ATF, MRO and other eco system of Civil Aviation has to be rationalised for private participation and investment in Civil Aviation sector.
Enabling policies for technological intervention like Drone Operations Start Ups etc. to be encouraged for innovations in Civil Aviation sector. Promotion of Ease of Doing Business at the level of Government and Regulatory Mechanism would provide impetus to growth of Civil Aviation sector.
Also Read: Amritsar: Taking Leap of Faith to Realise Urban Development Vision
Follow and connect with us on Facebook, Twitter, LinkedIn, Elets video