Borne on the wings of successful implementation and wide coverage under the PMUY scheme, Rajasthan is slowly but surely inching towards the kerosene-free state status, says Mugdha Sinha, Secretary, Food, Civil Supplies & Consumer Affairs, Government of Rajasthan, in an exclusive interview with Kartik Sharma of Elets News Network (ENN).

What does your work as Secretary Food and Civil Supplies, Government of Rajasthan, entail?
Food and civil supplies is another name for what is better understood as the Public Distribution System (PDS)— revamped and targeted under the overarching architecture of the National Food Security Act (NFSA), 2013 and the Sustainable Development Goals (SDG). The main mandate, therefore, is to implement the various provisions of the National Food Security Act (NFSA), 2013 to ensure availability of staple cereals and coarse food grains (as per local availability and consumption cuisine pattern) to the eligible NFSA beneficiaries (identified as per the designated inclusion and exclusion criteria) across Rajasthan's 33 districts through a network of approximately 27,000 Fair Price Shops (FPS) or ration shops.
The work entails everything relating to procurement from the farmers and sugarcane growers by FCI state agencies/food corporation/wholesalers, to lifting, allocation and transportation to FPS shops for onward distribution of wheat, sugar and kerosene to the end-consumers.
Continuous oversight, grievance redressal and policy making for maintaining a calibrated balance and coordination between a) Centre and State, b) State and stakeholders across the spectrum from FPS dealers on one hand and consumers/NFSA beneficiaries on the other hand, c) policy making and policy implementation and lastly, d) automatic data collection and data analysis—all fall within the ambit of this department.
The entire gamut of the portfolio requires continuous policy making to harmonise a seamless transition from manual PDS regime to one that is fully online and automated—right from allocation (State end) to lifting (intermediary level in field) to distribution (consumer end). Given the huge outreach of the department on an almost daily basis, makes the task an onerous endeavour with ever-changing technology and aspirations of the people.
Can you also tell us a little about the SDG Goals and how Rajasthan intends to achieve the targets? What steps have to be taken to ensure food-nutritional security?
Broadly, the SDG Goals in respect of Food Security talk of two aspects:
Zero tolerance to hunger, which is food security for all, and
Nutritional security
The first aspect involves a 360 degree approach to ensure availability of food, entitlement and access to food, purchasing power, distribution and quality of food, which in turn translates into:
Procurement of food grains from farm to storage point
Allotment, allocation, lifting and distribution operations
Public grievance redressal mechanisms – both preventive and curative in PDS
Third-party evaluations, performance and social audits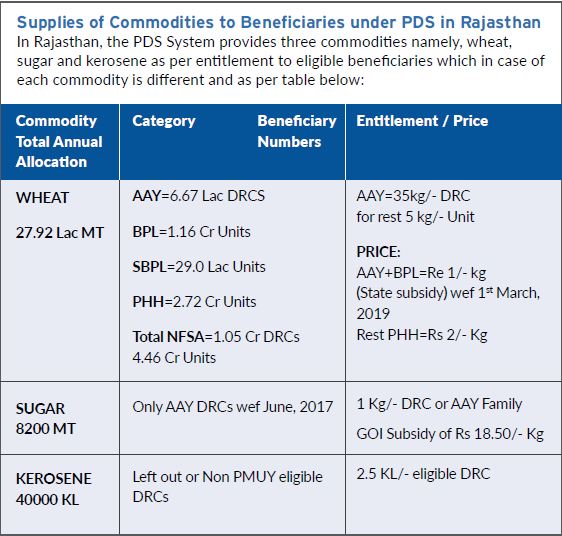 Food security also means no starvation deaths.
The second aspect involves the health aspect of ensuring, besides providing food, targeted and focused attention to the disadvantaged category, lactating and pregnant mother, children between 0-6 years, mid-day meals in schools and also to the senior citizens, speciallyabled, etc, which in turn means:
Department and scheme-wise this means a convergence with Women and Child, Social Justice and Empowerment, School Education, Welfare Institutions, Hostels as also Tribal Area Development Departments and their schemes.
Area-wise it means targeted approach towards Scheduled Tribal areas. For eg, Rajasthan has a special scheme for free wheat distribution to Kathodis of Udaipur, Sehariyas and Kherwas of Baran.
To improve the nutritional content and impact of food, the wheat, rice fortification schemes are in vogue as are schemes for fortified edible oil, double fortified salt, etc.
Can you tell us how the NFSA beneficiary selection was/is done in the State?
In 2013 when the NFSA came into force, it was decided to co-opt the pre-existing Antodhyaya Yojna (AAY), Below Poverty Line (BPL/State BPL) beneficiaries automatically, or by default as NFSA beneficiaries. The States were free to do revised survey to remove any anomalies. A clear-cut exclusion criterion was prescribed wherein income tax payees, government employees, people owning land above a prescribed limit, pacca house, two-wheeler, etc were to be excluded. Similarly, an illustrative inclusion criterion was also suggested which the States could customise as per their local requirements.
In Rajasthan, a task force chaired by the Chief Secretary was established as an institutionalised mechanism to annually review the inclusion and exclusion criteria as also to add new categories for inclusion as NFSA beneficiary besides prescribing the requirement of documents, procedure and competent authority for the same. In fact, last year seven new categories were added to the list of existing 24 categories, raising the number of categories for inclusion to 32.
A much simplified procedure has been prescribed for inclusion and amendments in NFSA. Any person who wishes to be included in NFSA can submit a simple application online at any E-Mitra centre, or submit it offline to either DSO or SDO. Post quick field verification by BDO in rural areas and EO in urban areas, decisions based on the merit of the cases can be taken and the results uploaded on the portal in public domain, which acts as a deterrent for wrongful inclusions at applicant or officer end.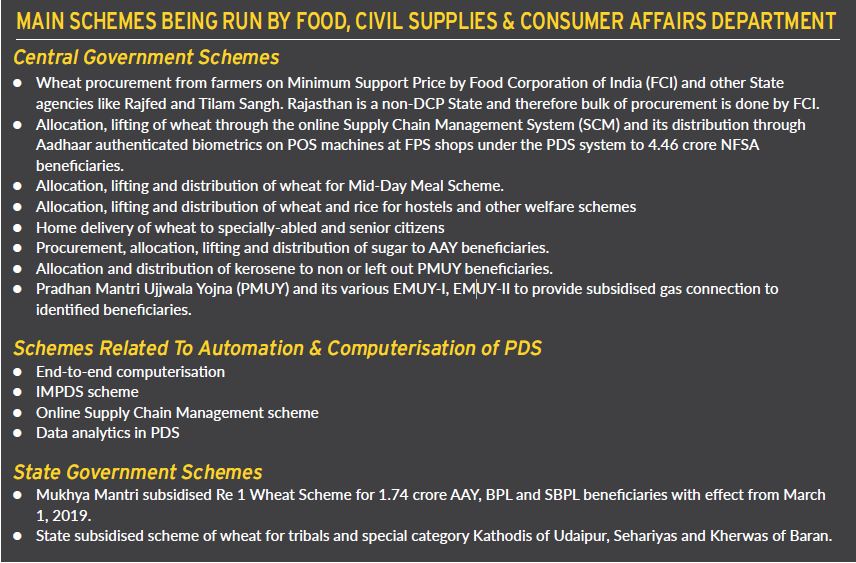 As of now, we have about 4.46 crore NFSA beneficiaries in Rajasthan.
Can you throw light on the requirement of ration cards in an age of Aadhaar biometric authentication and how do you plan to make them NFSA compliant?
The difference between the ration and Aadhaar card needs to be understood in context. While the ration card—an entity that pre-existed the NFSA or UIDAI Act—is essentially an identity card that documents and details the family and the members of a household (and their relationship to each other and other age related details) that constitute the family. In fact, it is the only card that defines a family. In contrast, the Aadhaar card is an identity card for the individual alone, like many other identity cards.
However, what is unique about the Aadhaar card is that it maps and links the unique identity of each individual through his or her biometrics (both finger prints and iris-face recognition techniques), and hence cannot be replicated.
As of date, we have seeded approximately 98 percent of our ration cards with Aadhaar cards and efforts are on for de-duplication and bulk validation to sanitise the list of the real NFSA beneficiaries in the State. Interestingly, 12 percent of our NFSA beneficiary households and ration cards are in the name of women and we are poised to make this 100 percent with our next round of E-KYC and issuance of E-ration cards. Given the fact that various Government schemes cater to either individual beneficiaries or to family as a whole, hence both cards continue to be important subject to end use.
What has happened under NFSA is that the ration cards and the Aadhaar cards have got linked as a necessary condition for availing subsidized PDS commodities (subject to various SC rulings, etc) by way of seeding of Aadhar for every individual unit in the ration card and auto-verification (also through E-KYC) at POS machines at the time of delivery of ration. Although none can be denied his entitlement under TPDS even if there is no Aadhaar card/biometrics, the deadline for getting seeded stands extended till June 30, 2019.
Currently, our 1.05 crore NFSA ration cards are manual (with their five-year validity expiring soon), hence the plan is to go in for digital ration cards all compulsorily to be made in the name of the woman householder (18 years plus). Although as of now about 12 percent ration cards are in the name of the woman householders, a cent percent switch will happen only with the next-gen digital ration cards.
Can you please specify how a person with no ration card, Aadhaar and mobile can also get ration?
The ration card is an essential document that lists out the members in the 'family' since ration is still given to AAY beneficiaries per family. But it is the Aadhaar biometric authentication of each individual member or 'unit' in the said family that enables any of the family members to lift ration for either or all of his family/ members. Besides, the individual units in case of PHH beneficiaries also comes in handy to decide the quantum of ration per person in each family which then aggregates up to quantum of ration per FPS and per district.
Therefore while the ration card is essential for securing PDS rations, it is beneficial to have an individual's Aadhaar number and mobile number seeded to the ration card to ensure ration is being distributed to the intended NFSA beneficiary only. However, ration cannot be denied in the absence or simply on grounds of non-possession of Aadhaar and/or mobile for which several alternates are available to obtain ration in a foolproof manner.
You are currently purchasing wheat on MSP from the farmers. Can you give us an idea of the targets and other operation details compared to say the last two years?
Rajasthan is a non-DCP State as far as wheat procurement operations for PDS are concerned, which basically means that wheat is procured at declared MSP rates in Rabi Marketing Season of every year by Food Corporation of India (FCI) in conjunction with other State agencies, primarily Rajfed and Tilam Sangh.
In Rajasthan, in RMS 2019-20 we are aiming to purchase 17 lakh MT through FCI manned operations against an annual wheat production of 113 lakh MT at MSP price of Rs 1,840 per quintal. For this, we have established 204 centres across 27 out of 33 wheat producing districts in both online and offline mode.
The wheat procurement operations commenced from March 15, 2019 in four Districts of Kota division and from April 1, 2019 for the rest of Rajasthan. These are likely to go on till June 15, 2019. In the last RMS 2018-19, we purchased approximately 15.31 lakh MT at Rs 1,750 per quintal and prior to that in RMS 2017-18 approx 12 lakh MT, as against an annual wheat allocation/ consumption of 27.92 lakh MT. The difference is managed by surplus at end of year closing stocks and supplemented from neighbouring wheat surplus States of Punjab and Haryana.
What are your views on Direct Benefit Transfers (DBT) in Food-PDS?
Based on the surveys of NFSA beneficiaries across Rajasthan in the last one year, the two concurrent evaluators, namely BITS PILANI and SPRI, Jaipur, nominated by Government of India, it seems that the NFSA beneficiaries are more comfortable with subsidised wheat being provided by the government under the Targeted Public Distribution System (TPDS) at Rs 2/- per kg (Re 1/- kg for AAY, BPL, SBPL under the Mukhya Mantri Re 1 Wheat Scheme) rather than funds (at market rate of wheat) being deposited in the bank accounts of the 18 year plus woman householder.
The introduction of DBT in PDS is likely to have a huge long-term impact on the whole wheat cycle from farm to fork and hence a bit of caution is advisable. Presently, the farmers grow wheat based on the assurance of the government to buy it on Minimum Support Price (MSP) were the market prices to crash. The same is then provided to the consumers (NFSA beneficiaries as part of welfare scheme) on highly subsidized rates under the Food Security provisions of the NFSA, through a network of designated FPS or Ration Shops (as far as possible in every village and ward in rural and urban areas, respectively and as far as possible within 3 kms of their residence).
The moment the consumers are exposed to the private market of wheat traders-retailers and the farmers are left to the mercy of the market, issues of wheat availability, quality, distribution-price matrix and purchasing power etc is likely to become unpredictable, leaving the vast number of already disadvantaged peoples to the mercy of the market forces, which will be too vast, too disarrayed and largely anonymous to lend itself to easy supervision and monitoring.
Are there any policy recommendations evolving from implementation of PDS scheme in the State?
A lot of ground in terms of addressing, institutionalising and consolidating the targeted PDS aligned to SDG and NFSA has been achieved or is in the process, both at the level of Centre in terms of policy making and at States in terms of implementing for outcomes.
In terms of making the system of public distribution free from discretionary human interface without doing away with its humane interventions for redressal of grievances, PDS is now fully automated, electronic, online and computerised along with a move from simple data based MIS to more predictive and extrapolative data analytics to plug loopholes, check pilferages, embezzlements and to provide a vast kaleidoscope of macroand micro-level data analysis for course corrections and bringing in more transparency in an institutionalised manner, available for all to see in the public domain.
At this point the only policy recommendations I would like to offer based on my last year and half experience of working in this domain is to be able to envision and ensure a seamless transition from a manual system of PDS with MIS reports to a more sophisticated fully automated, online and end-to-end computerised PDS. It is always a challenge for any system especially as a lot of policies, guidelines and rules, etc will need to get amended to accommodate and facilitate the transition from manual to automated PDS, which first needs to be understood and then incorporated into our policy making and functioning to allow for better convergence and outcomes.
For eg, the impact a fully automated POS and Aadhaar-based system has on designing of new-gen ration cards or whether with technology replacing human interface, a re-think on vigilance committees, its composition and its efficacy is required. Are we not bringing back the human element we so wanted removed with a carryover of systems from a manual regime to an IT governed regime, are the larger questions, we need to be able to address.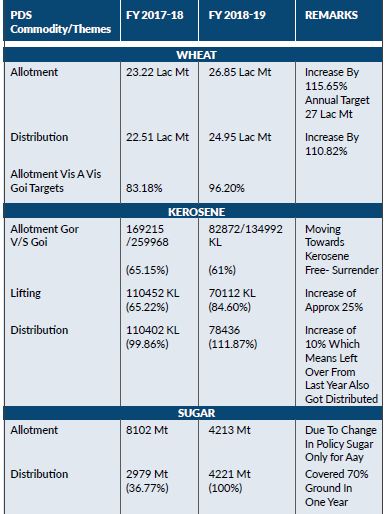 How have you leveraged information technology to bring about more transparency and efficiency in the PDS System and has it helped to curb corruption in any way?
The facts and figures will corroborate for themselves how the shift from a purely manual-discretionary system of allocation and distribution (pre September 2016) to a more sophisticated automated fully end to end computerized system (post August, 2018) has enabled Rajasthan to not only improve its targets of wheat, sugar and kerosene allocation-lifting and distribution but also bring in more overall efficiencies leading to reduction of cases of pilferages, embezzlements and also public grievances. An year-onyear (FY 2017-18 versus FY 2018-19) comparison across the three main PDS commodities will give a fair idea of benefits of leveraging IT in Food and PDS.
In a country where people are still not literate in digital technology, how and what are you doing to bridge the gap in PDS system, as now PDS is fully automated?
There are three main stakeholders who are impacted by introduction of automation and computerisation in the PDS system.
The human resources or officials primarily the district supply officer and his team of enforcement inspectors, who are required to shift to use of data analytics tools to oversee, monitor and inspect based on predictive promptings, hence it requires a shift in psychology and systems. Some disenchantment with loss of erstwhile discretionary power and empowerment of consumer end requires more motivation and change in role perception and preparing DSO and their teams for new shift in responsibilities which is likely to take some time and patience.
The Fair Price Shop or ration dealers who are required to use e-POS for ration acceptance (sent to POS) and for distribution to end NFSA beneficiary and hence requires some training in continuous usage of e-POS and its various allied functioning to be able to satisfy consumers.
The NFSA beneficiary who needs to be able to see and understand his own electronic transactions and its history, read POS and SMS, lest he gets duped.
But with some training and lot of handholding Rajasthan was one of the early bird States to introduce e-POS and also a pioneer State in usage of data analytics tools to streamline the system, to make it more consumer friendly, responsive, accountable and transparent with less discretionary allocations, lesser pilferages and hardly any major embezzlements or scams in the last one year of being fully end to end automated. However, a lot more needs to be done to make data analytics a handy tool and more energy, funds and efforts are required towards building a robust IEC to touch base a huge outreach of 4.50 crore beneficiaries.
Is there any plan to move Rajasthan towards a kerosenefree state, like Haryana?
Borne on the wings of successful implementation and wide coverage under the PMUY scheme, Rajasthan is slowly but surely inching towards the kerosene-free state status. Just to share with you, over the last one year (FY 2018-19) we have brought down our kerosene allocation (by way of surrender in lieu of cash incentive) from 62,774 KL to a mere 10,000 KL and have earned a cash incentive (for 40,000 KL surrender) of Rs 40 crores from Government of India for the State government and a similar amount is due for remaining surrender.
As of now, kerosene distribution through e-pos machines through Aadhaar biometrics (linked to PMUY) is confined to the tribal areas and very remote areas of Rajasthan where the PMUY is yet to reach.
Can you talk a little bit about the best practices and success stories in your Department, if any?
Perhaps, the best example of implementation of 'targeted' PDS in Rajasthan involves inclusion of the aborigine tribes of Rajasthan especially the Kathodis (approx. 1100 in number) in Udaipur; Sahariyas (approx. 30,000 in number) in Baran and the Kherwas (2400 in number) also in Baran who are provided wheat under PDS free of cost from funds borne out of the State Exchequer amounting to approximately Rs 3 crore annually. Apart from wheat, they are also provided other essential items like edible oil/ghee, masalas, etc under the TAD package.
Besides, as a measure of grace, the State also provides free home delivery of ration either through the aegis of the FPS dealers or through a choice to appoint a fellow NFSA neighbor as guardian to those NFSA beneficiaries who are both senior citizens and divyajans/terminally ill and are thus unable to go to the FPS shops to fetch their rations. As of now this facility is being utilized by approximately 18,000 plus NFSA beneficiaries.
Another success story is implementation for the first time since the FY 2018 -19 of subsidised wheat at Rs 4.60/- kg for Hostels and Other Welfare Institutions Scheme under which an allocation of 1614.18 MT of Wheat at BPL Prices is made available on 6 monthly basis by Government of India for approximately 1.16 lakh students in Government Hostels. Another very important achievement has been the qualitative disposal of over 53,000 on-line grievances of the last 3 years in a short span of 3 months by a focused drive on a weekly basis which was also appreciated by the Centre for Good Governance, Rajasthan, the nodal agency for Sampark Portal.
The setting up of a fully functional Data Analytics Food Portal that allows the Department to not just oversee but also catch rogues in the system, making the system of PDS not only fully transparent but also ensuring that leakages, pilferages and embezzlements are minimized and finally eradicated. The leveraging of technology and end to end automation has also allowed us to harmonized our policy regime with new demands of IT
What are the financials involved and funding pattern in main areas of expenditure, etc?
The implementation of the National Food Security Scheme in Rajasthan for 4.46 crore NFA beneficiaries requires a total fund commitment of Rs 600 crores per annum. In addition to this is the expenditure of Rs 115 crore per annum, from State Exchequer on the CM's Re 1 subsidized Wheat Scheme for 1.74 crore NFSA-AAY, BPL, State BPL and another Rs 3 crore per annum for free wheat to the Kathodis, Sehariyas and Kherwas as per State budget announcements. This only covers the cost of providing wheat and does not include expenditure on transportation, procurement and computerization efforts.
How has the State fared in PMUY Scheme? What are your targets and achievements? Are there any learnings from its implementation?
Pradhan Mantri Ujjwala Yojana (PMUY) was launched in May, 2016 focussed on the need to safeguard the health of women & children by providing them with a clean cooking fuel – LPG. Under this Scheme 5 crore LPG connections (later extended to 8 crores in April, 2018 with inclusion of 7 new categories previously left out from the SECC 2011 List) were to be provided to BPL families across the country with an upfront subsidy of Rs 1,600 per connection by March, 2019. As of date approximately 1.54 crore households in Rajasthan are covered with an LPG connection and the coverage of cooking gas in the state has increased from 62 percent (May, 2016 pre launch of PMUY) to about 80 percent households (till date post PMUY). Of these approximately 57 lakh households were added under PMUY. The targets of the two Gram Swaraj Abhiyans I & II launched in 2018 with full saturation of 599 villages (of 30 districts) and 1,603 villages with 1000 plus population (of 5 aspirational districts) were achieved fully and within time in Rajasthan.
However, despite the huge strides in coverage, the refill average at 4.2 cylinders per 24 months and which is even lesser for tribal districts at 2.2 cylinders requires more attention either through price reduction, enhancement of subsidy and its tenure or through introduction of the much cheaper 5 kg cylinders as also the enhancement of LPG distributers from the current 1,321 dealers to more.
What are the findings of the Concurrent Evaluation of the Food and PDS Department in Rajasthan?
Government of India appointed two eminent institutes of repute, namely, BITS Pilani and SPRI Jaipur as third party evaluators to undertake a concurrent evaluation of the working of the Food and PDS System in all 33 Districts of Rajasthan over a period of two years. As of now four rounds of concurrent evaluation have taken place, one every quarter, across 19 of Rajasthan, with more than 60 percent of this populace comes from below poverty line and Antyodhyay categories not only makes this a hugely challenging task but also and because of this also a more satisfying one also. Also the magnitude and transformational role of IT and data analytics in service delivery is unseen, unlike in any other department.
Who are you key stakeholders and how do you negotiate their demands?
The NFSA beneficiaries or end consumers are our priority as are the online auto generated supply chain that ensures transparency, efficiency and corruption free accountable system, is all dependent on the seamless programming, data generation, collation and MIS. Interestingly, while human interface is minimised to curb points of discretion and corruption by leveraging technology, some amount of human interface will always be required to prevent us from the tyranny of technology and for more compassionate means of delivery. Our job is to ensure that calibrated balance.
Follow and connect with us on Facebook, Twitter, LinkedIn, Elets video