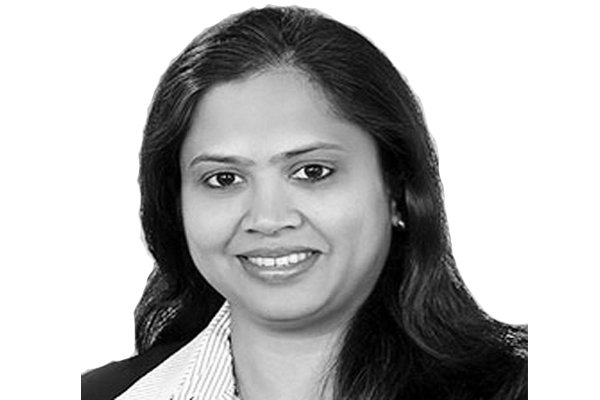 Digital technology has helped India realise the ambition of creating a just and equitable society, propelling us to the forefront among the nations, particularly leveraging the energies from the country's youthful population, with its propensity for quick adaptation and frugal innovation, says Prativa Mohapatra, Vice President Sales, IBM India South Asia. In this exclusive interview with Sreetama Datta Roy of Elets News Network (ENN), Mohapatra talks about the digital transformation of India's Government sector and how IBM is playing a significant role in Central as well as State governments to ensure seamless delivery of e-services to the citizens, as well as ensuring the ease of doing business.
What is your take on the digital transformation that Indian government is undertaking at present?
In the last couple of years, digital technologies such as Artificial Intelligence (AI), Cloud, IoT, automation etc. have become the key factor in accelerating India's growth while promoting social and economic equity by enhancing access to data.
A new digital ecosystem that includes close to a billion people is being created at a scale unprecedented anywhere else in the world. Preparing for the next decade, IndiaStack, for example is emerging as a unique digital Infrastructure to solve India's hard problems towards presence-less, paperless, and cashless service delivery. Enormous opportunities now exist for organisations and individuals who are looking at leveraging IndiaStack to build platforms, work collaboratively and create and ride the wave of digital innovation.
Digital technology has helped India realise the ambition of creating a just and equitable society, propelling us to the forefront among the nations, particularly leveraging the energies from the country's youthful population, with its propensity for quick adaptation and frugal innovation.
What are some of the relevant areas where government can fast-track adoption of newer technology?
As the governments look at transforming digitally to deliver services that citizens want, at the heart of this transformation is data. While it's true that huge amount of data is being created every day, as per IDC, it is estimated that by 2020, 5,200 GB data would be created each year for every citizen. Now, the question is, how do we collect data in a country as vast and diverse as India?
Another point that is important when it comes to dealing with data is that 70 to 80 percent of the data is in unstructured form like audio, video, photos, notes etc. So how do we analyse this data?
Lastly, when it comes to government data, with legacy systems operating in silos and lack of system integrators, the data collected and maintained resides in separate databases, reducing operational efficiency of the system at large. How do we bring it together?
Hence, a data-driven government, where, for all critical decisions, actionable information is available when and where needed, is the need of the hour to enable effective and efficient governance. This would help in:
Reducing wastage around government services to citizens, farmers, businesses
Reducing fraud and corruption across the board – cities, states and central Government
Securing and protecting – leverage technology and AI to at least be on par with the bad guys and constantly improving.
"By providing government departments with access to technical expertise, executive mentoring, software infrastructure credits, co-marketing programmes, IBM is helping Indian governments to overcome the challenges that are associated with digitalisation."
What are some overseas Government successes that can be replicated into India quickly?
There are a couple of examples that can be replicated in India's administrative system:
Providing a single view of the citizen (San Diego County, United States): Collaborating across programmes using a single view of a citizen to improve services. San Diego County wanted interoperability between multiple digital channels and multiple case management systems, as siloed programme data presented challenges to both caseworkers and citizens. To address these challenges, the County developed an information exchange portal, ConnectWellSD, to provide a single view of the client across healthcare, probation, mental health, and social programs and support caseworker collaboration across programs. This is helping improve data access and availability, providing a holistic view of citizens.
Making citizen-government interactions seamless (Dubai): Dubai wanted to remove friction from citizens' daily lives by making interactions with the government seamless, efficient and enjoyable. It aims to become the first city fully powered by blockchain by 2021. It is also using AI-powered city concierge to answer all questions for residents, businesses and visitors. Blockchain will enable Dubai to eliminate paper altogether by December 2021, resulting in significant cost and productivity savings each year. It is also using AI-powered city concierge to answer all questions for residents, businesses and visitors. This will help improve speed and ease of doing business in Dubai.
What are some of the challenges being faced by government entities today in India?
The advent of Digital India initiatives, social media and Internet of Things is resulting in huge amounts of data being created.
The government leaders know their operational capabilities and are aligning themselves to keep up with technology, data explosion, and demographic shifts. At the same time, citizen expectations are rising as they want governments to act like corporates and deliver higher service levels. Government agencies, hence, face the challenge of increasing quality and efficiency of public services cost-effectively.
Public services like disbursing incentives, issuing identification, registering property, administering public elections and enforcing laws require deep trust from citizens. Governments, hence, also need to work on gaining citizen trust and enabling transparency.
Lastly, skills are the new currency! As per a World Economic Forum estimate, by 2030, India will add more working age citizens to the world than in any other country. Also, NASSCOM (in joint study with FICCI and EY) has predicted that by 2022, a startling 46 percent of the Indian workforce will be engaged in jobs that do not exist today or that require radically different skill sets.
As per IBM Institute of Business Value's (IBV) report titled Agility, skills and cybersecurity, over 120 million workers in the world's 12 largest economies may need to be retrained/reskilled in the next 3 years because of AI and intelligent automation. Of this 35 million will be from India!
Clearly, need for skills is getting amplified with the advent of newer technologies.
How can governments address these challenges?
The challenge is that most government agencies aren't prepared to tackle these issues. Based on the findings from IBM IBV report titled Government Perspective on Global C-suite Study, only a third of the surveyed executives have the resources and funding they need. Similarly, only 33 percent have a strategy and plan in place, and only 30 percent have the technological capabilities required to address the situation effectively.
As AI, Automation, IoT, Blockchain and Security become pervasive, their combined impact will shape the new digital economy. The 'outside-in' digital transformation of the past decade is giving way to the 'inside-out' potential of data exploited with these exponential technologies.
We, at IBM, call this next-generation business model the Cognitive Enterprise. Cognitive Enterprises can create and use 'platforms' to gain competitive advantage, rise jointly with ecosystem partners above complexity while leveraging legacy capability – and most importantly, proprietary data.
To transform into a Cognitive Enterprise, government will need the seven Keys:
1 Clarify intent of core platform focus: Platforms that combine enterprisespecific assets with emerging technologies like AI, IoT, Blockchain etc. They will need to be digital and cognitive, connected to both the markets and external environments in which they operate.
2 Re-engineer workflows to use cognitive capabilities: This is a critical first practical step in shaping platform competitiveness. It is important to identify the workflows that are key to supporting your platform expertise and intent.
3 Reinvent workforce proactively: As enterprises adopt business platforms as the core of their operations, the need for new skills and continuous re-skilling is accelerating.
4 Curate proprietary data actively: Among the most common barrier to companies' digital journeys is access to a 'fit-for-purpose' data architecture, required to enable a better organization of and access to competitive internal data as well as to external data sourcing.
5 Secure data, processes and platforms end-to-end: Security will be a pervasive concern throughout the Cognitive Enterprise. Trust in a platform will be fundamental to its durable success, and data security will be the critical underpinning.
6 Get agile, change fast and build things: Agility is required to drive continuous innovation, and can become a foundation for corporate culture transformation, new ways of working and exponential growth in learning.
7 Revisit and adjust technology architecture choices continually: Throughout the journey to become a Cognitive Enterprise, organisations should reassess architecture to enable organisation-wide scaling, economic impact and ongoing adaptability.
How can IBM help?
At IBM we have always emphasised on 'co-innovation' in building a Digital India. Cognitive technologies today are the key differentiator in the global technology landscape, India needs cognitive business models to leapfrog into the lead innovator ranks. There is fundamental shift required from 'siloed' innovation to 'co-innovation' that can rapidly drive this transformation. We are increasingly focused on nurturing the ecosystem to drive this change.
IBM brings a whole gamut of solutions that can help governments:
Digitally transform operations
Secure and protect its citizens
Serve the citizens through personalised government experiences
From AI and data analytics to cybersecurity and blockchain, from IoT to cloud, we are transforming the government into a cognitive enterprise.
In fact, we share this expertise by regularly hosting events, like the upcoming Data and AI Forum in September, providing a platform to initiate discussions on Data, AI, Skills etc., with India's leading minds from the government and the private sector.
Can you share some examples of how IBM is working with the Indian government?
By providing government departments with access to technical expertise, executive mentoring, software infrastructure credits, co-marketing programmes, IBM is helping Indian governments – Central and State, to overcome the challenges that are associated with digitalisation.

Data and AI Forum by IBM September 11, New Delhi Data and AI Forum aims to bring thought leaders from ministries, government departments, PSUs and Industry together on one platform to discuss how digital revolution is changing governance globally, how can we harness data in a country as diverse as India, and how AI can help gain insights from collected data for efficient, effective, and secure government operations. To register for the event use the following link or scan the QR code https://www.ibm.com/events/ in-en/dataaisummit/
Some examples:
We are working with Central Board of Indirect Taxes to build a next generation data platform to perform advance analytics for efficient revenue mobilisation and tax policy formation. ADVAIT, the Advance Analytical in Indirect Taxation aims to enhance indirect tax revenues, increase taxpayer base and support tax data drive tax driven policy formation. Large volumes of structured and unstructured data will be used by data scientists for high performance data mining, predictive analysis, risk scoring, text mining forecasting to predict revenue from indirect taxes.
With the Rajasthan Government, we are building world class citizen services – empowering every citizen of the state with greater transparency and enhancing their quality of life. The state is using a host of IBM technologies and solutions such as IBM Cloud, Mobile Platform, IBM Weather Company and is also running its critical workloads and applications such as Bhamashah, e-Public Distribution System (ePDS), e-mitra on IBM platforms.
It's also time to rethink our approach on how we educate our students when it comes to in-demand career skills. IBM has also been investing in creating and scaling new programs from high school to workforce to build the talent pipeline for India. Through various initiatives – along with Ministry of Human Resource Development (MHRD), Directorate General of Training (DGT), Ministry of Skill Development & Entrepreneurship (MSDE), NITI Aayog (Atal Tinkering Labs) – IBM is focusing on computational thinking, STEM Learning, 21st century skills, and life skills. Also, IBM and the Central Board of Secondary Education are working closely to introduce AI in postsecondary classes. Lastly, IBM will train 2,00,000 women in STEM-related careers in partnership with four state governments.
One of the works we are passionate about is led by the IBM Research Lab in India, which is around AgrtiTech. We have designed and built a suite of agribusiness tools and solutions to help the agriculture industry use the power of AI to make more informed decisions about their crops. The Ministry of Agriculture has also signed SoI with IBM to pilot IBM's Watson Decision Platform and weather technology in three districts of Bhopal, Rajkot and Nanded.
In fact, several large deployments in Government of India, whether it's with the departments in Ministry of Finance, Railways, Defence or External Relations, they use technologies developed by IBM.