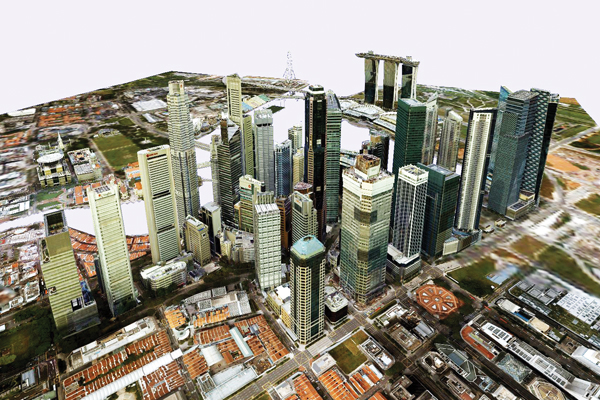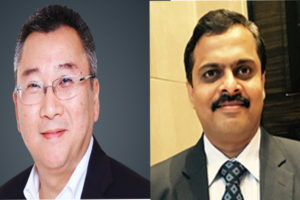 Dassault Systèmes, the 3DEXPERIENCE company that bagged prestigious projects in Jaipur and Andhra Pradesh, sees India's 'Smart Cities Mission' as a big business opportunity and is seeking to create awareness in the industry about the French software company as a leading smart city solution provider. Samson Khaou, Managing Director, Dassault Systèmes India and Deepak N G, Director, Innovative Business & Global Affairs, Dassault Systèmes, talk about their contributions and future plans in conversation with Jyoti Bhagat of Elets News Network (ENN).
Could you apprise us of Dassault Systèmes solutions for smart cities and the company's initiatives taken in this field?
Samson: We don't offer solutions, rather, we strategically leverage our 3DEXPERIENCE platform and all the applications on it to support the city and state asset management projects, i.e., centralised management projects. We work with various state governments and enable them leverage their platforms to manage infrastructure development within and outside cities. Ours is a big data platform that can hold relevant data for a city and infrastructure projects. You can use the platform for doing 3D modeling—the right way of designing and representing the city. The way you do the modeling and simulation makes the stakeholder of a given project collaborate around a platform and you can do advance work of every project on the platform. So, we are bringing in the 3DEXPERIENCE platform which holds the capability of the application simulation, modeling, data analytics and collaboration to manage projects. For example, we have been working with Jaipur, Rajasthan and the Andhra Pradesh government for centralised project management.
Deepak N G: Our platform technology is being used for different types of data, including data sets received from different sources. It is like any other contract award activity. For example, we use our 3DEXPERIENCE platform to virtually build a bridge, a building and simulate it to find out whether it actually fits the need of what the city planner is expecting. Once it is done, the next level is awarding the contract to execute the project, which is nothing but the physical work. When government gets engaged in physical work, the challenge that arises today is that more than 30-40 percent of the delays are caused because of contractual discussions, as also due to the requirements of proper monitoring and exchange of documents. We started working with the government based on our experience with discrete manufacturing and with big industries like aerospace and automotive. But we understand that in government there are processes and procedures involved in defining project management solutions that should be accepted by the contractors or the workforce involved in building any physical structure. So, we fine tuned our product, i.e., centralised management system, where a contractor or an agency taking up a project actually uses our online platform to first get the contract and to call all the line items in that so that relevant milestones are seen. It is an application inside our platform, which can be called a project management application, that allows the government to view the project location, its current status, and the money spent on it. The government can integrate it with their additional applications like a finance tool or some downstream application like ERP so that the transactions are also taken care of. It can be nurtured in the real world and the contractor can finish the job and upload the status by virtually clicking the pictures of the project that is called a measurement book involvement language. It allows the contractor to fill in the details of the project in the measurement book, and once it is uploaded into the system, the relevant authorities can approve it.
Also Read: Manufacturing and Simulation are two pillars for Dassault Systemes
It makes the entire process faster. The contractor can get his payment faster; can finish the work faster, and on top of it, the data gets collected on multiple applications. This accumulated data would help the government to further simulate to decide who to award the contract next and how the workload can be distributed across. This application facilitates creation of digital data, project status and project completion status to bring in transparency to take care of project management activities.
Other than Andhra Pradesh and Jaipur, which other cities are you looking at?
Samson: Presently, we are looking at creating awareness in the industry about us as a smart city solution provider. We will shortly complete our Jaipur project, while in Andhra Pradesh we have already completed our project. So, now it's time for us to expand and create awareness.
Which are the verticals you are focusing on?
Samson: We are well known in the space of transportation and mobility, aerospace industry, and manufacturing sectors like automotive, aerospace and industry equipment.
Within manufacturing, is there any other sector you are working in?
Samson: We are also working with the pharma sector, consumer packaged goods, high tech and mining.
Which city in Andhra Pradesh you worked with?
Deepak N G: Amravati
What are the key focus areas within smart cities?
Samson: Today, the Indian cities are looking at ways to address the issue of road traffic congestion and this is where or simulation technology offers the solution. Traffic simulation allows you to simplify the congestion issue. Above all, we see it as a potential business opportunity, managing the transportation system within the city. Traffic can be optimised through a really planned trip which is a combination of metro, bus and cab. All these are inter-modal transportation system. We want to contribute through design, modelling and simulation of this public transportation system because it poses the biggest challenge to a city in India. There is a need to plan all the different modes of transportation in a city.
What is your business model? Do you have any channel partner? How do you do distribution?
Deepak N G: We are strong in our core industry in aerospace, automotive and other companies. Starting 2001, when the 3DEXPERIENCE platform was introduced, the vision towards working for smart cities and also contributing to the city and country-level infrastructure was planned. Keeping that in mind, under Samson's leadership in 2016, we decided to start a separate team focusing on government business mainly to give value and align with national initiatives, such as Smart Cities Mission.
The second component is 'Digital India', which supports paperless office and technologies to support the government. And to contribute to that, we are very keen and focused on employability. But for that we need a workforce. The government business team's responsibility is to focus on cities and providing right skills to the workforce. In association with governments of Karnataka and Andhra Pradesh, we started virtual labs where students are getting trained on various technologies. This will ensure that the workforce is ready for deployment in case 100 cities decide that they want, say, to create digital twin. We need to make sure that the resources are there.
So, there is a dedicated team focusing on this business of Dassault Systèmes and is parallelly seeking to enter new areas. Once we identify an initiative and the works of the execution, we will definitely need system integrators. So, we are on-boarding different system integrators depending upon their skills, field of work, and also location as it matters when we have to do a project in a city. We have a strong mechanism in terms of getting them on-board by understanding their capability. They may include the primary contractor, or our technology partner. Sometimes we may be the primary contractors and they may be helping us with providing the required resources.
Can you name some of your partners?
Deepak N G: We have official contracts with Aurion Pro and Tarang Technologies. They are also into smart cities projects and we are encouraging small players as well to join us so that they can also build up their capability.
In terms of requirement, what are the major deployments in India by Dassault Systèmes, both in smart city and education sectors?
Deepak N G: In the education sector, we began our journey in Bangalore at the Ministry of IT, Government of Karnataka. We established a centre to provide skill development in the fields of aerospace and defence so that the state could attract more industries. It's a domain-led training. When we actually built our software for initial design, it graduated to a level where we started creating solution experience for specific industry. So the solution experience includes concept and delivery of the product. Leveraging our experience with Airbus, Boeing and India aerospace companies, we created a curriculum with the help of experts so that students could get industry exposure. We deployed our 3D solution experiences related to aerospace and converted them into training that students are undergoing. We further extended it to Andhra Pradesh, where the state government wanted us to establish 50 centres. We are running the centres and the government is taking care of the operational side of it.
Karnataka government wanted us to do a similar skill development project for manufacturing as well. So, we are now engaged in one more project in the state. Similar requests are pouring in from multiple states. Our solution in this space depends upon the specific needs of the states.
Samson: Today when you look at the way the cities are being planned, it is mainly based on the 3D models, usually 3D GIS. The industry has been growing gradually and has evolved to 3D because 3D captures all the complexities of any product. Similarly, we are seeing a shift in city planning from 2D to 3D. We also have animation that plays a key role because this is where we have to plan the towers and all the remunerations, the noise and so on. We have realised that there is a need for a plan and we have to build our skills and especially city planning is the job of tomorrow. This is important for us and these kinds of projects we can leverage. We can contribute to create the workforce of the future. When we are addressing those city projects, what we realise is that to do the right planning, you need the right kind of data. It is not about how you collect the data, but it is more important to find ways to extract the value out of that data because most the decisions you have to take is on the basis of the available data. You need to extract the pattern from the data and understand it's usage within the city.
Today we believe that we are key for the smart city mission in India, how to build the data scientist, how to build the job opportunity for tomorrow, which is how can you built skills on data and data science is going to be the future in India because of the size of the country, the size of the density of population of a city. The way most of the cities now today have the control, the IoT that is used in order to manage the traffic in the city, all inside the official data is very important to us and what we see it as an extension of not only targeting the city itself, but targeting skills that are required to make city smart. If I take example of Singapore smart city this morning they mentioned about simulation smart cities, the idea of Singapore, for example we did a partnership to protect the virtual Singapore, on the line with the objective of virtualization of the city and you can extract the data for a startup and young entrepreneurs to actually take the data and create the application for the new age. And this is important for us to contribute to this new space, for me there are new set of skills that are we are going to contribute here, not as a business but as our social responsibility in India.
So what is your expansion plan in India and your business model from smart city front along with your go to market strategy?
Samson: Overall we see that there is a scope of expansion for us to serve the state governments in many phases like smart cities, infrastructure, education. We see a lot of opportunity in it. And this the reason why Deepak is playing a key role. We are reaching around the state government in terms of using technology. Manufacturing is still our core business, but in India we see our growth in public sectors like infrastructure, smart cities and education to improve the industries and this is why Deepak and his role with the government plays such a key role.
Deepak N G: In a nutshell, the country is not small. Sitting in Bangalore is definitely not possible for us to focus and we are fortunate enough to get a lot of requests in terms of how we can actually contribute and help or rather actually and help us to closely align with their plans because you know that 100 smart cities have already been identified and every state is actually focusing more on the skill development part and digital India is also picking up and this is why they want to transform technology. So what we have adopted is to focus first with the region starting north, south and west and gradually west considering Mumbai and Gujarat. And now gradually we will be based on the need, for example if we have a good potential on a state where we make sure that dedicated focus has to be there, then there will be a state level focus also and a team will be dedicated to a state to kind of monitor because these projects are not a one month project or 15 days project. These projects are for one year project or two years and can go upto five years. So depending upon it, we decide. At this point of time, we are expanding, adding more people to make sure that required coverage is taken care of.