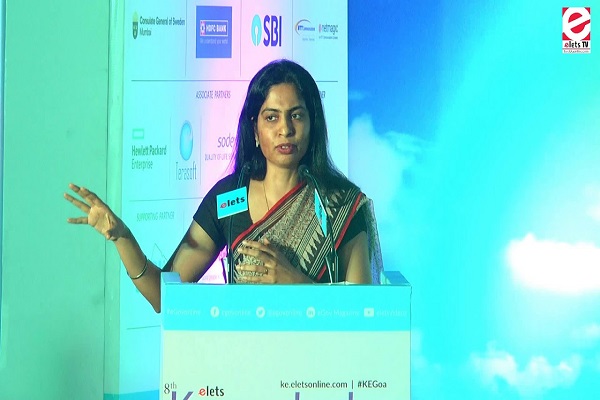 The focus of GEL has shifted from merely helping in computerisation of government departments and institutions to providing the citizens faster processing time and ease of access to avail any service, says Revati Majumdar, CEO, Goa Electronics Ltd, in conversation with Gopi Arora of Elets News Network (ENN).
What have been the key focus areas for Goa Electronics Limited (GEL) recently?

GEL, a Public Sector Undertaking of Government of Goa (a subsidiary of EDC Ltd), has been working in the area of eGovernance focusing on its areas of expertise, which include:
IT-Project Management
Business Analysis
Application Development
Database Administration
System and Network
Administration Hardware Supply and Maintenance
Catering to over 30 government departments, there are constant efforts from our team to monitor and cater to the needs of the people who want to avail any of the government service. Backed by our expertise of working in the government sector for over two decades, the focus of GEL has shifted from merely helping in computerisation of government departments and institutions to providing the citizens faster processing time and ease of access to avail any service. Government Process Re-engineering (GPR) has been a revelation and we at GEL have focused on integrating GPR and Service Management Framework (SMF), making it a distinct service processing mechanism that can be widely used across all government departments.
Knowing the importance of data analysis and its impact, we have entered in the Artificial Intelligencebased data processing zone with automation systems for key departments which are inclined toward public safety. Considering the fact that the data is growing more rapidly, our R&D division is working towards Big Data and security as it is extremely critical now to securely reuse and process data which can ultimately save time and money.
How is GEL helping the state and the country in developing ICT solutions to drive efficiencies?
Ease of Doing Business (EODB) has been a key area of operation for us. We are catering government to business (G2B) and government to citizen (G2C) services of various government departments. Goa's single window portal developed by our in-house team has played a pivotal role in improving our country's EODB ranking on the ease of doing business index published by World Bank.
Data and document re-usability has been the key mantra for major ICT solutions reducing the number of man efforts required to process a service for citizens as well for government officials. Time-bound delivery of more than 100 services through Common Service Centres (CSCs) or online mode has ensured that the state's vision of 'Maximum eGovernance' is achieved.
With support from the government, emphasis is on encouraging online payments rather than cash payments. Various services for collection of online bill payments towards water, electricity etc. have been set in place with regular monitoring mechanism ensuring that citizens feel safe and secure to complete the payment process.
Mobile application-based services have been rolled out for traffic police to minimise traffic violations. We have been also associated with Election Commission of India through the state chief electoral office Goa ensuring that the state's IT election machinery in conjunction with all other states in India is taken to perfection.
All ICT solutions developed by GEL are working independently towards their own cause however, they all are interconnected in the background contributing in our state and at large countries growth and working to provide a hassle-free and efficient service to the citizens.
Tell us about the progress of the project to develop digital skills among government employees.
Government employees are driving all G2C and G2B projects on the path of eGovernance, hence their level of skills are critical to achieve success. Our dedicated team ensures that digital trainings are conducted in conjunction with the visionary sessions to all the government employees. Digital and visionary exercises are aimed to impart IT skills and also to handover the ownership of the project to all the officials rather than an individual during the initial rollout phase. These ensure that the skill gaps are filled in by themselves which leads to their self initiated contribution to execute the project. Currently, digital skill development is specific to the project and a team of training and capacity management group is placed independently to handle projects ensuring no delays in the execution. Team deployed at the government departments also ensures that the employees are updated on the new digital developments on a regular basis and this is critical during the initial years of IT enablement.
What are the major projects being taken up by GEL?
G2B and G2C services made available on a single window portal https://goaonline.gov.in/
Projects Integrated with eTaal, DigiLocker, eChallan, PayGov India, Aadhaar, eSign, SMS, eMail, RAS
Delivery of services through Common Service Centers (CSC's) by leveraging a common infrastructure of SWAN, SDC and SSDG.
What are future plans of GEL?
eGovernace for EODB and Service Management Framework (SMF) has been our key forte for the last two decades and we will continue to have more value additions with each step of execution. We are working on an Automated Service Processing System (ASPS) which will enable ICT solution to auto schedule service initialization and processing of services with minimum or zero citizen intervention.
We are all set to implement more AI based systems which can improve service delivery and bring more safety to the citizens. Established partners or Start-ups involved in these fields are always our priorities and we plan to work hand-in-hand. Goa being a small state having a village-level connectivity and a strong IT backbone, we would welcome other state teams to partner and pilot their ideas/vision in our State.
With projects like PRISMS we have executed projects in Maharashtra and Bengaluru and we plan to reach out to more states for other ICT requirements with our in-house development and consultancy team ensuring maximum re-usability of resources.
In future, it will be important for all the states and ICT solution providers to work together and share implemented ideas so that we all could concentrate on innovations and thus make our country future-ready