The Ministry of Housing and Urban Affairs (MoHUA), Government of India has launched three key programmes—Smart City Mission, Atal Mission for Rejuvenation and Urban Transformation (AMRUT) and Swachh Bharat Mission (Urban)—to improve water and sanitation infrastructure in the Indian cities. To ensure the effective implementation of these programmes, it is important that knowledge and skill sets of urban local bodies officials are enhanced and knowledge sharing based on strong partnerships is promoted, writes Dr D K Chadha, WASH Chair, Wash Innovation Lab, Manav Rachna International Institute of Research and Studies, Dr D K Chadha Faridabad, for Elets News Network (ENN).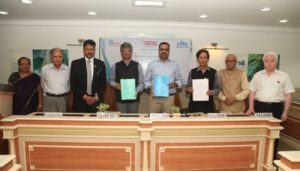 The National Institute of Urban Affairs (NIUA) in association with the United States Agency for International Development (USAID) is implementing a project—'Innovation Hub for Urban Water, Sanitation and Hygiene Solutions'—in Mysuru, Udaipur, and Faridabad. A core element of the initiative is to build partnerships with and between public, government (national/state/local), civil society, private sector stakeholders, academia, donors, etc, dedicated to establishing shared visions and improving WASH outcomes, as well as facilitating knowledge sharing among cities, states and national platforms.
Under the IHUWASH project on March 31, 2017, NIUA has signed a Memorandum of Understanding (MoU) with Municipal Corporation Faridabad (MCF) to implement IHUWASH project in the city of Faridabad. MCF is implementing all three important national missions: SBM (U), Smart City Mission and AMRUT in the city. MCF is looking forward for innovative urban WASH solutions. To source innovative WASH solutions by involving city-based technical institute (academia), WASH Innovation Lab has been established at Manav Rachna International Institute of Research and Studies (MRIIRS) which was identified in consultation with MCF. A tripartite agreement was signed on May 3, 2018 between MCF, MRIIRS and NIUA for setting up a WASH Innovation Lab (WIL) at MRIIRS, Faridabad and a USAID WASH Chair who convenes various activities of the WASH Innovation Lab. To implement the WASH Innovation Lab activities, a roadmap was required by systematically designing the activities under the WASH Lab. For this purpose, an assessment workshop was proposed by the WASH Lab with all key stakeholders in Faridabad. With MCF official consultation on June 22, 2018, the assessment workshop was held at MRIIRS, Faridabad.
The objective of the workshop was to map and assess WASH issues that are prevailing in the city which need to be addressed. There was also requirement to facilitate the ongoing processes and activities of Municipal Corporation of Faridabad (MCF) towards effectively improve urban WASH situation in Faridabad. This interactive workshop was attended by 43 representatives from various stakeholders' agencies and key players including RWA, industries, NGOs, academia, State and Central Government organisations, private agencies and all the three partners NIUA, MCF and MRIIRS. The event was convened by WASH Chair Dr DK Chadha.
Following were the important concerns highlighted by various stakeholders and representatives of RWA in the assessment workshop:
Inadequate supply of water in their area and proliferation of grey market of water in the city. Industrial units' representatives discussed the hardships they are facing in getting adequate quantity and quality water.
It emerged from the discussions that the demand side of the management of water in the city needs to be addressed properly with efforts to minimise the non-revenue water. This was also suggested by the MCF officials.
While showing satisfaction on the reduced ODF in the city, concerns was raised for pockets of persisting problem. The non-performing system for cleaning drain, faulty designs, or shortcuts in solutions has increased the sewerage problem in the city area, specifically the new expansion areas was a point of discussion.
Over dependency on septic tanks has been a matter of general concern. Disposal of sludge from these tanks needs immediate attention was placed on record.
Reducing green cover and wetlands (ponds) were considered as negative effects of development and this needs to be balanced, was accepted as an area to be taken up seriously.
Development of green zones all along the canals and removing the waste disposal sites was suggested.
Initiating the personnel hygiene issues; the doctors from community medicine; ESI Medical Collage, Faridabad, emphasised on aggressive campaign for behavioural change and this too got support from other academia representatives.
Regarding community hygiene, it was felt that density of toilets in the public places is still inadequate and their design needs demand based improvement. The stakeholders were of the opinion that more and more such interaction among active groups and key players, in urban WASH sector is needed, to map the real issues, people and organisation involved in this sector to establish role and responsibilities. Following were key suggestions in the workshop to constantly engage with all key stakeholders
Website to engage different stakeholders
Establishing Faridabad WASH Forum
The assessment workshop brought forward various issues faced in the city for following suggestions in the assessment workshop, MCF proposed to conduct a capacity building workshop for important city officials in the area of water, sanitation and hygiene sector. As Faridabad face acute water supply and quality related issues, MCF proposed to conduct first training on the theme 'Water Supply and Management in Faridabad.' MRIIRS in consultation with MCF conducted two days training programme on 18th and 19th July, 2018. MCF nominated about 57 officials in the rank of JE, AE, EE in the training programme and also supported by providing MCF Auditorium for this purpose.
The faculties/resource persons invited in this training programme were from recognised and leading institutions of Central and State government and other recognised consultancy firms. The training programme imparted covered themes suggested by MCF engineers. topic covered were rainwater harvesting for groundwater recharge, management of storm water drains, urban water management by recycle, reuse and reduce, tools and techniques for landscape management for water conservation, and SCADA monitoring systems.
MCF officials appreciated the two days training programme and requested for follow up training sessions on subject specific module for small group of officers so that hands on skill can be transferred to the officers engaged in specific job. The WASH Innovation Lab with its two years of planning will carry out action research in the water, sanitation and hygiene sector in Faridabad and share learnings of the studies with MCF to improve urban WASH situation in the city. The WASH Innovation Lab is planning to further transfer the IHUWASH knowledge in the state level training programme where other cities of Haryana can learn about adopting multi-stakeholder approach to improve urban WASH sector.
Follow and connect with us on Facebook, Twitter, LinkedIn, Elets video