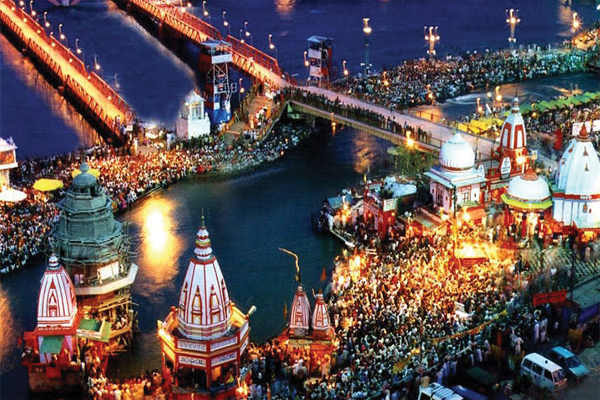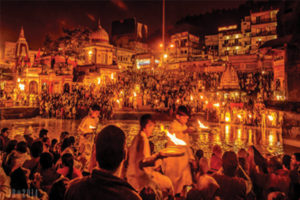 As Haridwar prepares for Maha Kumbh 2021, a congregation of millions of devotees seeking to take a holy dip in the Ganges river, the city administration has plans to develop this city into a spiritual hub. Driven by innovation and empowered by technology, the authorities here wish to present the place to the devotees in a new Avatar, observes Sandeep Datta of Elets News Network (ENN).
The endeavour is to offer a distinct experience of this holy city. So that it renders an enhanced spiritual experience to the devotees set to throng the place from not just India but world over. Be it political leadership or the civic administration, a complete makeover of facilities through modern technologies is being mulled. Haridwar – The City of Faith Worshipped by millions of Hindus and people of all faiths, the mere mention of river Ganges takes one's thoughts to Haridwar, the holy city located in the heart of Uttarakhand in north India.
Usually, thousands of people arrive in this city every day to absolve themselves of all sins and achieve salvation following a religious belief existing since time immemorial. According to administrative officials, the grand occasion has also brought multi-dimensional opportunities for not just the government machinery but the industry as well. As for companies, an impressive performance in Haridwar during a big occasion like Maha Kumbh would be a huge opportunity to earn lots of accolades and a potential of being replicated at other places during occasions of similar scale. The endeavour is to change the user experience of the people coming to the 'Gateway to Gods- Haridwar'.
The vision involves rendering all necessary services with the help of technology and innovation and efforts are on even if it takes drastically changing landscape of the city. It is felt an infrastructure upgradation is the need of the hour. Work has been commenced on both the soft components and the infrastructure projects as well. Administrative Vision at a Glance The Haridwar administration feels as a lot of infrastructures were created during previous Kumbhs (that happen before Maha Kumbh) in Haridwar, it helped the city quite effectively in the following years during other religious occasions. The administration's focus areas include security, city surveillance and crowd management, traffic management, transport and mobility, solid waste management, infrastructure development, amusement attractions like sound and light show, science museums, and Uttarakhand culture museums.
It is being wished to incorporate best practices of Kumbh Cities like Ujjain, Allahabad and Nashik. This Maha Kumbh is a great occasion to launch a lot many projects on the similar lines, just like even a Ring Road across Haridwar is being planned to tackle traffic snarls. Also, many tourist attractions have been planned too. The Government of Uttarakhand aspires to ensure it also emerges as a 'Cashless Kumbh', a big attraction for fintech companies or banks to leverage it. The administration wishes to partner with vendors, service providers and fintech companies that can ensure digital mode of payment in an effective manner. Haridwar is one of the cities selected under the Atal Mission for Rejuvenation and Urban Transformation (AMRUT).
The city administration has introduced a lot of digital initiatives that not only help citizens in general but will also prepare it in the Maha Kumbh. Technology to be the Game Changer As in the digital age, having data and analysis of data has turned paramount for the success of governance, the administration is set to leverage technology quite effectively in pursuit of changing the experience of being in Haridwar for years to come.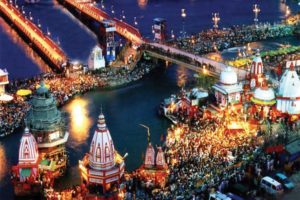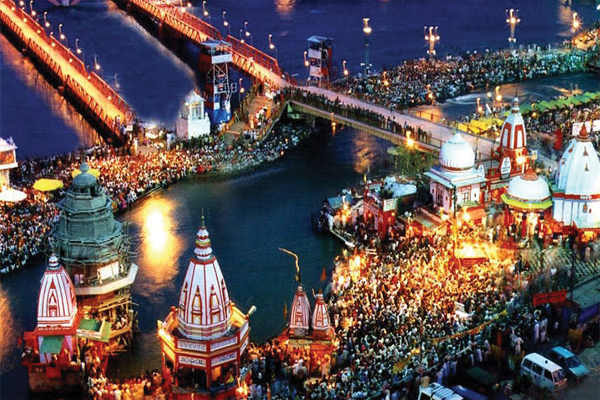 Takeways for Industry
Just visualise millions of men and women as devotees or tourists from across India and the world, congregating in a city. From a huge number of footfalls to brand name and mammoth scale of visibility should be an attraction for any industry to be a part of Haridwar's development process for Maha Kumbh. It would be an opportunity for replication for any project done by any company here.
Maha Kumbh — The Big Picture
The entire project has been divided into three parts — Research and Planning, Painting and Art Installations.
Phase 1- Research and Planning A creative team will be set up to develop a theme for the Har-Ki- Pauri area. There are also plans to interact with the Haridwar residents to document their life lessons, and explore legends or folktales related to the city.
Phase 2 – Painting In it, wall murals, frescos will be painted by a team of artists, locals
and Phase 3- Art installations This last phase of the project will involve creating art installations and sculptures, considering the tales or lessons collected. Of the total Rs 303 crore set aside for developmental projects, Rs 17.50 crores are exclusively for developing the main centre of devotees' visit — 'Har-Ki-Pauri', and Rs 165 crores for developing the various Ghats or the river banks.
Parking A provision will be made near the ghat entrance for e-rickshaws, golf carts and emergency vehicles. Disabled friendly spaces and ramps will also be created. Infrastructural Measures In the light of millions of pilgrims' arrival in Haridwar, provision of amenities like locker and changing rooms, public conveniences, water ATMs, benches, view-decks and puja platforms will also be created. There will be dedicated spaces for kiosks and stalls including administration helpdesk and police booths.
Platforms will be built for priests to perfor rituals and for the pilgrims. The city administration will build submerged bathing platforms for safe bathing. For garbage disposal, dustbins will be installed at every nook and corner and the waste generated will be properly segregated as well. To save energy LED lighting with Solar PV plant will be installed.
A public announcement system augmented by CCTV Monitoring System to track the public movement will be in place. Under the Ghat Cleaning Project, Ghat Cleaning Machines and workforce in Har-ki-Pauri area along with three years of operations and maintenance along the lines of Varanasi Ghat Cleaning Project will be done.
Redevelopment of Kiosks at Rohdi- Belwala Ghat
The Corporation is planning to construct 200 kiosks here. Green parks will also be developed here. A multi-storey toilet complex will also be constructed with facilities, including 200 toilet seats, 50 urinals, parking, cloak room and waiting lounge. A number of e-governance projects will also be implemented during the Maha Kumbh. As part of the comprehensive exercise being carried out Haridwar, a lot of developmental works and projects are already being implemented.
Solid Waste Management helpline
There is a Solid Waste Management helpline available in Haridwar which is being utilised for various purposes such as door-to-door garbage collection from wards, cleaning of streets, collection of dustbins from locations, complaint disposal mechanism, SMS-based registration and interaction system, planning for vehicle movement on the basis of complaint received, and GPS fitted vehicles to track movement. It is serving various advantages such as direct contact with citizens, standardisation of routes, service delivery, daily reporting and feedback system, and reduced downtime due to active monitoring.
A Smart Underground Bin Management System is already in place. There are more than 300 bins in Haridwar. There is a tracking of emptying bins when they are filled. This will lead to duel cost savings and efficient collection.
GPS based Vehicle Management System All Solid Waste Management vehicles have been fitted with the GPS systems. Online monitoring of these vehicles are done through a control room. Under the second phase of the system, there will be linearisation of routes for monitoring, standardisation of routes with respect to time, etc.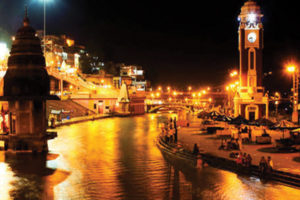 Land Survey Project with IIT Roorkee GPS based land survey of urban properties will be conducted which will establish a land bank for the Corporation. This will help in checking the encroachments. The survey will be linked to online Property Tax Management System. There is also a dispute redressal mechanism attached to it.
Development of Museum at Kangri University Campus at Kangri Island The Corporation is planning to develop the Approach Road in Kangri village, road signage, development of parking in Kangri village and pathway to Jetty. A ferry service will be started across the river Ganga from Kangir village to the Kangri River Island. Works at Kangri River Island Pathway to campus, Heritage Building Restoration, Development of Museum in the Heritage Building and Development of Cafeteria, Toilet Complex and Landscaping will be undertaken.
Nagar Nigam Mobile App Under the Nagar Nigarm or, the civic corporation's ambit, a mobile app of Haridwar Nagar Nigam is already operational. Through this, property tax alerts can be obtained on the mobile number. The mobile app can also be used for birth registration. There is a proper complaint management system on the app. It intimates about new complaints, daily complaint summary and revenue collection summary as well. One can send and avail information by sending structured SMS to mobile number. Information about the outstanding amount of the property tax can also be seen on this app.
There are also provisions for commercial activities monitoring, citizen facilities, Control Room Grid and downloading of online forms, etc. Under the phase III of the app, the following facilities will be added:
• Property Tax Management System
• SMS based Information System
• Double Entry Accounting System
• Payment Gateway.