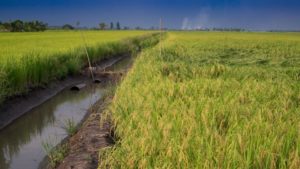 The youngest state Telangana has started providing 24-hours free power-supply to farmers.
Starting from January 1, 2018 at 00.01 hours, the Telangana Rashtra Samithi Government commenced the 24X7 power supply to 23 lakh agricultural connection in the state.
The State Government hopes that this in-a-first move will end the despair of farmers and accelerate the growth towards achieving its vision of 'Golden Telangana'.   
The 29th state was reeling under severe power crisis since its formation in 2014 as direct fallout of bifurcation from erstwhile Andhra Pradesh.
However, within six-month the new Government turned around the situation and was successful in providing 24X7 power supply to domestic and industrial needs. Further, the State Government also increased the free power supply to farmers from  seven hours to nine hours.
Telangana Chief Minister Kalvakuntla Chandrashekar Rao described the move of round-the-clock power supply to farmers as 'wonderful victory'.
Ajay Misra, Special Chief Secretary, Energy Dept, Telangana said, "We are prepared to provide the present peak power demand of 9,500 MW to agriculture sector. Also, would meet the expected increased (20% – 30 %) power demand of 11,000 MW by March."
In an exclusive interview with Elets News Network, Misra added "The Government has spent Rs.2,800 crore in upgrading the infrastructure including transmission lines, substations and distribution lines. In order to achieve this in-a-first initiative in the country, our Chief Minister K Chandrashekar Rao was on ground with our team since last one year."
The Chief Minister has also announced a special increment to the electricity employees in recognition of their efforts.
In addition to the present 14,845 MWs of captive power generation, Telangana State is setting up new plants to add an additional 13,000 MWs in future. By 2022, 28,000 MWs of power will be available in the state.   
Follow and connect with us on Facebook, Twitter, LinkedIn, Elets video