The State of Gujarat is emerging as a growth engine of India keeping the idea of "Sabka Sath, Sabka Vikas". Gujarat is the investment destination for numerous businesses because of thriving economy, business-friendly policies, industrial infrastructure, and natural resources, says Gujarat Chief Minister Vijay Rupani in an exclusive interview with Gopi Krishna Arora of Elets News Network (ENN). Excerpts:

You took over as the Gujarat Chief Minister over a year ago, how has been the journey so far?
In the year gone by, my Government has followed Hon'ble Prime Minister Narendra Modi's call of "Sabka Sath Sabka Vikas" and has sincerely taken forward the growth story of Gujarat. I take pride in stating Gujarat under Shri Narendrabhai's leadership helped India redefine Good Governance and Development Model. Our objective is to continuously work for public welfare.
I am extremely grateful to the people of Gujarat for the faith they have shown in me and the support they have given me in the past year till now. Today, Gujarat Government is committed to uphold these high standards of governance and committed to serve the people better. In future, we hope for many more synergies that lead Gujarat to the top.
Largely viewed as a growth story, Gujarat has been a leader specific State, don't you feel the pressure to perform?
The State of Gujarat is emerging as a growth engine of India keeping the idea of "Sabka Sath, Sabka Vikas" (at the centre of its actions). Going back to the history of development in the State of Gujarat, the biggest ever event 'Vibrant Gujarat Summit' was started in 2003, under the visionary leadership of the then Chief Minister of Gujarat Shri Narendra Modi, it took Gujarat to the top-most level when it comes to global investments. Gujarat is the investment destination for numerous businesses because of thriving economy, business friendly policies, industrial infrastructure, and natural resources. The State has always been one of the fastest growing States in India, from the development of basic agriculture to industry revolution, from textiles to tourism, from dynamic culture to information technology. Today, Gujarat is home to global industrialists and young entrepreneurs alike. When it comes to performance, key purpose of our government is earning the faith of people and we have managed to do so by emerging as transparent, decisive, sensitive and progressive.
"Substantial investment by Suzuki, Ford, Tata, SAIC Motors, Hero Moto Corp and many more have been instrumental to this growth."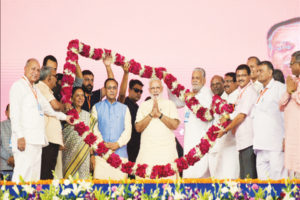 In today's age of science, technology and innovation, effective use of ICT is imperative to meet the ever-growing expectations of citizens and businesses. E-Governance is continuously evolving to provide access, equity and empowerment to masses. Tell us about the major e-governance projects initiated in Gujarat in recent times.
Gujarat, in fact, has emerged as a pioneer in the field of e-governance initiatives. We have several initiatives operating on the ground, aligned with Mission Mode Projects (MMPs) under National E-Governance Plan as well as various State-sponsored initiatives. For instance, some of the major projects run by the State government include Crime and Criminal Tracking Networks and Systems (CCTNS), eCity, eCourt, eDhara/eJamin, Garvi /CSIS, e-District, eGram Vishwagram etc. Our focus is on innovative technology and innovative use of technology.
Telangana and Andhra Pradesh have overtaken Gujarat in Ease of Doing (EoD) Business and recently you said Gujarat will bounce back to No. 1 position nationally. What measures are there in the government pipeline?
Gujarat has always been among the most preferred destinations for doing business. The Government of Gujarat has recently introduced "The Gujarat Single Window Clearances Act 2017". The act provides for a robust application review mechanism at district and State level, with the pendency being reviewed at the highest-level. A dedicated single window agency namely 'Investor Facilitation Agency' has been set up through this act.
We have devised a common incentives form in order to simplify the application procedure for industries to avail incentives. We also initiated filing of 'Consolidated Annual Returns' under 11 labour laws. All half-yearly and yearly returns are required to be submitted under one consolidated annual return. In the last one year, three commercial courts also became functional having jurisdiction over 27 judicial districts in Gujarat.
Besides, we have brought several landmark reforms like Comprehensive General Development Control Regulations (GDCR) for entire State, AutoCAD based building plan approvals, provision for selfcertification/ third party certifications for labour and environment laws, which will go a long way in improving the business friendliness in the State.
The Government of Gujarat realises the potential of the industry and the growth opportunities it brings to the State. How are we planning to make the State best investment destination?
While Gujarat has been successful in attracting big ticket investments in manufacturing and industrial sector, the Government has also focused on creating a support ecosystem by encouraging development of MSME. This ecosystem enables forward/ backward linkage and cost competitiveness. It is this ecosystem that makes any investment sustainable and competitive, both in domestic and export markets. With over 20 lakh Micro, Small and Medium Enterprises in the State providing employment to over 1.5 crore people, the State continues to focus on providing all handholding measures.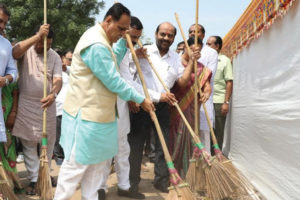 As a Chief Minister of the most promising State, you have established four pillars of good governance – Transparent Government, Sensitive Government, Decisive Government and Progressive Government, what are the major decisions being taken in this regard?
The Gujarat Government has taken 475 principal decisions in the welfare of the people in the past 365 days, based on the four pillars of good governance – Transparent Government, Sensitive Government, Decisive Government and Progressive Government. Our government has carried forward Shri Narendra Modi's tradition of giving priority to agriculture, industry and service sector as well as simplification of laws and strengthening civic infrastructural facilities. Looking at the areas of health, education and employment, Gujarat Government has taken various sensitive decisions including opening of more than 150 Jan Aushadhi stores, established new independent (green filed) self-finance colleges, providing monthly assistance of Rs 500 for patients in tribal areas, increased the pension given to widows, implementation of 7th pay commission as well as new amendment to law against cow slaughter.
But just erecting the pillars is not good enough. The Gujarat government has proved it is also committed to respect and follow the principles they depict. We have maintained transparent decisionmaking processes, even while tackling sensitive issues like strengthening laws related to prohibition, ULC regulation act, waiving toll-tax on State Highways, and implementation of PESA Act for tribal empowerment. Other programmes which reaffirm our decisive and progressive approach are implementation of the Shramik Annapurna Yojna, smart tablet distribution to students, creation of Digital classrooms, various schemes for farmers, SAUNI Yojna, Sujalam Sufalam Yojna, Shravan Tirth Yojna, Pradhan Mantri Awas Yojna, Rooftop Solar Scheme, Seema Darshan programme, Subsidy on onion and potato, securing Heritage city status for Ahmedabad city, completion of Sardar Sarovar Narmada Nigam project, initiating Seva Setu, Mukhyamantri Sadak Yojana and many more.
How is Gujarat leading in urban transformation towards Prime Minister Narendra Modi's ambitious Smart Cities Mission? What are your future plans for the same?
Gujarat has made substantial progress in creating future ready, smart and livable cities. Already six cities of Gujarat are chosen to be developed as Smart Cities. These cities are Ahmedabad, Vadodara, Surat, Rajkot, Dahod and Gandhinagar. The State Government has chalked out a plan on better urban mobility, metered 24 X 7 water supply, green spaces, cycle tracks, development of futuristic commercial complexes, etc, as a part of the smart cities initiative.
What are the major policies through which State Government is promoting Startups and Micro, Small and Medium Entrepreneurs (MSMEs) of Gujarat?.
We have been encouraging entrepreneurs and innovators by providing support to startups through funding, mentoring and incubation under various policies and schemes. The State has introduced various schemes and policies including Gujarat Startup / Innovation Scheme under the Industrial Policy 2015, Gujarat Electronics & IT/ ITeS Startup Policy 2016, Student Startup & Innovation Policy 2017 etc.
Additionally, the Government of Gujarat has also created the 'GVFL Startup Fund' of Rs 250 crore towards promoting startup ecosystem along with GVFL Ltd. We have also set up the International Centre for Entrepreneurship and Technology or 'iCreate' on PPP model as a Centre of Excellence for providing an ecosystem for next-gen entrepreneurs. iCreate offers support of 6 to 24 months to individuals seeking grooming, preparation and incubation support.
Our efforts and initiatives have been recognised by Government of India and Gujarat was awarded the Prime Minister's Award for Excellence in Public Administration in 2017 for successful implementation of startup India programme.
We are also making extensive policy interventions to strengthen the MSME sector by providing support in funding, infrastructure, technology, market access and skill development. We have provisions for special assistance for MSMEs under our Industrial Policy 2015, Gujarat Aerospace and Defense Policy and Textile Policy as well.
"Gujarat Government is committed to uphold high standards of governance and is committed to serving the people better".
Any suggestions for the companies seeking to enter Gujarat market for expansion?
The Government of Gujarat has always believed in employing a policy-driven approach towards development, and it is a matter of pride that today we have over 20 State government policies for supporting business needs across sectors and domains. This policydriven approach has yielded results. Gujarat is a national leader in over 15 sectors of manufacturing industry such as chemicals and petrochemicals, textiles, automobile and auto components, engineering, pharmaceuticals and so on. The State also has a leadership position in areas such as ports and maritime, renewable energy, tourism and agriculture.
Gujarat is one of India's most industrialised and urbanised economies, and is a national leader across various sectors of socioeconomic development. Today, with roughly 6% of India's geographical area and 5% of the country's population, Gujarat accounts for almost 8% of India's Gross Domestic Product, 18% of India's Industrial Output and over 20% of exports.
The State is home to major domestic as well as multinational corporations, and has managed to garner a Foreign Direct Investment (FDI) of $10.5 billion between 2011 and 2017. In fact, in year 2016-17, we have bagged third rank in attracting FDI among Indian States.
Follow and connect with us on Facebook, Twitter, LinkedIn, Elets video