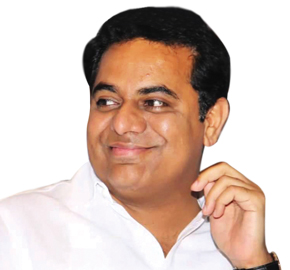 Telangana State has been in the forefront of all major urban initiatives, says K T Rama Rao, Minister, Municipal Administration and Urban Development, Information Technology, in an exclusive interview with Sudheer Goutham while sharing how the government plans to redefine the State and transform its capital Hyderabad into a global city. Excerpts:
Telangana government seems to have undertaken several initiatives in the urban space, can you share some of the prominent ones with us and tell what is the idea behind creating 21 new districts?
Urban Development has been one of the major focus areas. In Telangana, urban population constitutes 40 per cent and migration from rural areas to cities, especially to Hyderabad is more. We are in the process of forming 24 new urban development authorities to ensure structured urban growth.
The idea of creating 21 new districts is to ensure smaller towns also develop and youth finds employment opportunities. These urban bodies will transform Telangana. This will reduce the pressure on Hyderabad and Warangal cities. In addition to four existing development authoritiesHyderabad Metropolitan Development Authority, Kakatiya Development Authority, Yadadri Urban Development Authority and Vemulavada Urban Development Authority, 24 new development bodies will cover all the 31 districts of the S tate to avoid haphazard growth.

What is the significance of the water grid project and digital Telangana initiative?
We are combining energies and synergies of these two projects while permanently solving the drinking water issues and making the whole State truly digital. Our Digital Telangana project will be implemented with support from w the Telangana Water Grid project. The water grid project aims at to provide 100 liters of clean drinking water per person in rural households and 150 liters per person in urban households. This project aims to provide water to about 25,000 rural habitations and 67 urban habitations. While the duct lines are laid to supply drinking water to each household, the same trenches will be used to put optical fiber cables reaching every household. 4G services will be provided through telecom operators through these channels and also Wi-Fi availability are being made in Hyderabad, Warangal and other important towns of the State. Internet connection will be made available to nine million households in next 18 months and 150 km trenches have been dug up already.
As part of Digital Telangana we are making people digitally literate by imparting literacy on a mission mode. Through this, we will also provide digital solutions for providing better healthcare, education, real-time scientific advisory to farmers, disaster mitigation and others.
Since formation of Telangana State the government has been talking about turning Hyderabad into a 'global city', how is the government going to achieve this?
The Telangana government is committed to make Hyderabad a 'Global City', overcoming all the challenges with proper planning and strategies. Our efforts are already showing results and getting recognition worldwide. Hyderabad has been declared as the fifth most dynamic city in the world ahead of London, Austin and Boston according to the City Momentum Index (CMI) on the basis of innovation and technology, ability to adapt and leverage major factors of growth.
Hyderabad has over one crore population with 21 lakh households. It basically has two parts — old and new city — and there are challenges likewise. We are sorting the basics likedrinking water, electricity and lights, parks and water bodies and strict regulation of buildings.
In terms of plans for electricity, I am proud to say that Hyderabad witnessed the first powercut free summer last year.
We could do this by raising States' internal efficiency. We brought power from wherever we could; we actually did not generate 1 MW of power.  4,760 MW is the installed capacity of all the power stations in the State. Further to make Telangna a power-cut free State, plans with an investment of `2,000 crore are in the offing to generate 24,000 MWs of power, of which 3000 MW from solar energy. As Hyderabad is the global city in the making, so we need a dedicate power island that dedicated power distribution systems and sub-stations.
For Drinking water, in view of ever growing population in Hyderabad we are coming up with two new reservoirs with a capacity 30 TMC on two sides of the city. This water resource can feed the population in the city.
Garbage Management– It is being performed in three ways – collection, transportation and waste treatment. For the first time in the history of India, our State has distributed two bins to each household for collection of segregated garbage. Several auto trolleys have been put in place for collection of garbage and we are making wealth out of waste. Wet garbage is being used as manure and dry waste is being used to create energy.
We have proposed automatic fare collection systems in buses with smart cards. As part of Digital Telangana we are making people digitally literate by imparting literacy on a mission mode.

For Cleaner and Greener city– special emphasis is being given on greenery rejuvenation by planting saplings in 25,000 acres within GHMC and in 1.6 lakh acers within HMDA.
Sewer lines and Roads– To avoid battering of roads in heavy rains, we have taken up white topping of roads. We did a pilot project in Banjara Hills Roads and it was successful. We are taking white topping of over 100 km of roads besides laying 1800 km of BT roads.
Transport infrastructure and traffic management is being taken care by Strategic Road Development Program (SRDP).
What is this Strategic Road Development Programme (SRDP) all about?
Despite numerous advantages to Hyderabad, chaotic traffic in the city has become an issue. It is due to the over dependency on arterial roads, unplanned junctions and inadequate safety for pedestrians.
City has challenges in infrastructure provision, transportation and traffic management. Under the leadership of the Chief Minister, KCR, we are rolling out SRDP- Strategic Road Development programme to deal with it permanently. With this, we will ensure overall improvement in connectivity and circulation of traffic aiming at Seamless and signal less traffic wherever possible. SRDP has following physical components – world class roads and junctions, proper facilities for pedestrians and bicyclists, intelligent transport systems and smart technologies.
Over 152 km of Outer Ring Road has been laid connecting Vijayawada Highway, Warangal Highway and Karimnagar Highway. This will avoid passing of non-city through the centre of the city.
Also, 42 km of end-to-end 6 lane expressway alongside of the Musi river will become a reality. This expressway will free up entire space along the Musi river which can be developed in a leisure and tourist space.
At the city-level five major components have been planned –five skyways, measuring around 100 km, 11 major corridors, measuring 184 km, 60 majors roads, covering 316 kms, Other roads measuring about 1,400 km.
50 grade separators/interchanges, major junctions spread across whole city. Special emphasis on bus bays, pedestrian and bicycle facilities are planned.
Understanding the complex situations and finding the solutions, extensive studies have been made. The government of Telangana has taken this work in a mission mode. Hyderabad Metropolitan region is spread over 7,200 square kilometer.