Energy Efficiency Services Limited (EESL) has been providing the energy saving LED bulbs in India. About 16.5 lakh streetlights in the country have already been replaced with LED so far by EESL, says Saurabh Kumar, Managing Director, EESL, in conversation with Gautam Debroy of Elets News Network (ENN).
Energy Efficiency Services Limited (EESL) is the main provider of street lights in India, what is the main idea behind it?
The main idea is to reduce energy consumption on the roads. It ensures that municipalities and urban local bodies, not having sufficient budgets, are not constrained in providing good service to public in terms of lighting. We replace all the lights at our own cost, guaranting a 50 per cent minimum reduction in energy consumption. The municipality pays us from the savings it gets from money the energy over a period of seven years. We are guaranteeing better services with the facility of controlling lights remotely. Even faults can be monitored remotely.
What role are you playing in transforming cities into Smart Cities?
Though we are not directly involved in the smart city mission, we are maintaining street lights through communication technology and running that communication system across the city. If any city wants to provide services using this technology like free wi-fi and transport information, it is possible. It is for them to decide how to utilise this network.
You have launched several new projects, would you share the details of some of them?
The Ministry of Urban development, Government of India, has signed a Memorandum of Understanding (MoU) with us (EESL) where street light modules are replicated on municipality water and sewage pump. These pumps consume a lot of energy since they are quite old and it is difficult to maintain them as well. We have started this project requesting municipalities and state governments to first get an energy audit of all the pumps. We have offered to do this audit and present the report to the state government. It is the state government's decision whether they want to do the project or not.
If they want to do the project with us on the street light module, we will make all the investment for the pumps, maintain those pumps for five to seven years and the states can pay us back from the savings they are getting from energy conservation. We are in the process of signing agreements with several states. Three States have already signed the agreemen, namely, Chhattisgarh, Andhra Pradesh and Odisha. We are pursuing the other States to join in this mission.
The third is the building programme under which the government buildings where we do energy audit of the building and replace all the heavy energy consuming equipments at our own cost, guarantee a minimum energy saving and the government can pay us back through this energy saving in three to five years.
We are undertaking the street light project in 21 states and going to commence it in Telangana very soon.
What is the reason of some of the states being hesitant in taking services of EESL? Tamil Nadu has been doing this project on its own. They are converting their traditional lighting into LED lighting. This is not just the state government project alone. It takes time to get approval at different levels. We have to get revenue from the municipality bodies which are not financially strong. So to protect the investments, we approach at the level of the State government. It also takes time. So, it's all in the process. Twenty-one states are already with us and we are sure that other states will also follow.
What are some of the challenges you face in maintaining energy efficiency?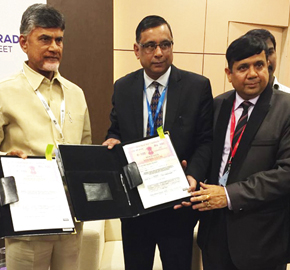 We are doing a decent job in energy efficiency. For the UJALA scheme, we are providing energy saving LED bulbs. We have installed 20.5 crore bulbs in less than two years. We have replaced 16.5 lakh streetlights in the country. It's a new system and business model. It takes some time for people to understand the value of the model. The government realises the value of street light revenue model for water pumps where you don't have to allocate resources. People are now realising the value of this concept.
Most of the opportunities in the energy efficiency lie in the government sector, municipal bodies and distribution companies. We are trying to ensure our standardised processes usher in the private sector and they start doing what EESL is doing.
The number of projects is increasing because we have shown the results. People are now realising it's really an effective and efficient way of development.
Are you focusing only on the urban areas or catering to the needs of rural regions as well?
Under the UJALA programme, 50 per cent of the bulbs have been distributed in rural areas.
We are going to replace the entire Gram Panchayat streetlights of Andhra Pradesh with the LED street lights on the same model. In the initial phase, 1,000 gram panchayats will be covered.
Another scheme for rural areas is Atal Jyoti Yojana. Under this scheme, we are installing solar street lights where the grid has not reached in five states namely Bihar, Uttar Pradesh, Assam, Jharkhand, and Odisha. So, we have reached the areas where there is not even a likelihood of grid reaching in near future. Our aim is to provide best services to the remotest areas of the country.
What is EESL's success rate? What future do you foresee in coming years?
The company was launched seven years ago. In the first three to four years, our revenue was rupees five to six crore. In 2014-15 our revenue was Rs. 70 crore and in 2015-16 we crossed Rs 715 crore. This year we expect to touch Rs. 2,000 crore. The number of projects is increasing because we have shown the results and people are realising. It is an effective and efficient way of development. The service remains at the best level because EESL payment is linked to that service. We have mainstreamed the service model in the government.
What is your take on National Urban Development Summit, Elets Technomedia is organising in Hyderabad.
It's really great. Such platforms provide the policymakers, industry and other experts a common platform where they can share and understand about latest technologies. On such platforms, you also have funding agencies like us who can facilitate the marriage between the municipal bodies and the industry. It helps to showcase your best practices.
Follow and connect with us on Facebook, Twitter, LinkedIn, Elets video