Digitising Finances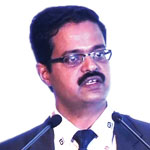 On a landscape, we are the bankers to the various central ministries, be it the Ministry of Finance, Ministry of Civil Aviation, Ministry of Rural Development, among others. In Maharashtra we have 615 branches out of which 45 per cent are in the rural area. Out of 26, we are the bankers to the 25 corporations. We are also in the space of local body tax collection, National Rural Health Mission (NRHM), e-auction, e-trending, etc. We have gone beyond the traditional banking and implemented something to our eGovernance point of view.
One of these is e-toll, a RFID-based solution implemented to collect the toll in an electronic form. These are the prepaid cards build in the RFID chip which automatically detects when the car comes and the whole process is performed. Another is the e- tendering space, where we are the banker to more than 550 departments or divisions in the Government of Maharashtra.
For paying other forms of taxes like house tax or property tax, citizens are able to generate a challan and they can then go to any branch of the ICICI Bank where the tax would be paid using that challan. We have build a couple of solutions on the pollution Control Board also.
We have done some work on the project monitoring systems also, where we have seen the project appraisals systems are GIS- based applications. Moreover, we are attempting to go outside the ICICI boundary, do a system to systems integration and bring the efficiency into the system as well as the reach.
Follow and connect with us on Facebook, Twitter, LinkedIn, Elets video