Infra Tech Tital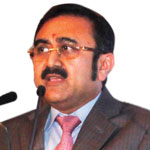 We are the infrastructure pioneer in this country. Our company started a first pivate sector infrastructure project in 1990, almost a year-and-a-half ahead of economic reforms introduced by the then Finance Mnister Dr. Manmohan Singh. We build India's first private sector sea port, today's largest railway sector railway line, first expressway, first rail logistics, and the first special economic zone. In 2001, there was a place in Korea called Songdo, which was so scary and dark site.
Morgan Stanley, a real estate investment trust managing director and the biggest billionaire in the real estate segment in the world, namely Jery Hynes then said that they will turn this dark site into a smart city. Fourteen years later, it was a shock to see how $ 59 billion has gone into the development of Songdo.
India has no dearth of visionaries or doers. So, even India could do something like this as some of the top corporates are controlled by the Indians and still we are far behind. Another example is of Suchao in the south of Shanghai, which was developed jointly by the Chinese and Singaporean Government company called Jurong town. We must complement the Government of India for coming out with the one of the boldest, path- breaking and visionary policy . Ultimately, icing on the cake is ICT but real development is by brick and mortar.
Unless and until, the brick and mortar come into play, ICT has nothing to perform. So, this is one of the finest policies and I think that the government's developmental agenda can be met by creating something new so that a huge amount of investment can be attracted and generate a large number of jobs and also decongest the existing city.
Follow and connect with us on Facebook, Twitter, LinkedIn, Elets video